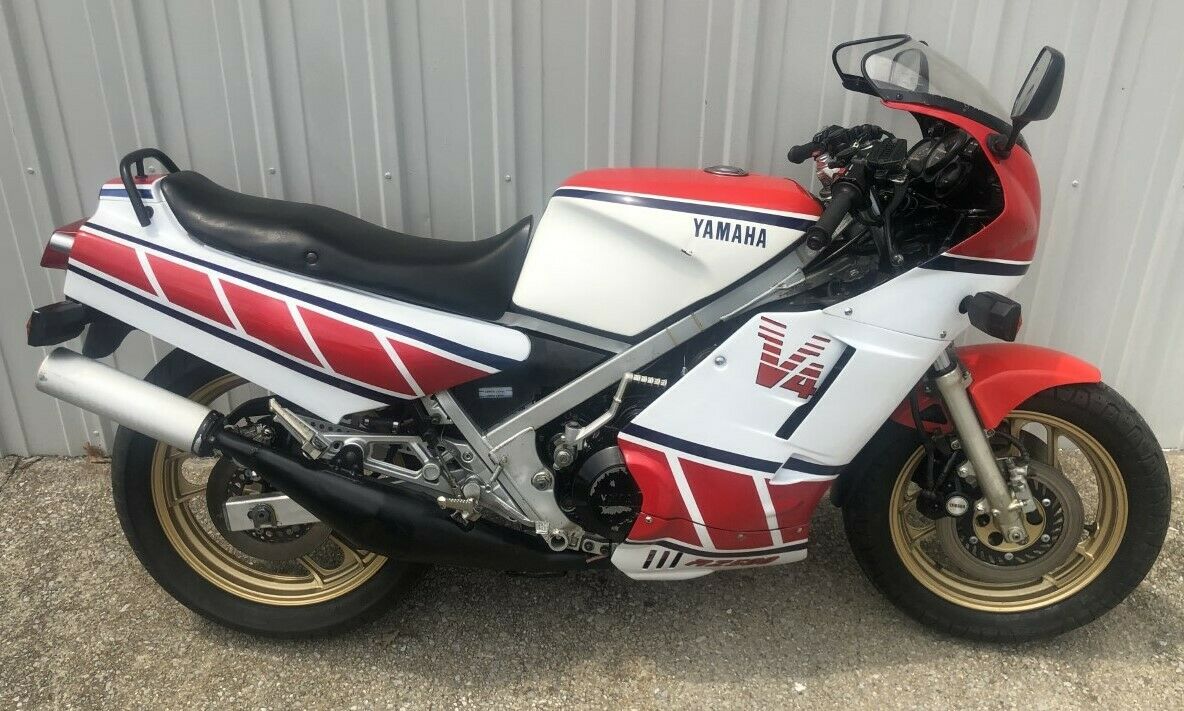 How is this for international intrigue? Take a smoking two stroke iconic super bike built in Japan. Export said bike outside of the home market into Europe, the Pacific Rim or Canada. Later years on, that bike finds its way into the US and now lives in the state of Jim Beam, Maker's Mark and Buffalo Trace. OK – so maybe not mysterious, but the migratory path of this particular example of Yamaha's last big street going two stroke is certainly circuitous, and part of its appeal. Since Yamaha never imported the RZ500 into the US (with riders desperate for the GP bike with lights), dreams and schemes ensued to liberate these models from our fortunate norther neighbors. Today's example shows the fruits of those importation labors.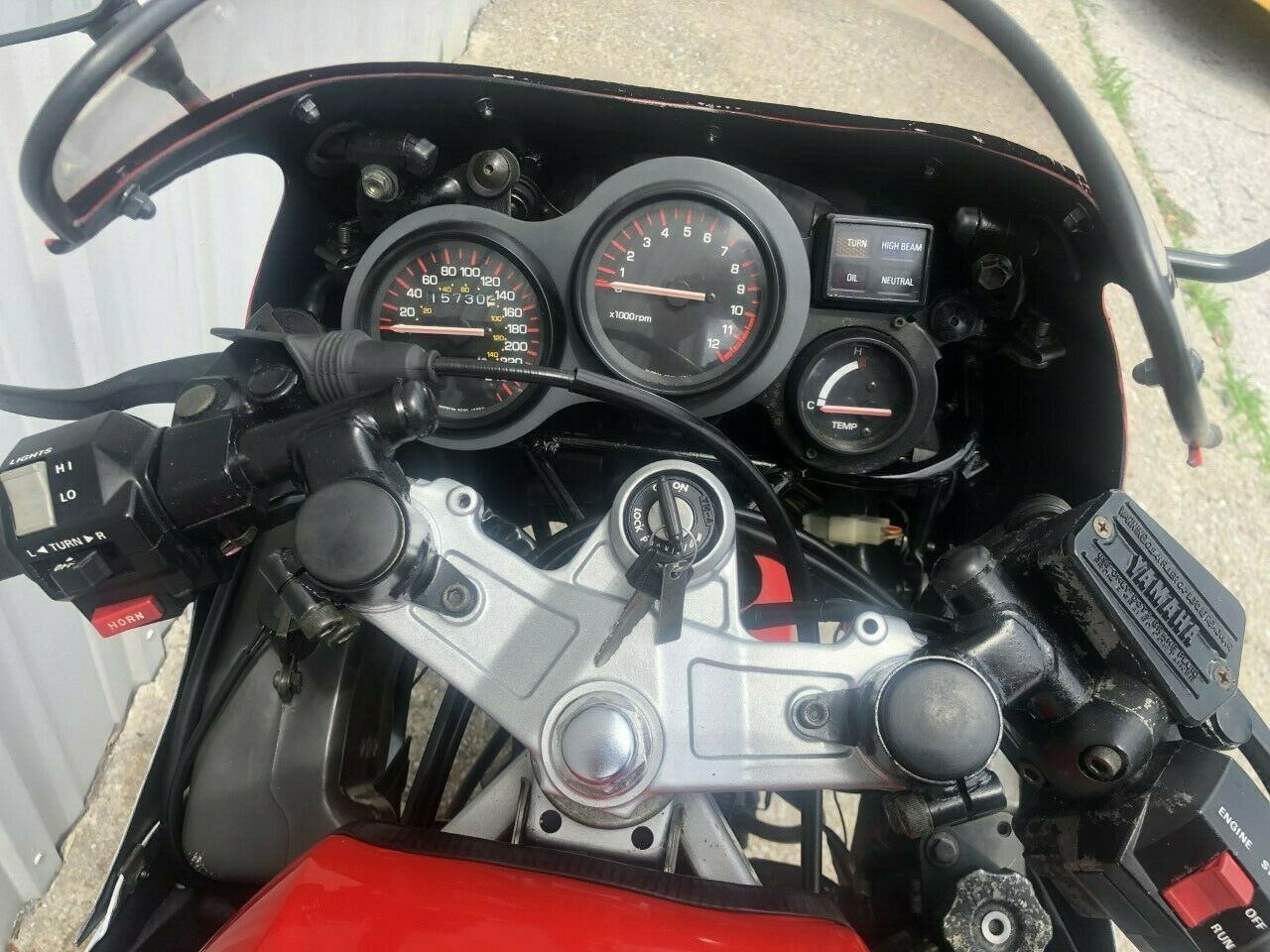 Need we go deep on the RZ500 details? Although this crowd undoubtedly already knows, the RZ500 was a V-4, 500cc two stroke meant to invoke Yamaha's legendary 500 GP machines ridden by the likes of Roberts and Rainey. History will show that these bikes were not quite as sharp as the silhouette would suggest, but it was still a very potent motorcycle for the day. Dichotomies exist throughout: While utilizing a GP-inspired 16″ front wheel to quicken steering inputs, the RZ500 makes due with a mild steel (not aluminum) frame and contained a passenger pillion. Hardly GP level stuff. Still, the twin-crank V-4 configuration made decent power (estimates put a stock bike in the 85+ HP range) and with Yamaha power valves in the exhaust ports the powerband was wider than the traditional, peaky two stroke. Weight was a seemingly portly 450+ pounds – "seemingly" only because of today's standards. At the time, this was 10-15 pounds lighter than the Kawasaki GPz550, which was down more than 20 HP on the big RZ. That should give you some indication of how hot the RZ500 was in the day.
From the seller:
1985 Yamaha RZ500R. This bike has 15730 original Kilometers and runs great. This bike has a Clear Ky Title in my name. This bike has been well taken care and was stored for a few years. This bike has never been Modified or worked on other than regular maintenance. It does have some corrosion-rust here and there The carbs and fuel system have been cleaned. The brakes have been serviced with new brake pads. This bike starts right up, idles and runs perfect. Transmission and clutch shift smoothly. All lights, Horn and signals work as they should. Inside of the gas tank is rust free. The tank has a couple marks on it. The Plastic is new aftermarket. (The OEM Plastic has some damage and is included in this auction). Please Ask Questions. I have plenty of pictures if need.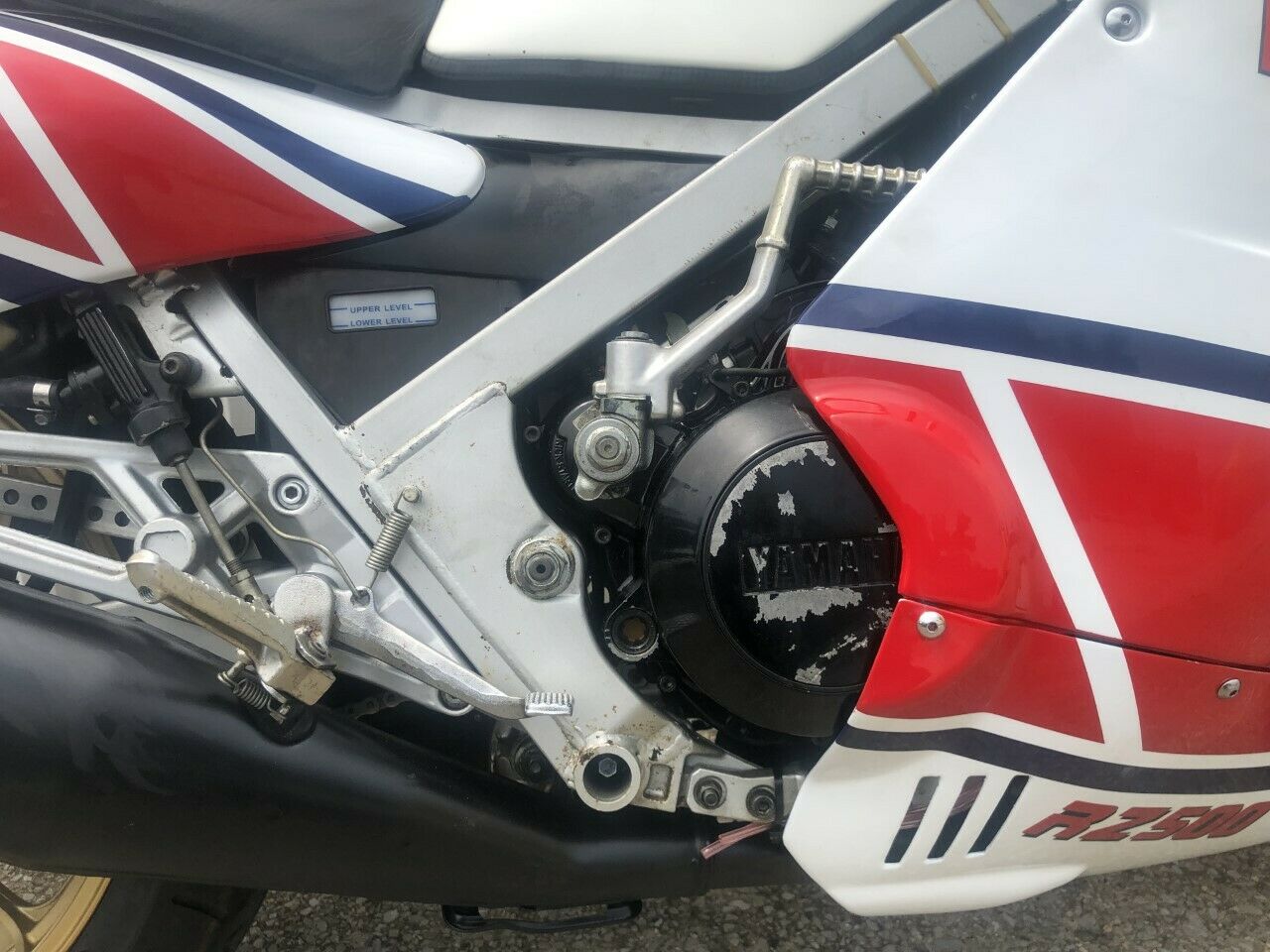 Today's example is relatively mild on the scale of what we have seen. Mods are few, and this bike has apparently seen nothing in the way of hop ups; only usual maintenance items have been covered. Plastics are aftermarket, which makes this unrestored specimen appear to be much newer and cleaner than the rest of the bike. Some corrosion is evident – and not unremarkable for a bike of this age. The seller claims the bike starts and runs without issue, and has had some recommissioning by way of the required carb and fueling system cleaning – again, no surprises there given the rancid state of today's gasoline formulation. Possible concerns include the reasons for the replacement bodywork (the seller indicates the original pieces will come with the bike), and the state of the (presumed original) internal engine seals after sitting for an extended period of time. Two strokes will develop air leaks (air gets sucked into the crankcase) as seals age, resulting in a lean running condition, increasing the temperature as well as the potential to seize. An air pressure test would be recommended prior to wringing the neck of this beautiful beast, as the condition is most detrimental at high RPM.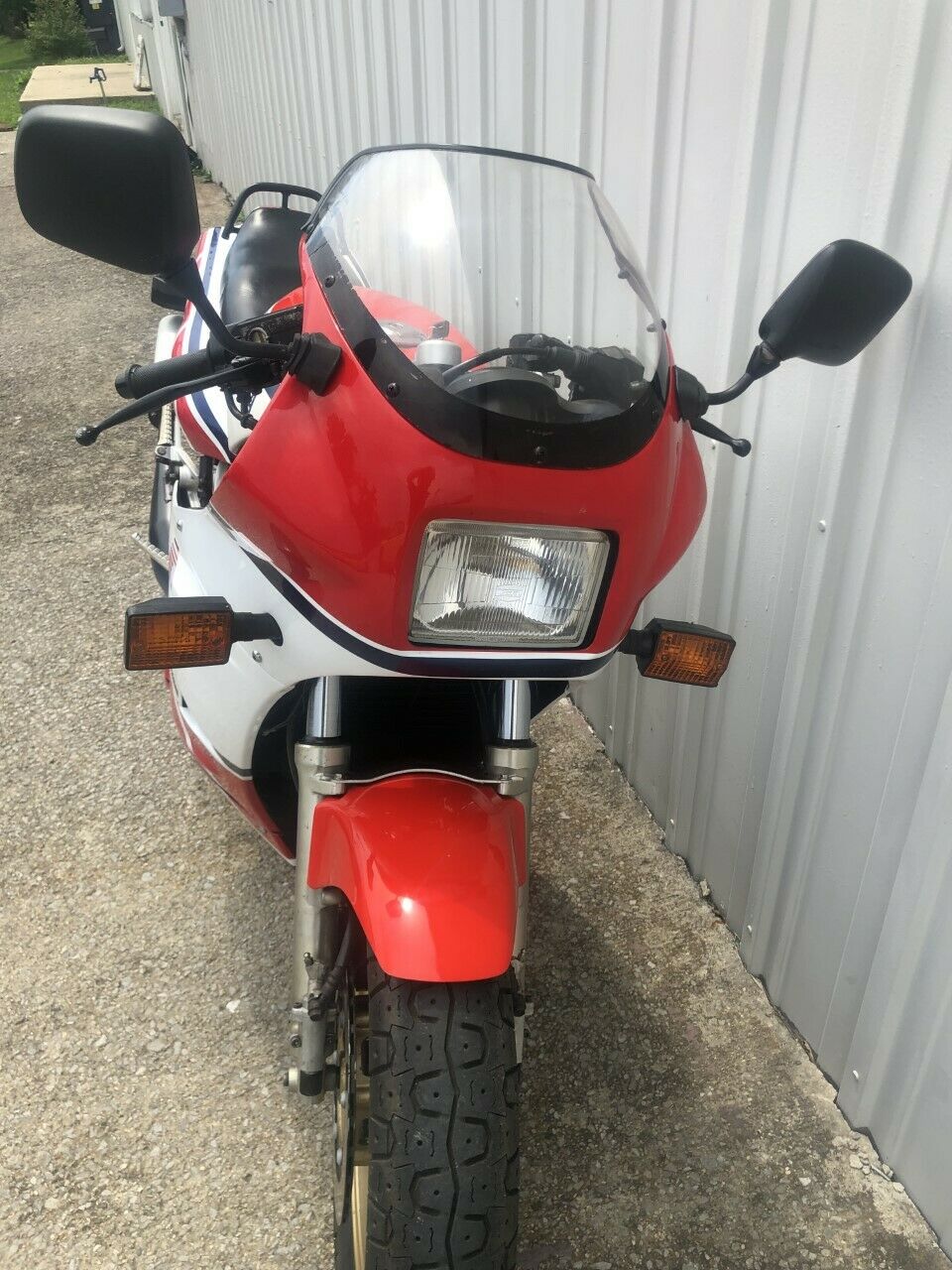 The market for RZs has been a bit all over the place lately. We have seen crazy asks in the $30k range for perfect examples, and bargains well below market value. This particular bike appears to be most original – which is a great foundation for a collector. However the step from 34 year old original motorcycle to a 34 year old restored motorcycle is a big one indeed. This particular bike is priced based on the original condition – with a $9,100 opening ask. We have seen much cleaner examples in the $12-15k area, but given the lack of bidding on this one thus far it would appear it may struggle to break the $10k barrier. It's a runner – which is a plus – and you won't have to undo somebody else's mods to get to where you want to go with it, so as a resto project this might be the perfect start. There is still a long way to go on the auction so check it out here, and then let us know what you think. Good Luck!!
MI