Update 4.22.2012: First listed in January, the seller has come way down on price to $6500 buy-it-now. Getting closer to what those in the comments suggested for value. Links updated. -dc
For Sale: 1985 Yamaha RZ500
Todays two stroke wonder is yet another re-bodied RZ500. There seems to be a run on these models lately! Do I hear anybody complaining? I didn't think so.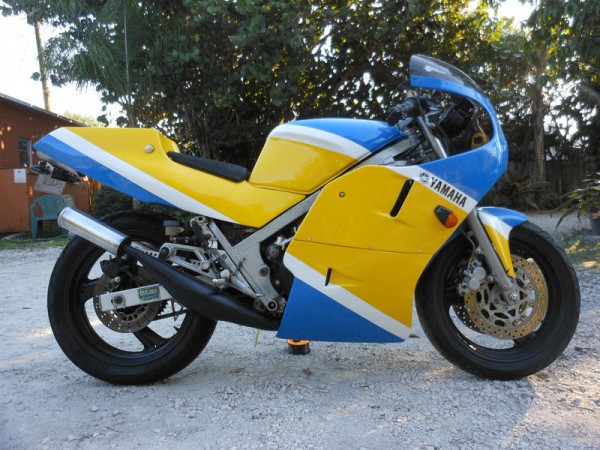 The standard RZ500 was released in the early 1980s as a replica of the GP racer piloted by the legendary likes of "King" Kenny Robers and "Steady Eddie" Lawson. It was a V-4 design, and featured liquid cooling, YPVS valve in the exhaust port and four separate exhaust chambers all poking out of the bodywork at the rear.
Today's example has been modified from stock with the addition of new bodywork, fresh paintwork and some performance mods (such as aftermarket expansion chambers). There is no doubt that the new skins look clean and the painwork is indeed bright and sunny. Am I seeing some Swedish influence here?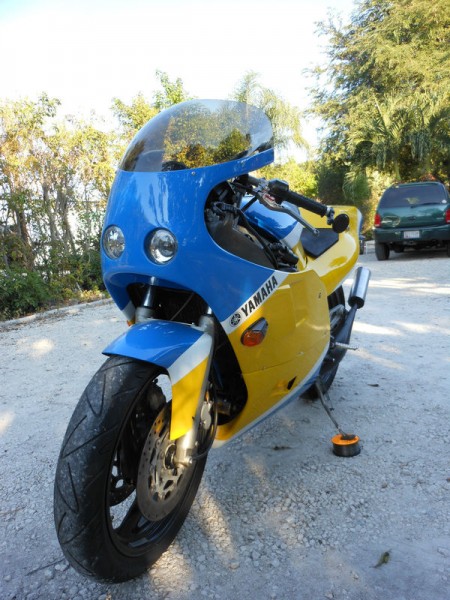 From the seller:
1985 YAMAHA RZ500.

As you can see these aren't the original body parts. The two rear pipes that are tucked in under the seats are also not the stock heavy pipes with heat guards but rather they are competition expansion chamber pipes. The Fiberglass body parts are of competition design but not sure where they came from. Shortly after I purchased the bike, I spent literally $2500 addtional for the fiberglass restoration (not major) and professional painting. The colors and design were my own and I worked with the guy who actuall did all the work.

Shortly after this was done (up in MD) I moved to Florida and would be better off with something practical for daily use. These are rare and the chances are too great for this to get stolen if I attempt to use it as a daily driver. Also note that I would not recommend using this in traffic jams where your are stopped with no air movement through the radiators. This bike has an extra radiator installed in front of the standard radiator instead of the stock forced air electric fan that would turn on when the coolant temp reaches a certain level. No problems with overheating unless you sit there in dead heat of summer with no air movement. This modification does appear to be professionally done but I'm not the person that did it. Also note that the Odometer is in kilometers and not Miles. So 40,000 km = less than 25k mi. Also I am fairly certain the engine was rebuilt just before I received it because of the claim of the previous owner that parted with it before he was able to complete his restoration. I can't say this is 100% true because I did not tare the engine down to confirm it to be true. However, I can say that it runs stronger than what I would expect for a bike with 25k mi.

I believe this bike was set up for actual racing but I can't imagine it was ever raced when you feel the motor compression. These bikes were also kick start and not electrical start. They were designed for professional moto GP and The United States of Dictatorship hates to let people have any real fun so when they were first allowed into the US back in 1985, our wonderful government (I say that with the utmost extreme sarcasm) stopped the import of these at the end of 1986. I can't say how many are still legal in the US but this one is and it's in South Florida. Clear title in hand (still MD tags with MD title). Remember I just moved recently so no funny business.
So looking at the good: Here is a relatively rare two stroke model never officially imported into the US. It looks reasonably clean and has some mods to help keep performance up to date with more modern machinery. 25k in mileage is not necessarily a detractor here, as a stroker has less complicated needs in terms of maintenance and fewer parts when it comes to rebuilds.
There may be potential downsides hidden under that pretty new bodywork, however. As with all bikes posted here, it is our recommendation that you do your homework and ask the seller lots of questions and request lots of pictures. While it is unknown on this particular bike, paintwork and skins are oft replaced as the result of damage. On the other hand, we have seen some nice hot-rodded RZs lately and this one might have been modded with intent – not out of necessity.
The seller has a $10k OBO number on this particular bike. For more info and details, click the link and jump over to the auction. Good luck!
MI