Location: Camarillo, CA
Mileage: 5,220
Price: $4,000 BIN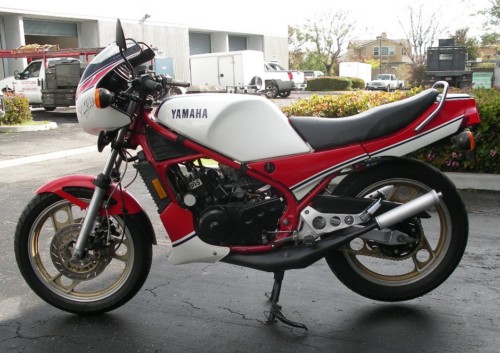 As I'm sure most of you do, when I think RZ 350, I think Kenny Roberts. The Yamaha RZ 350 Kenny Roberts Signature is a legendary bike associated with a legendary racer. Indulge me for a second while I drop a little history.   'King Kenny' was a dominate racer in the 70's and went on to win three Grand Prix titles ('78, '79, '80) on 500 cc two-strokes. He was the first American rider to win in Grand Prix road racing and in 2000 he was named a Grand Prix legend by the FIM. Kenny Roberts name is motorcycle racing and for me this bike represents an important part of that history. And although I have never ridden one, with roughly 52 ponies of two-stroke power and weighing in at 370lbs, I suspect it's a blast.
This bike appears to be clean, with reasonable mileage and some solid modifications and maintenance. From the seller:
This is a clean 1985 RZ 350 with the Kenny Roberts red and white graphics scheme. All the paint is original to the bike as well as the graphics. There is a small dent in the tank on the right side where your leg would go, it was hit with something as someone was walking by. Has brand new braided brake line, brake pads, ceramic coated pipe, new speedo cable, and more. The front forks were rebuilt with Race Tech internals, new chain, sprockets, professionally jetted, the list keeps going. I have an invoice of all the new parts and when they were installed. Never ridden since installed. Starts up and runs great but would like to be used instead of sitting. This is a two stroke if you are not familiar with the model. One of the original sport bikes. Selling as the owner and title holder and had only two other owners. One owner had it for over 20 years. One you should come take a look at.
More photos:
Current bid is $1000 as of this writing with the BIN at $4000. The BIN price seems to be right in there for one of these bikes. If the sound of angry bees in a can is for you and you want to try to snag this piece of motorcycle history, !
RN