Location: Cayce, South Carolina
Mileage: 17,850
Auction: $6,950 BIN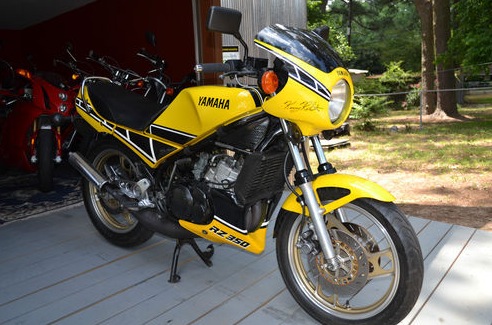 These RZ350's keep popping up for sale and getting written up here on RSBFS. There's a good reason for that of course. Not only is the RZ350 an actual fully legal two stroke street bike in the U.S., it's also part of U.S. sportbike history, being connected to one of the greatest motorcycle racers in American history. Of course, I'm speaking of Kenny Roberts. A legend for sure. So this bike really has a lot going for it. And, frankly, to get what this seller wants for it, it needs a lot going for it.
Here's what the seller says-
1984 YAMAHA RZ 350 .

SERVICE AND MAINTANCE UP TO DATE

NEW TOP END ,CLUTCH, ALL SEALS,CARBS CLEANED AND ADJUSTED. LESS THEN 4000 MILES AGO. BIKE IS TIGHT:)

Miles of 17,850 do not reflect rebuild at 4000 miles ago. and over the last 3 yrs all the work done , seals,bearings , chain and sprockets,rubber prouducts tires, etc

FACTORY PIPES AND K&N FILTER.

BIKE IS SUPER CLEAN, NO DINGS OR DENTS OR RUST.

ADULT OWNED AND MAINTAINED.

ALWAYS KEPT INDOORS!! NO RAIN EVER!!

PRE-MIX. 32-1 and I will include the 5 gallon Pre Mix Bottle

THIS IT TRULY A GREAT EXAMPLE OF AN YAMAHA RZ350 AND THEY ARE GETTING HARDER TO FIND IN THIS CONDITION.
And all the pics-
Threw in a photo of King Kenny, just so you know what he looks like.
So this thing looks to be in great original condition. The seller highlights all of the recent maintenance work that hopefully has this machine in top running condition. The rebuild work will help take care of concerns over the mileage. Everything else looks good.
The only other issue out there is the price. The seller is looking for what would have to be considered top dollar for this bike. Yes, they are rare and hard to find in good condition. And there's a good bet that they'll continue to increase in value. But the question is: How much will you pay right now. Today.
Well, you have to decide. But you should entertain the fantasy at least, and check this bike out!
-RN