For Sale: 1985 Yamaha RZ500
Update 6.20.2012: Back on eBay and it looks like for the last time as it's now no reserve. Thanks for the heads up Jared! Links updated. -dc
Update 3.8.2012: Mileage is now stated as 9300 miles and buy-it-now dropped to $15k. -dc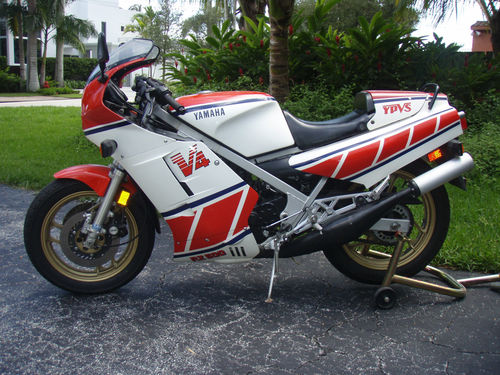 Hot on the heels of Ian's post on a modified RZ500 comes this beautiful survivor. How many stone stock RZ500s do you find in the States? Those who have looked will tell you – not many. Perhaps it is because so few RZ500s made it to the US in the first place (Yamaha never officially imported it, so all are grey market bikes), or maybe, as Ian stated previously, RZs tend to be on the receiving end of heavy modifications. Any way you slice it, a stocker from '85 is definitely a rare find.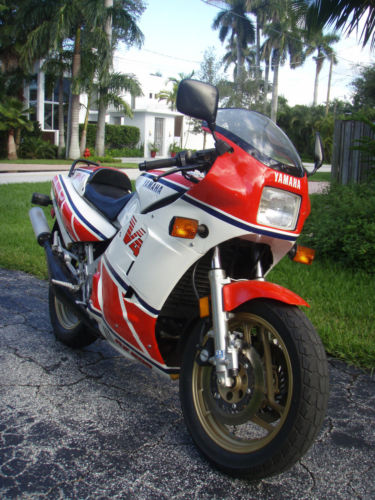 This particular bike looks good in the pictures, has the stock chambers, retains the dinky 16″ front wheel (inspired by GP technology of the day) bolted up to 37mm forks (equally dinky by today's standards), and offers the solo seat cover (a passenger pillion is hidden beneath). All the reflectors are in place, and the turn signals have not been cut down or otherwise modified. From afar, this looks to be a showroom RZ500.
From the seller:
This is a 1985 all original Yamaha RZ500. has a Canadian title and is in South Florida. Not a big problem to title in States as it is considered an antique. Is in great shape with low miles. A real classic eye catcher.
So the BIG question is what is a 1985 RZ500 sporting 30,035 miles on the clock worth? Values on these bikes have been all over the place, but mostly on the up. We have seen lower mileage examples offered at $20k, but no real evidence of them selling at that level. This particular bike is being offered with a starting bid of $9,500, and a BIN set at $18,000.
This bike just hit the market, and interest has been relatively low at the time of this writing (zero bids). The opening ask is not out of line with the bike's value, but perhaps bidders have been scared off by the BIN? For more info and details, click the link and jump over to the auction. This is a good looking example of a rare breed. Good luck!
MI