For Sale: 1983 Yamaha RZ 350
Golden State residents rejoice! Here is a legal smoker available to you with no hassles from The Man, no fake paperwork and no frame swapped VIN numbers necessary. The Yamaha RZ350 was the last meaningful two stroke brought into the U.S. by a major manufacturer and registered as a street bike in all 50 states.
Powered by a 350cc parallel twin, the RZ was initially launched in bumble bee yellow/black colors with King Kenny Roberts signature on the fairing. This red/white model was also available – and by 1984 it also gained Kenny's signature on the plastics.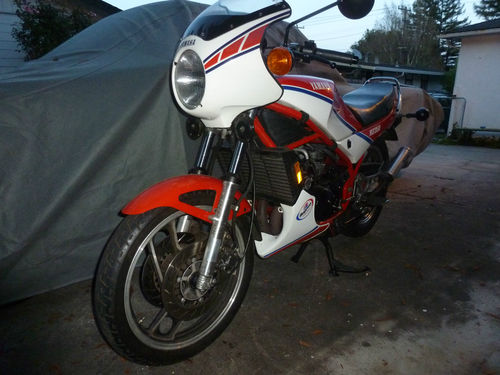 From the seller:
Excellent Condition, All Stock, Runs Great, Title is Clear, Registered in California, Pics upon request Buyer to take care of all transportation. Cash only
There is not a lot to go on from what the seller has written, and there are only a few pictures availble. The bike is listed as an '83, but the US only saw these as '84 and '85 models. Technically speaking, the bike is not all stock, as this one has expansion chambers in place of the stock, catalytic converter-equipped pipes (which reportedly weighed a ton). This is not a bad mod to make on these bikes, but it IS a modification. Beware if you are looking for an all original, perfectly stock example. Additionally – and maybe it is just me – but the livery on the fairing appears to be from one of the later model years.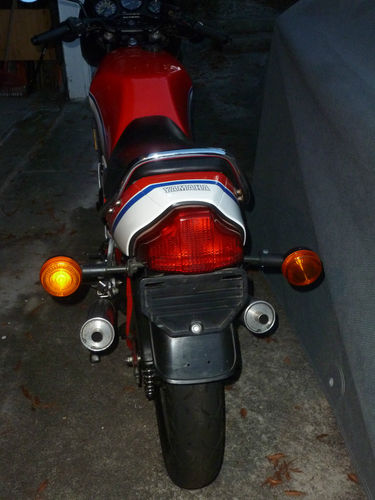 Bidding is going on right now, with the opening ask set at $3,199 (with reserve in place), The BIN is set at $4,399, which is not out of line for a nice RZ, depending upon mods and condition. With only 11k miles on the clock, this could work out to be a good deal. For all the info and details, click the link and jump over to the auction. If anyone checks it out in person, please share your observation in the comments. Good Luck!
MI