Hardly a week goes by that a new* RZ350 doesn't pop up these days !  While not a show bike, this example shows the Kenny Roberts colors nicely and has a bunch of NLA period updates.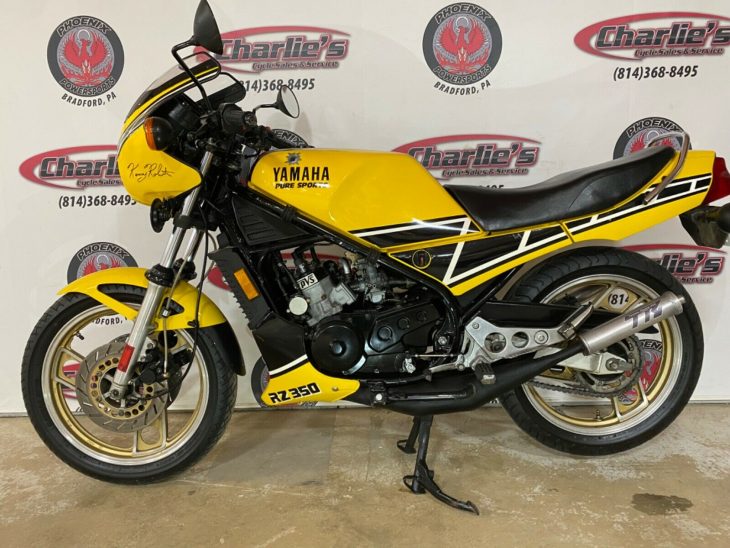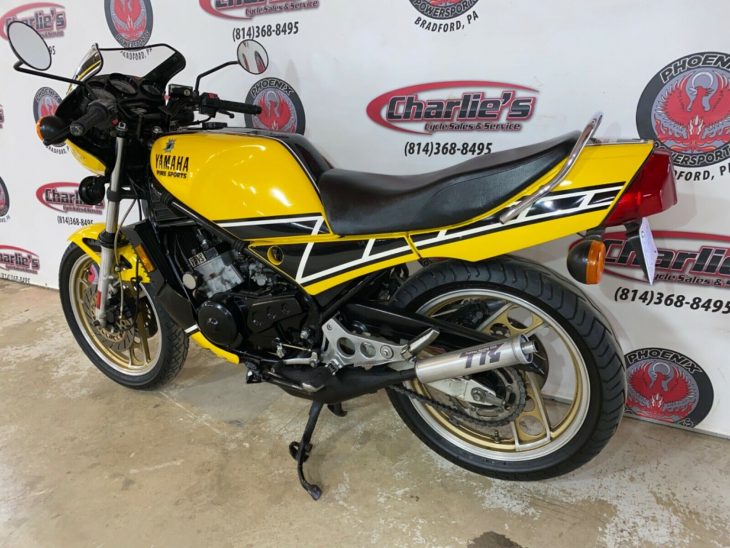 Yamaha knew that the two-stroke legality wouldn't last forever, but kept updating the 59 hp, 320 lb. model – and it kept selling.  Liquid cooling made conformance to EPA exhaust and noise regs plausible, and the Power Valve System made the torque band wider than before.  Slotted discs were sized for the middleweight mission, and the fairly conventional chassis sported an early monoshock rear end.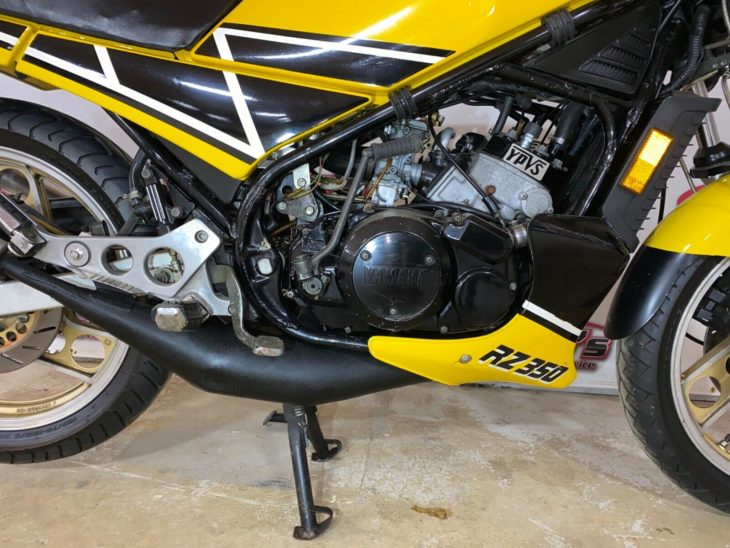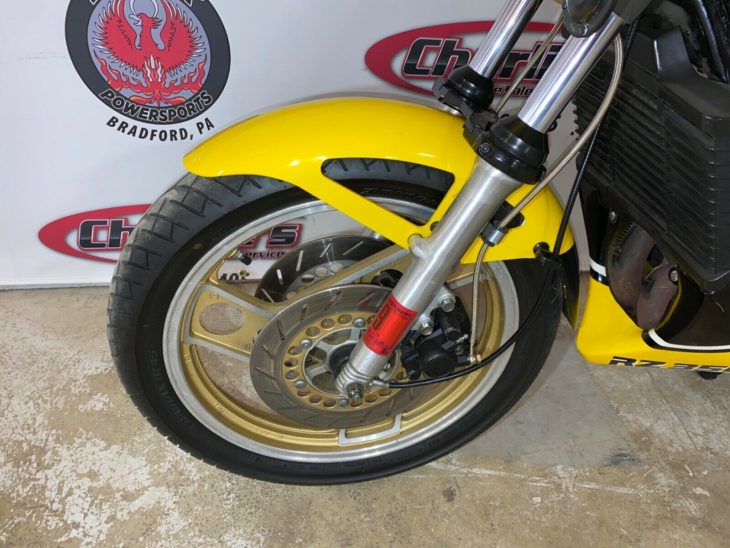 On consignment for a long time customer, this RZ has been on display so might need a little help re-awakening.  Vintage Toomey chambers, intake, and battery box are of interest – especially since the factory take-offs are included.  Matching left and right tank dents are stickered over, and the handlebar fairing looks to have led the way into a couple of close shaves.  But the finishes are in good shape and the fork brace is a nice addition.  Comments and a list of upgrades and spares are in the eBay auction –
The bike has been very well maintained and is in excellent condition for the year with low mileage and a slew of upgrades and spare parts that come with it! The bike runs excellent and the electric start works, but there is no battery in the bike, as it is stored correctly in a collection and almost never ridden. The factory power valves have been rebuilt by the owner. There are two small dents in the gas tank on either side from the handlebar switches on the bars bumping into the tank over the years which is very common on the bikes (they are covered by the bullet stickers you can see in the pictures). Aside from that, please refer to the pictures for the most accurate description of condition. Aside from the upgrades, this bike is numbers matching and nearly all original OEM, the paint and decals are original and the mileage is true and correct.

-TOOMEY PIPES (VINTAGE 80'S – NOT NEWER PRODUCTION)

-TOOMEY INTAKE (VINTAGE 80'S – NOT NEWER PRODUCTION)

-TOOMEY BATTERY BOX (VINTAGE 80'S – NOT NEWER PRODUCTION)

-FORK BRACE

-BRAIDED STEEL FRONT BRAKE LINE

-STOCK CARBS REJETTED FOR EXHAUST (ONE SIZE UP PILOT AND 420 MAINS)

-TWO SPARE SETS OF OEM EXHAUST (PICTURED)

-NEW SET OF SPARE TIRES (PICTURED)

-OWNER'S MANUAL (PICTURED)

-MANY MANY MORE SPARE PARTS NOT LISTED (PICTURED)

-MANY MORE TASTEFUL PERIOD CORRECT UPGRADES NOT LISTED
More red/white models are in RSBFS recent history than bumblebee's, and for Yamaha fans of a certain vintage the signature model is the one to try for.  Those same fans might be surprised at the bidding with eight days left to run, and further that the reserve is still unknown.  But even though the model has had a nice season so far, no more being manufactured, and this one has a nice combination of miles, patina, updates, and spares.
-donn