Warning!
This post is in our archives. Links in this post have been updated to point to similar bikes available to bid on eBay.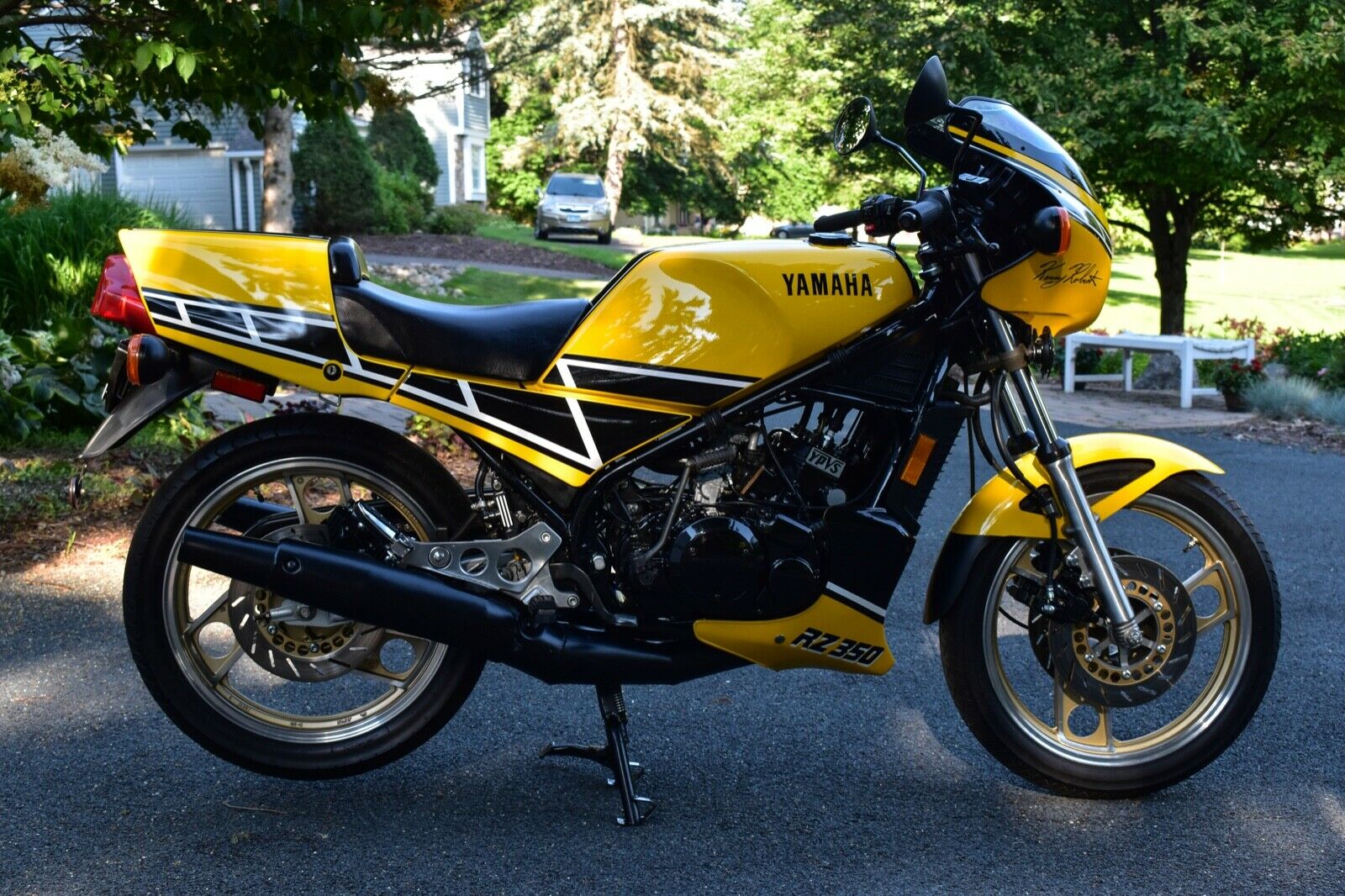 The RZ350 is a special sort of machine in the annals of RSBFS. The last of the 50-state factory two strokes, the little parallel twin that could utilized liquid cooling, a computer controlled adjustable exhaust port (YPVS), and catalytic converters. Even with all of this tech it was short lived on US shores, and even shorter for California. And while the RZ350 was made in decent numbers for delivery around the world (including the RD350LC variants sent to Canada), these remain relatively hard to come by in the US today. If you do find one, it is often modified, beat up, and abusted. And pricey. Today's find is as clean and example as you are likely to hope for – with all stock parts in place and mileage that is actually reasonable. But better bring your wallet to this gunfight; the bidding is hot and heavy with only a few days remaining. The seller has included a LOT of detail, and I will let him tell the story of this special bike.
From the seller:
This is one of the best original Kenny Roberts version RZ350s left in the world. I have decided to sell my collection of mint, original classic bikes. All my bikes were regularly ridden locally when we lived in California, but at 62, and since moving to MN last fall, I decided it's time to downsize. I sold my KZ1000 MkII, CBX, RD350, RD400, Z1B, T150V Trident and CB1100F, leaving only this bike and my early Z1 which is the only one I will keep. The RZ is the last to be sold because I have been waiting for the MN title to come back (now in hand).

This is a 1984 Yamaha RZ350L (model 48H). Serial number is 000173: this is the 73rd out of the 9900 RZ350s to have been produced in 1984 (the first 100 bikes of each model that Yamaha makes are reserved for press/production prototypes). It may well be the lowest serial number RZ still in existence. The US RZ350 was only produced in 84 and 85, before US legislation made it too difficult to meet environmental regulations.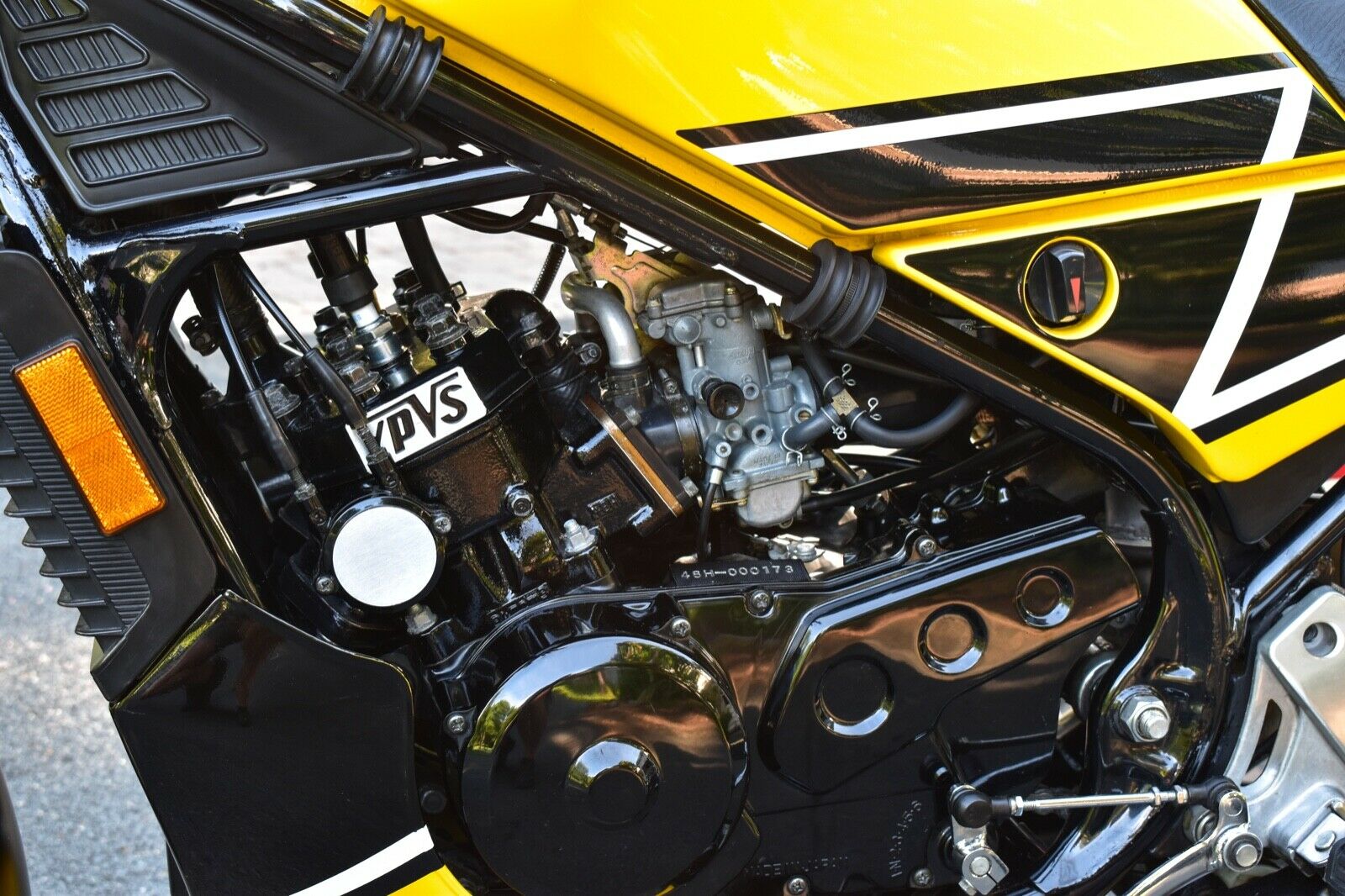 More from the seller:
The odo is showing 69xx miles (I am riding it a little), and the bike looks and feels like it is genuine. It was previously owned by well known classic RD parts supplier HVC Cycle (Lincoln, NE). Then the previous owner bought it from HVC and owned it for about 6 years. I have owned the bike 3 years. I only buy bikes with excellent original paint on the bodywork and frame. They hold their value much better due to the rarity. The fairing wasn't perfect enough for me, so I found a NOS fairing (in Alaska) and NOS decals (cost $1200). The tank is perfect inside. Only the barrels have been painted (the original paint always flakes off). The original 48H pipes have been ceramic coated and came out beautifully. The small emissions pipes on the headers (not now used) have been capped with high temp silicone caps. No marks or dings on the bodywork except for a pea sized, very shallow dent (paint not broken) at the neck of the tank that can't be seen. A tiny mark next to the Yamaha decal on the front of the fairing (see pics)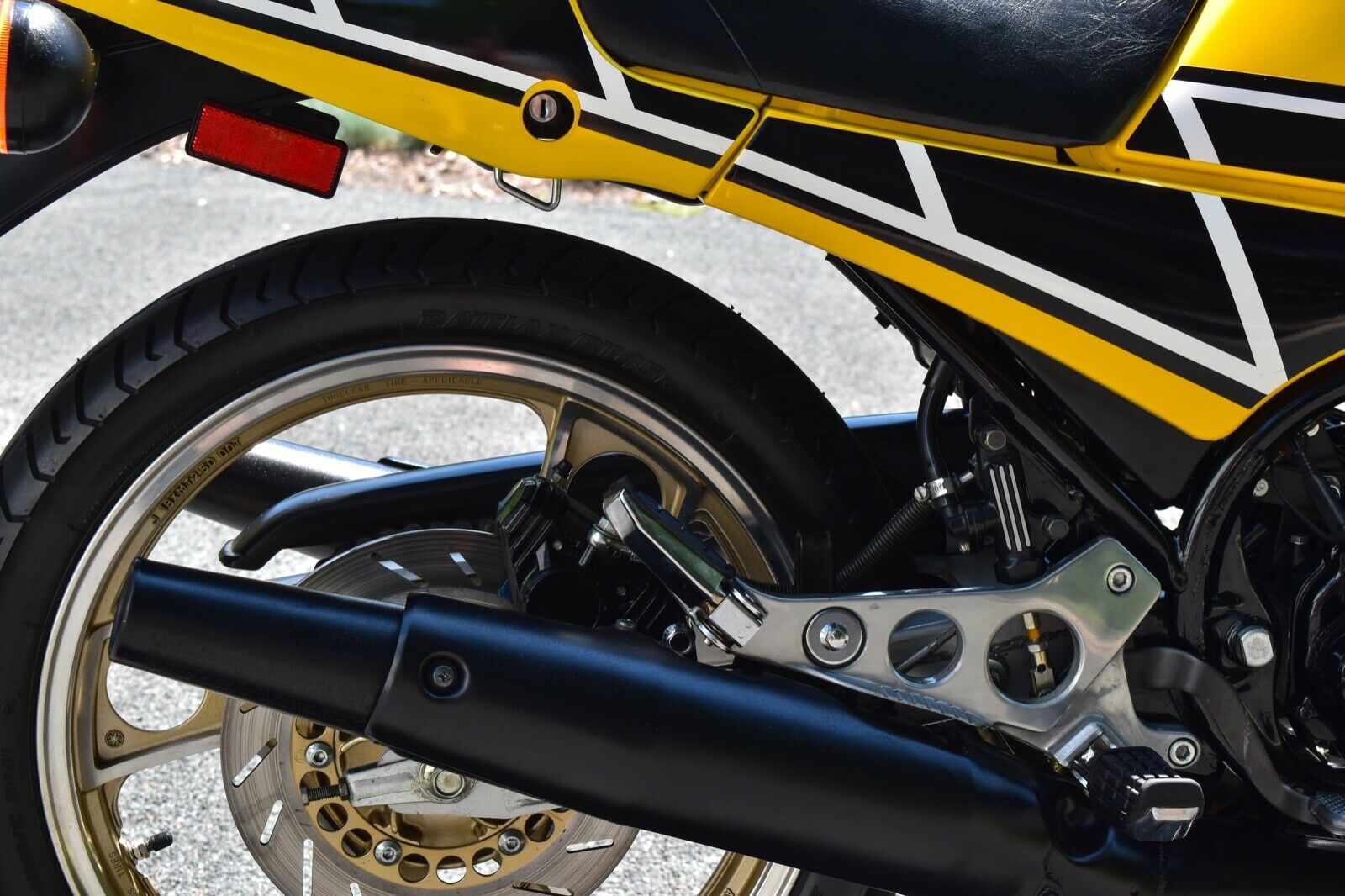 More from the seller:
The only mods made are not readily visible: emissions pipework and canister removed (I dont have it). Airbox replaced with K and N filter and Y Boot for better breathing. Dynojet needle kit fitted. Main jets increased to 420 (240 is stock which shows how much the Y boot improves the breathing). The 48H features the same barrels (same porting) as the higher power Euro 31K version but the stock US airbox and jetting restricts the engine to 52bhp. This bike probably makes more than the 59BHP of the 31K model due to better breathing. Diaphragm fuel tap replaced with conventional type. Carbs have been ultrasonic cleaned and set up by me. New float valves and jets. Fueling is perfect with no flat spots or hesitation. Starts and idles perfectly. Plug color is great.

I fitted new plugs, gearbox oil and EBC brake pads. I checked the oil pump. Motobatt sealed battery. New brake fluid and fork oil. I was told that Racetech cartridge emulators have been fitted but I have not inspected to confirm, however the front end feels very good and not undersprung for my weight (200lb). Compared to an RD400, these feel like a much bigger and more solid bike. Bridgestone BT45 tires.

The rare single seat is fitted (these were an optional extra). Also included is the stock double seat tail (also original paint) and grab rail. Both tails use the same seat. Buyer pays for shipment of tail. Also included user handbook, Yamaha shop manual plus complete original toolkit.

Many hi res photos can be found here: https://flic.kr/s/aHsmFQSxYk

Also you will see some of my other bikes (now sold) to give you an idea of the quality of bikes I have collected. Also see pics of the packaging that the NOS fairing came in (note original warning decal on screen).
More from the seller:
This bike truly looks and rides like a new bike. if you have been looking for an RZ350 for a collection, yet is still great to ride, this is it.

Clean title with current MN registration in my name. The bike is located just outside Minneapolis, MN. I can assist with loading if the buyer uses a shipper. I can keep the bike here for a month in my temperature controlled garage to help international buyers (two of the last four bikes I sold went to the UK). Bidders with less than 10 feedback please contact me before bidding, or the bid may be rejected.

On Aug-20-19 at 19:15:52 PDT, seller added the following information:
Note I have the Instavin report for this bike which shows it was originally sold in VA in 1984. The original owner sold it to Nebraska in 07 where HVC Cycle bought it and sold to previous owner in IL in 2012. I bought it in 2016. Serious bidders can get a copy from me at don_pottter at me.com

On Aug-21-19 at 07:40:04 PDT, seller added the following information:
A bidder had asked about the slight heat deformation on the lower cowl right side (the hi res pics I posted on Flickr allow you to zoom in on every part of the bike – please check them). I had forgotten about this since its not visible unless you look under the bike. When I bought the bike it had HVC pipes on it which are bigger diameter than stock pipes (HVC owned this bike). The cowl had gotten hot on one side. I put some aluminum foil to protect it. It has not gotten any worse because I replaced the pipes with stock which are much smaller. I took off the cowl and took pics, also of the underside while it was off – see the link to Flickr. As you can see its very clean under there. I also added a pic of the shop manual and the mint condition owners manual. I am 100% transparent with any issues. If you need more pics let me know.
With over 30 bids and over $9k, this bike has not yet reached reserve. When you think about it, $9k for a clean and original RZ is not much dosh. We have seen rattier and hacked up examples asking much, much more. I suspect that this one will spike near the end, but it all will come down to how high the reserve has been set. This seller has done a pretty good job of outlining the bike and how it came to be in this condition, including some of the restoration efforts necessary. Parts are getting harder and harder to find for these bikes, so if you are intent in owning a showroom example of the breed, you best start out with a complete one. This one fits the bill nicely. Drool over the many pictures, watch the video, and then check it out here. There is not a lot of time left, but plenty of action remaining – even if you're just watching from the sidelines. Good Luck!!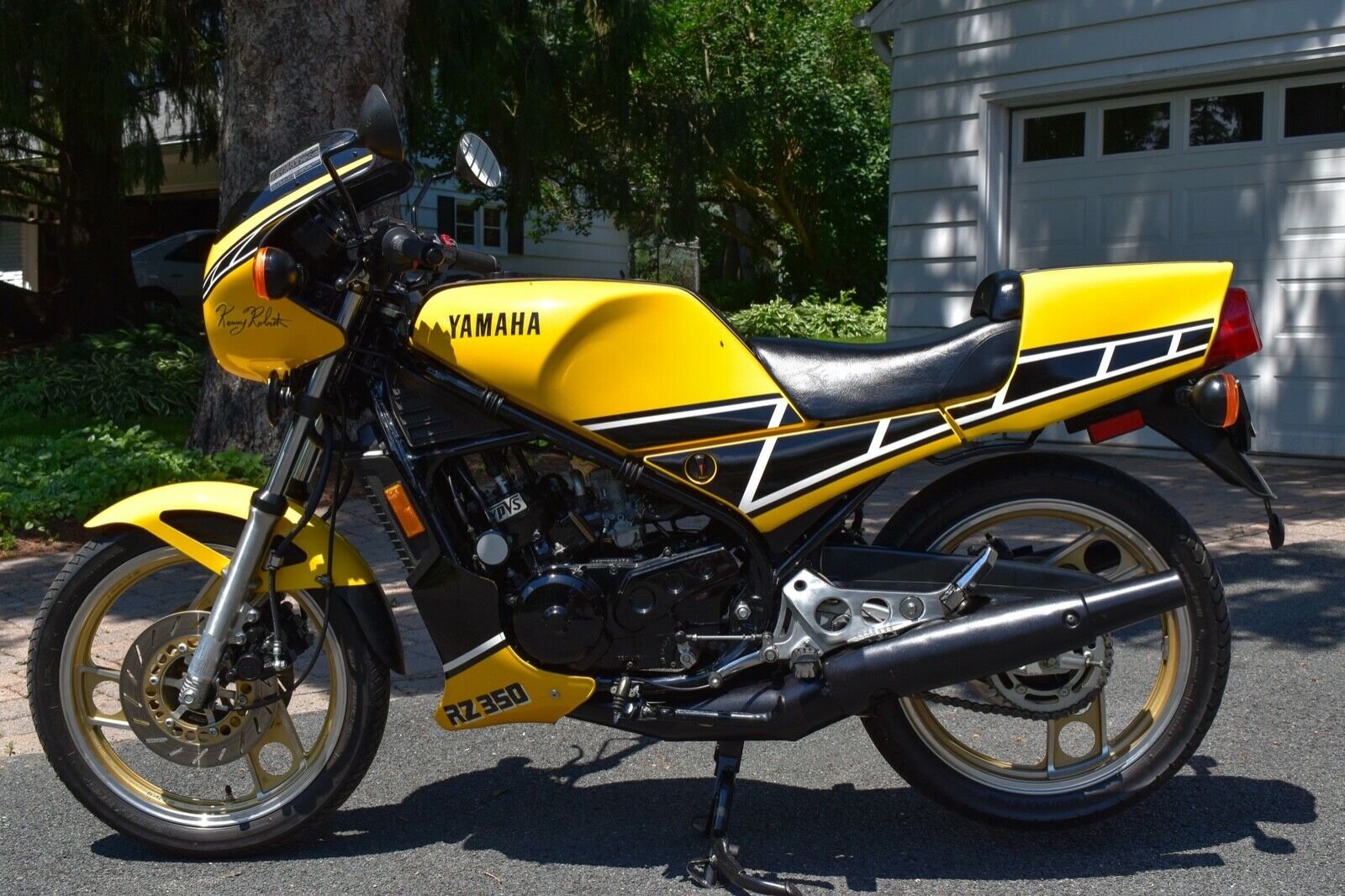 MI