Update 3.14.2018: Turns out this one sold faster than we could post it. Congratulations to buyer and seller! -dc
A modern literbike is a relatively peaky beast: chasing horsepower without increasing displacement means ever-higher revs are required, and a six-speed box makes sense. It's telling that bikes like today's Featured Listing Yamaha's FZR1000, one of the cutting-edgy-ist sportbikes of its day, made do with just five and could still be considered fast now. Six-speed gearboxes had become the norm for motorcycles by the late 1980s, unless you were looking at cruisers, touring machines, or big-bore sportbikes. Why? Well, narrow, peaky powerbands require more gears to effectively exploit and the big-inch engines of the aforementioned six-speed exceptions had enough flexibility and torque to make them window-dressing: an extra gear just wasn't needed.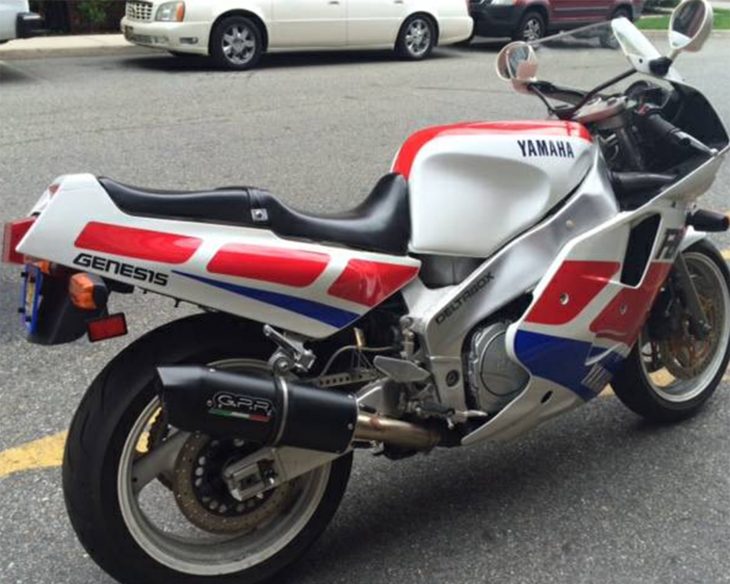 Considering that Yamaha's FZR1000 makes just 20 more claimed horses and weighs nearly 40 pounds more than a modern R6, you might think that these old-school machines would be no match for even a much smaller machine from today. But it's the 79 ft-lbs of torque from the FZR that makes it so effective: a modern literbike like the BMW S1000RR makes just a few more foot-pounds. So how did they do it? Well the GSX-R1100 obviously benefited from a few more cubes, but the smaller 1002cc FZR1000 combined Yamaha's five-valve Genesis head with their EXUP or "Exhaust Ultimate Power" valve to provide both low-end torque and high-end power.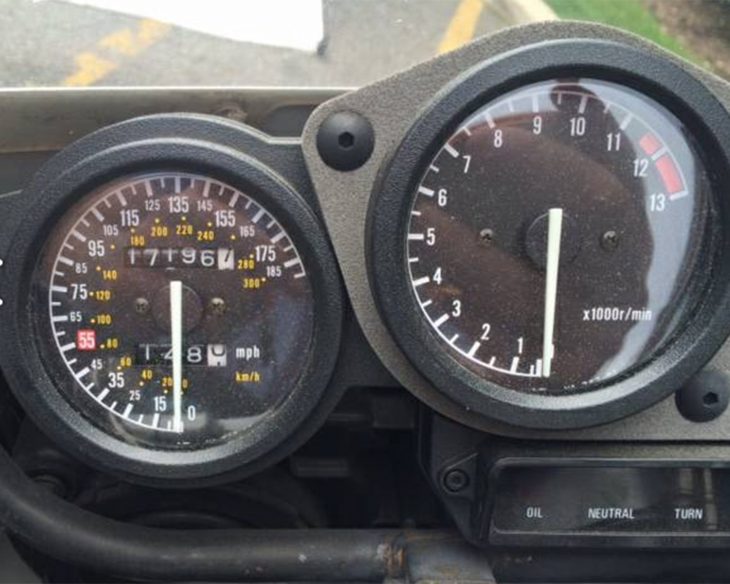 Five-valve heads have pretty much disappeared these days, the theoretical advantages proving insufficient to outweigh the additional complexity required, but EXUP-style exhaust valves are ubiquitous, now that Yamaha's patents have expired, allowing other manufacturers to take advantage. By the late 1980s, servo-operated "power valves" were common on two-strokes, but this was the very first use of the technology in a four-stroke, and the result was a very flexible engine with a 170mph top speed.
Introduced in 1987, the 1989 redesign seen here looked similar, but included updates to the frame and engine: the original had a 989cc engine bumped to 1002cc and rotated backwards in the Deltabox frame for a shorter wheelbase. Later, the bike adopted a single headlight design to help modernize it, but you can't go wrong with a pair of big, round lamps. As you'd expect, performance and in particular handling improved throughout the bike's lifespan, but this particular model strikes a nice balance between classic superbike styling and the better performance and handling of the redesigned bike. I happen to prefer the looks of the earlier machines: the single-headlight version does look pretty sharp, but it just doesn't have the old-school round-lamp charm.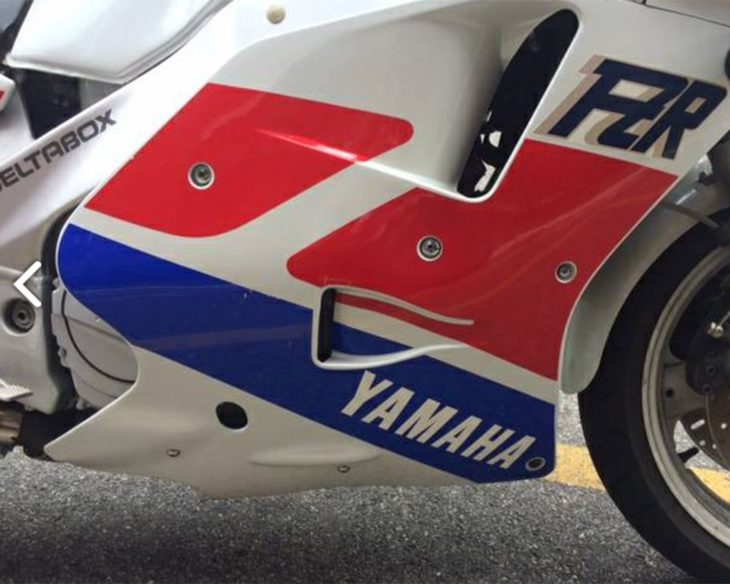 From the Seller: 1989 Yamaha FZR1000 for Sale
For being 28 years old the bike looks and runs awesome! It has less than 18k original miles, has never been dropped and has only a few minor cracks around the fairing mounting areas from the tightening of the bolts, which is normal for these older more brittle plastics (see near bolts in pics attached).

The 1989 version, crowned the "Bike of the Decade" by Cycle World, had 0-60 acceleration of 2.9 seconds, and a top speed of over 167 mph. I purchased one of these brand new in Miami Fl in 1989. I got on it and rode that bike all the way the Newline Vermont, 1460 miles in two days. It was a amazing adventure and the bike never missed a beat ripping off 700+ mile days with ease. This is truly a sports cruiser rather than a rep-racer R1. This particular dual headlight model was only produced one year, Yamaha went to the single (ugly) headlight in 1990. Anyway buy this unit, gas it up and head to for the opposite coast! We can deliver this bike anywhere in the United States for $500 enclosed and insured.

A few notes about the bike:

The bike was owned by 1 famous owner from new until when I bought it three years ago. It was a famous biker from the publishing world who collects bikes (Forbes magazine) and the bike was in Palm Beach all of its life until I got it. I have a copy of the title with his info on it that I can provide.
The bike was purchased from him for $4,500 and needed some TLC.
The bike had extensive work done to get the bike all up to modern running equipment. I spent over $4,500… All well documented (will provide) at Fast by Ferracci.
I also had a GPR slip-on imported from Italy (over $500) and it sounds awesome!
The carbs were also completely rebuilt, last summer 2016, and has all new gaskets – the engine runs amazingly well!
We over $9,500 invested in the bike. Went way overboard in its preparation. My loss, your happy smiles!
This does seem to be the version collectors will want, and in just a few years you may be kicking yourself for not taking advantage of the seller's $5,500 asking price. There are some minor cosmetic imperfections, small cracks and the like, but these are clearly documented and not unexpected on a Japanese bike from the 1980s: paint and finish were generally of a lower standard than on European bikes and they often age poorly, even when well-maintained and sparingly used. Luckily, the major servicing headaches have been taken care of and the bike is reportedly mechanically sound, meaning that this should be a great candidate for a rolling restoration, since collectors will likely want to replace that lighter, but non-original exhaust can and take care of the blemishes.
-tad