Update 8.30.2019: This bike has SOLD! Congratulations to buyer and seller! -dc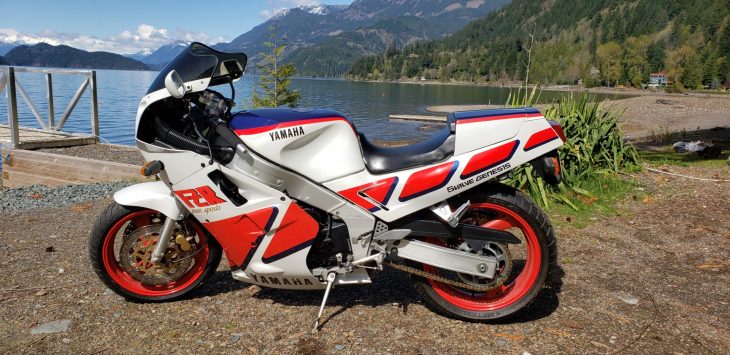 For as plentiful as bikes like this 1987 Yamaha FZR1000 were in their day, it's becoming increasingly rare to see them pop up on the local Craigslist, as time and the squiddly behavior they enable take their toll. But nice ones are still out there, and more often than not you'll see them for sale here.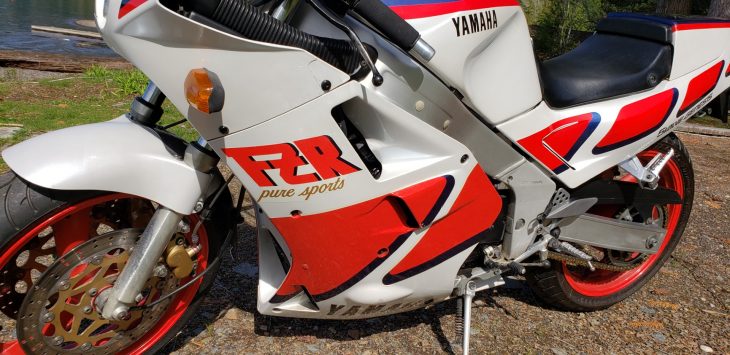 When the 1987 Yamaha FZR1000 dropped, it was one of a few bikes with mind-bending numbers that signalled the dawn of the superbike age. Honda had their VFRs, Suzuki their GSXRs and Yamaha had the FZR1000, which carried the most modern looks and eye-watering power numbers. By today's standards, where the price of a nicely-equipped Civic will get you a 210-horsepower Aprilia RSV4, the FZR's 135 horsepower doesn't seem that crazy. But back in '87, it might as well have been a Saturn IV rocket.
That grunt let the big FZR hit 60 in less than three seconds and run to a 160 mph top speed, which is fast by any standard, and far and away enough for any mortal.
This 1987 Yamaha FZR1000 is in beautiful condition, especially considering its age and the 46,000 miles on the odometer. There are age-associated blemishes here and there and a couple stress cracks, but it is otherwise flawless. The only deviations from stock are an aftermarket windscreen and a manual switch for the cooling fan.
From the seller:
Bike is extremely rare and in immaculate condition.

* Brand new tires and brakes front and rear, battery and fork seals all have less that 25 miles
* All fluids just changed
* Near perfect paint and bodywork – only a small stress crack around one of the fairing fasteners and a couple very small fairing scratches
* Unmolested, spotlessly clean and completely stock except for aftermarket windscreen and a hard-wired switch to operate cooling fan manually
* Solo seat is present
* 75,000 kms (46000 miles)
* Starts, runs and shifts perfectly and everything works as it should with the exception of the high/low beam switch which is a bit temperamental at times on low beam, but I always ride with high beam so it's not an issue for me and should be an easy fix
* Bike is located in Vancouver, BC and is open to reasonable offers, as I'm not in a rush or need to sell it
* Buyer will be responsible for shipping, but will provide buyer assistance

Price $3,500 USD.
For a rider or a collector, there is little to dislike about this one. With Yamaha's reputation for durability, even the relatively high mileage should not be a concern.