Warning!
This post is in our archives. Links in this post have been updated to point to similar bikes available to bid on eBay.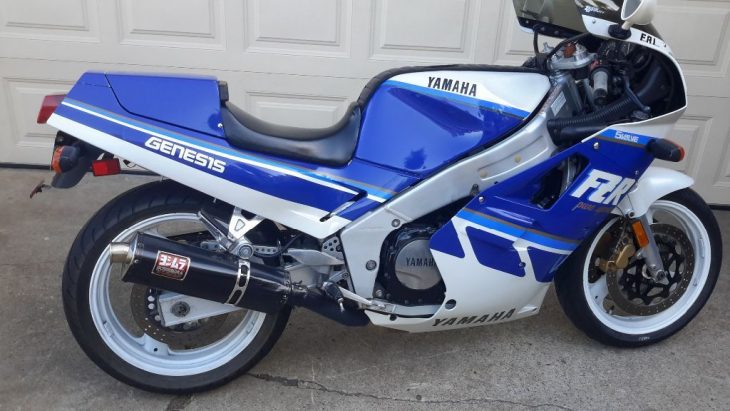 Over in the comments sections of another post, we've been debating the relative merits and values of some of the priciest motorcycles, but it's still possible to find something cool, collectible, and very competent if you're on a limited budget. It's not one of Yamaha's fastest sportbikes, but this first-generation FZR1000 might be their most historically significant. At the moment, it's also one of the most unappreciated machines of the modern era: if the GSX-R was the first sportbike of the modern age, it can be argued that the FZR1000 actually codified the formula.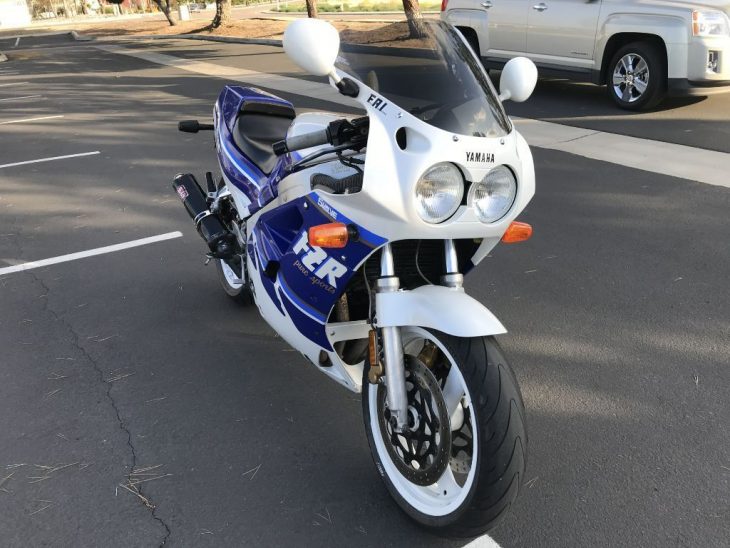 The original version of the FZR1000 built from 1987 through 1988 seen here was powered by a 989cc version of Yamaha's inline four. It did not feature their signature EXhaust Ultimate Power or "EXUP" valve in the exhaust system, but did use their "Genesis" heads with three intake and two exhaust valves. Five-valve technology proved more useful in theory than in practice, in spite of the fact that Yamaha stuck with it for a pretty long time. But, perhaps more importantly, the Genesis engine's characteristic steeply forward-canted cylinder head allowed the airbox to be located under the fuel tank instead of between the rider's knees.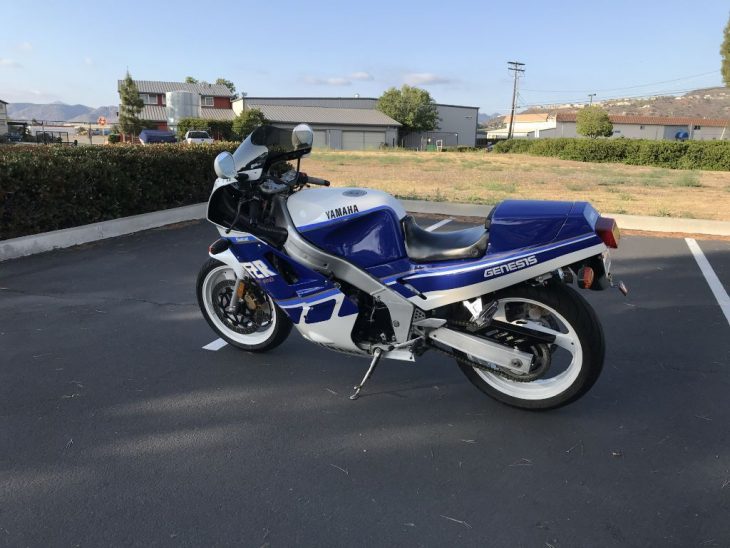 However, the bike's defining feature was the aluminum beam "Deltabox" frame, the first time one had been used in a big bike like this. The contemporary GSX-R used an aluminum frame, but the square-tube construction was more of a cradle-type that looked backward towards past designs, while Yamaha's beefy Deltabox was a much more forward-thinking concept. The frame spars were positively massive for the time, but the thin-walls meant the structure was as light as it was strong, and while five-valve heads proved to be a bit of a fad, thick beam frames have stood the test of time.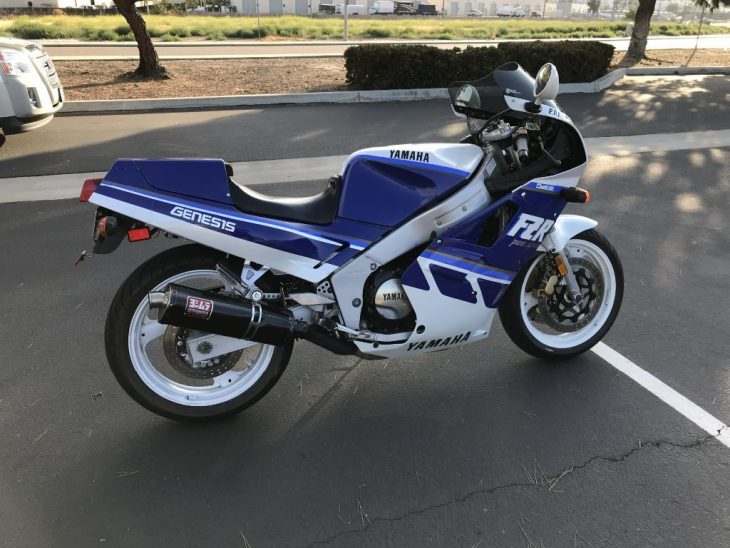 Looking at the spec sheet, all you'd need to do is add a sixth gear to the box and you could be looking at something from just a few years ago: the aluminum beam frame, liquid cooling, under-tank airbox, and 17″ wheels all sound very modern. It's obviously from a different generation and is both heavier and less powerful by far than current literbikes. But it was very much the complete package when new, and the five-speed gearbox speaks to the bike's seemingly bottomless well of torque and flexible midrange, qualities shared with the GSX-R1100, a bike that also lacked a sixth cog.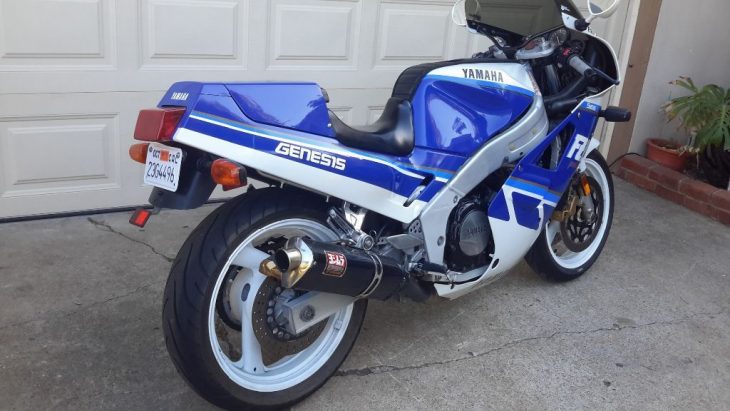 Ideally, if you're looking at an FZR1000 you'd probably want something just a little bit newer, as the thorough redesign for 1989 featured a slight bump in displacement and the addition of the EXUP valve, but this is the original, and looks very sophisticated in blue and white speedblock graphics.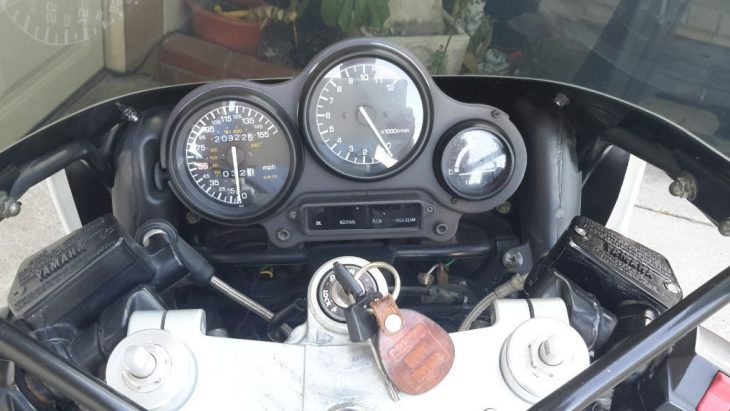 From the original eBay listing: 1988 Yamaha FZR1000 for Sale
Up for auction is my 1988 FZR1000.  It is titled in my name and is currently registered in  the state of California til October 2018.  It is a nice survivor.  It has various scratches and some cracks here and there but overall in very clean condition.  It has good tires, a new fuel pump, fuel filter, various fuel lines, carb cleaning and synchronization done Dec of last year, rebuilt fuel valves, battery new last year, new windshield, front brake master cylinder rebuilt and a couple other things I can't remember  now.  It comes with a tank bag, some spare parts and a service manual. It handles, runs, starts, brakes fine….although maybe it could use another carb cleaning as it has been sitting.  Still you could ride it right now…..it has  good  power.

Some things it would need is a new headlight.  Choke doesn't work but it still starts easy when cold. Return throttle cable not hooked on.  Fuel pump is controlled by a switch in the back  so you may want to hook up correctly…..and I'm sure a few other things I can't remember right now.

If anyone is interested but not local…PLEASE, PLEASE, PLEASE ask questions and request photos of any area of the bike you would like.  I REALLY PREFER SOMEONE LOCAL WHO COULD COME BY AND KICK THE TIRES AND INSPECT IN PERSON but if not please ask all the questions you want before bidding.  Although this bike is clean and a survivor it has not been in a box the last 30 years ridden only 50 miles so keep that in mind.  It currently has 20950 miles. I may make a couple trips up the mountain before it's gone so there may be a few more miles on it.

Here is a video of it running.  

I am selling because  with my back condition I cannot use it like I thought I could.  

If you have any questions please ask.  If you think I left something out please ask.  If you need better pictures please ask.  I want to be as honest and accurate as possible so please ask anything.  If the winning buyer comes to pick it up and dosent want to go through with the deal for any reason no worries…..I will cancel the transaction….no problem.  The previous owner named this bike Noah. I want to see this go to a good home.
The Yoshimura tri-oval exhaust obviously isn't stock, and isn't even trying to look period-correct, but I actually like it: stock exhausts of the era are often pretty heavy and very ugly. Overall, the bike has some usual chips and wear you'd expect on a bike this old, but it seems honest. And the seller includes a nice video of the bike starting and running, with some closeups. Slingshot Gixxers and other late 1980s sportbikes have been rising in value, but the Yamahas seem to have been lagging behind a bit, and while the later EXUP models will probably be a bit more desirable, this early machine is historically significant. And also pretty cool. There are several days left on the auction and no takers yet at the $2,150 opening bid. It may not be original, but this could be a hell of a do-it-all machine with style if you're on a budget and looking for something out of the ordinary.
-tad