Warning!
This post is in our archives. Links in this post have been updated to point to similar bikes available to bid on eBay.

Update 3.11.2019: This bike has SOLD! Congratulations to buyer and seller! -dc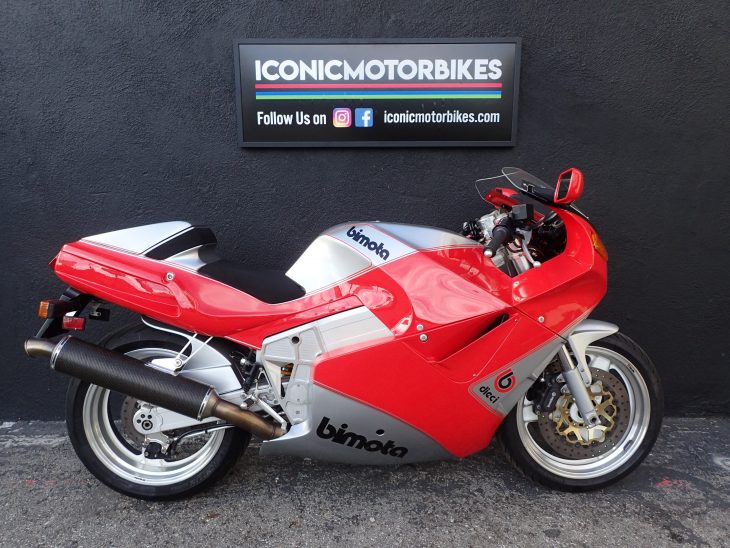 For the money, 1990s Bimotas offer some pretty incredible bang for your buck. Obviously, a more modern machine of equal value will be faster, as well as more reliable and practical, but if the goal is to own something different, something exotic, and something with real style, not much can compete. This Bimota YB10 Dieci being offered by Iconic Motorbikes has an asking price of $11,100 which is barely a third of what an RC30 is currently worth.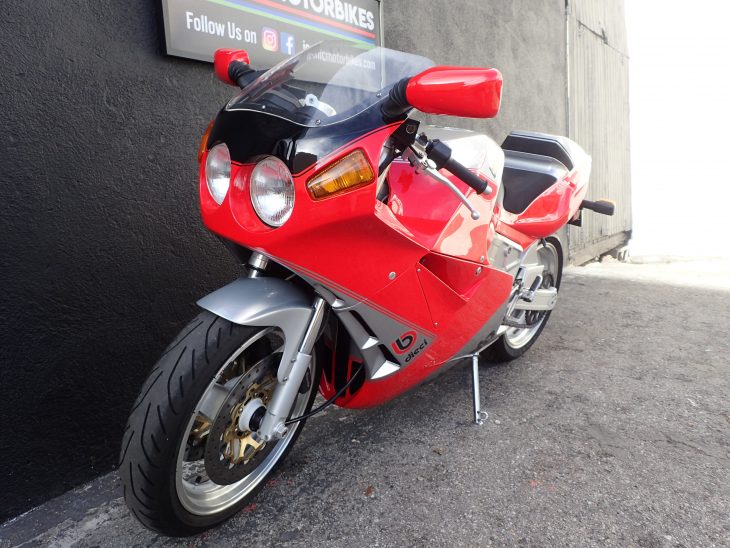 Of course, there are some compromises. An RC30 from the same period represents some of Honda's very best engineering, with an almost obsessive attention to detail and few mechanical quirks. The YB10 Dieci is a rolling monument to quirk: Bimota's motorcycles of the period were really racebikes first, with concessions to practicality an afterthought at best.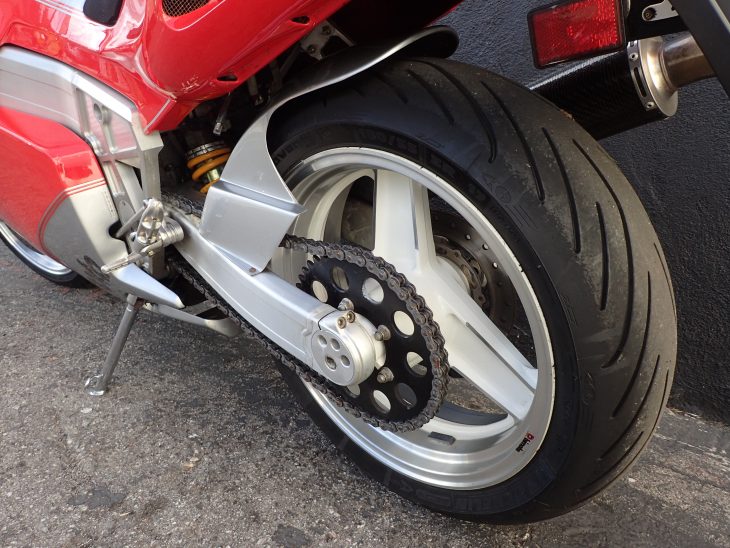 The Dieci obviously has the design cues common during the 90s, with a pair of round headlamps up front, an aluminum beam frame, and sleek, fully-enclosed bodywork. If that looks overly familiar, as if Bimota was just following a trend, you've got it all backwards: Bimota basically started the trend with the race-only YB4 that debuted back in 1987, a bike that only appeared in roadgoing trim after World Superbike rules required a run of street-legal machines be sold to the public. They're mostly forgotten by everyone but us motorcycle geeks now, but Bimota was one of the original competitors in World Superbike and nearly won the inaugural event. The YB10 is an evolution of that bike, with a larger engine.
Invariably, Bimota tuned its borrowed powerplants for increased performance, although the results were often dubious and the claimed power gains generally minimal anyway. Bimota's real claim to fame was chassis design that resulted in light weight and incredible agility. In an era when Suzuki's GSX-R was using an antiquated double-cradle frame, Bimota's gorgeous aluminum beam design pointed the way forward, and a close look at the craftsmanship on display is impressive. Racy styling is easy to do, and the term "sportbike" gets thrown around pretty liberally, but the YB10 was the real deal. If you've never seen one of these without the bodywork, it's amazing how spare and minimalist it is: there's almost nothing there that isn't dedicated to speed.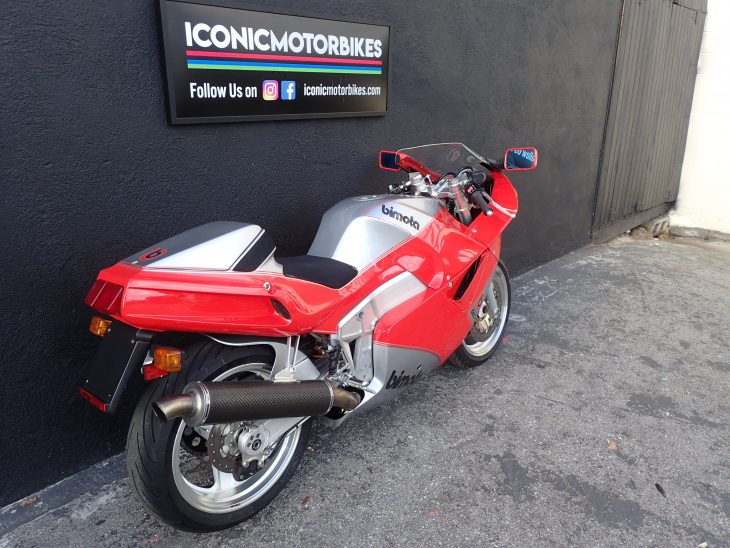 Bodywork consists of just four major pieces, plus a couple inserts for the radiator vents. The tail and tank cover is one piece, there are two side panels, and the upper fairing, all held on by quarter-turn fasteners, so the bike can be naked in minutes. Which is good, since working on the bike is frustrating at best, with that gorgeous frame wrapping so closely around Yamaha's 1002cc five-valve Genesis engine and five-speed box that access can be difficult, depending on what you're trying to do.
Also guys, it's pronounced "bee-mo-tuh" not "by-mo-tuh." Just as Italian cars with two turbos like the old Maserati Biturbo are actually "bee-turbos" not "by-turbos." Just had to get that off my chest.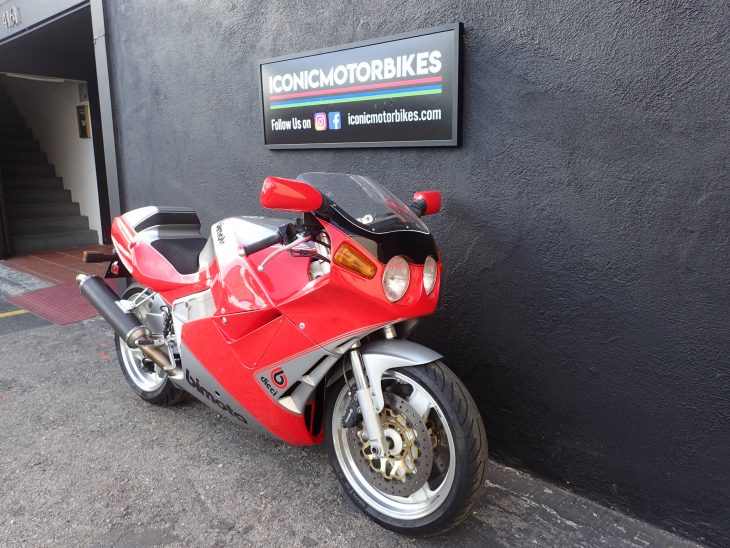 From the Seller: 1991 Bimota YB10 Dieci for Sale
1991 Bimota YB10 Dieci – Rare 1 of only 224 – Fully Serviced!

Bimotas are well known for their Italian style, class and over the top engineering.  This YB10 is no exception to the rule with its billet machined frame, its one piece (and seamless) upper fairing, billet triple, classic style wheels… so cool!

The YB10 wasn't just eye candy either, it was tested my a few magazines and came back with a top speed of 172.9 mph which is quite respectable for 1993!

Only 224 of these were every made!

Not only do you get Italian style but you get the reliability of a Japanese motorbike with the YB10.  The power is supplied by a FZR1000 which means motor parts are never a problem to source!

This Bimota was serviced by Bob Steinberger, a very well known Bimota expert about 2 years ago with very few miles after the tune.  Service included new tires, new chain and sprockets, new battery, fresh oil, new jets, etc.

She's in fantastic condition with only 12,885 miles and ready for a new home.

Want to see her in person, fly into LAX, we're only 15 minutes away and ride out!  We're right on the border of Venice beach and only a few miles from Santa Monica.
Nice to see this one's been ridden a bit, so you can actually put some time in on your new exotic without "ruining" a zero-mile museum-piece. As indicated, parts for the powertrain shouldn't be a problem, although the aforementioned tight packaging within the frame means servicing will be more time consuming and expensive than it would be on the donor Yamaha. Bodywork, on the other hand, could be a real issue, although Airtech does have Dieci panels available. I've long said that if I ever bought one of these, I'd buy a set from them, have it painted to match, and display the OEM bodywork so I could ride the bike without worrying that a patch of gravel would ruin one of the 224 ever made!
-tad