The Yamaha's R1M's crossplane crank inline four makes 197 claimed horsepower. The brand-new, heavily revised BMW S1000RR supposedly makes 205. The new Ducati Panigale V4R? 221 horsepower. Where will it end? These bikes are technological marvels, with relatively minimal mass, power that would trump a world superbike machine of just a few years ago, and the electronics required to keep relatively novice pilots from launching themselves into next week when they sneeze and open the throttle a bit more than intended. But does that make these machines more fun? How much power can you really use on the road, and is anything more than 100hp really just gilding the lily?  Or did we hit "peak fun" with bikes like this 1990 Yamaha FZR400U?
On paper, pure performance is no contest, if that's your definition of "fun." The 399cc inline four that motivated the FZR400 was certainly much higher spec than you'd normally expect from a bike this size, and featured liquid-cooling, dual overhead cams, and sixteen valves. Unfortunately, there's no replacement for displacement, and it all adds up to a claimed 64hp. The aluminum Deltabox frame helps reduce mass and the resulting 410 wet weight is light, but not shockingly so. Brakes are single-piston, but at least there are two of them up front.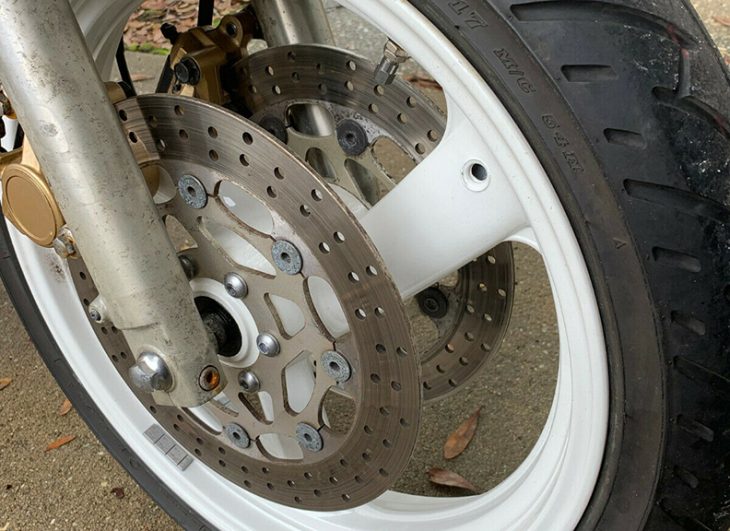 But in spite of the fairly bland power-to-weight, the FZR was endowed with that magical agility possessed by the very best sportbikes. Handling certainly was a strong point for the FZR400, and these are famously competent sportbikes, although they often get overshadowed by Honda's much more exotic VFR400R. That should be no surprise as, in many markets, the 400cc class was considered "middleweight" and was hotly contested on track and in showrooms. In the US, 400cc was definitely "entry-level" territory, and most companies gave only a half-hearted effort in selling their wares here: only the Honda CB-1 that shared an engine with the CBR400 and the Yamaha FZR400 made it here officially
As you can see from the pictures, it appears to be in very original condition, although the stalk-mount adapter for the left front turn signal is missing, and there's plenty of surface corrosion and a few minor scuffs, as described by the seller below. The front calipers also look very freshly painted, which suggests regular maintenance of the parts that really matter.
From the original eBay listing: 1990 Yamaha FZR400U for Sale
This is a used 1989 Yamaha FZR400 with a clear title and very low miles, 28,375 mi. I don't ride this, nor is it registered, so the mileage will not change. Selling to make space in my garage. I am the second owner of this '89 FZR400, it has spent the last 8 years in a climate controlled storage unit due to me being deployed. I had the fuel system flushed and the bike was serviced this past month, in addition it had a new battery installed. The tires are not dry rotten so I didn't have them replaced. I can provide a video of the bike being started if you so desire. Being that it is a carburated model it takes a bit of choke to get it turned over. Now on to the pictures. As you can see there is some battle damage from a few different incidents. Since I have had it there was no use on it so the few chips and scrapes were done by the previous owner. There is some pitting on the forks and other aluminum bits. I didn't see any cracks in the plastic, however keep in mind this has the OEM plastics on it. An oil change has been done recently,11Mar18, with Motul 5100 and K&N oil filter. Belly pan has some light scrapes and some distortion from the exhaust. This can be seen the photos. The heat distortion is the same that my '90 FZR400 has, the difference being my '90 has 1/6 the mileage on it. I can be present if you want the bike shipped, however I am not arranging shipping. I am not in a hurry to see this so, any low-ball offers will not be considered.
The seller refers to this as "very low miles" and, unless you're talking about a car, I'm not sure nearly 30,000 miles qualifies. That being said, it's not like this thing has been used as a commuter hack, so the miles wouldn't necessarily put me off, either. Otherwise, it sounds like a solid bike, given the supposed care it's received. After years of being the ideal budget-minded track or canyon ripper, these are starting to gain traction as collectibles. Certainly, they're among the best-looking bikes of the era, with the classic Yamaha colors, twin headlamps, and chunky aluminum frame. Starting bid is $5,799.00 with no takers as yet. Prices seem to be on the rise for these, but the seller may be jumping the gun here and I'd say a $5,799.00 asking price is probably still a bit optimistic.
-tad