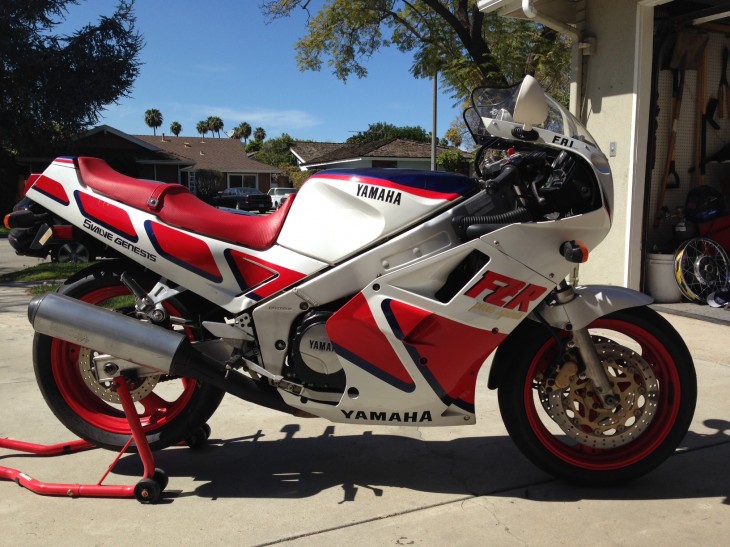 Today's Featured Listing is this very complete Yamaha FZR1000 with the 5 valve Genesis motor. These bikes have a loyal following amongst those who remember that they were incredibly powerful then and still very fast today. While EXUP was introduced later in 1989, these earlier examples were still rated at 135hp, 2.9 0 to 60mph, and a 167mph top speed. This example shows some patina and modified seat, but for a mere $3200 this looks hard to beat for the money.
Thank you to Kevin for helping to support the site with a Featured Listing and good luck with the sale!
dc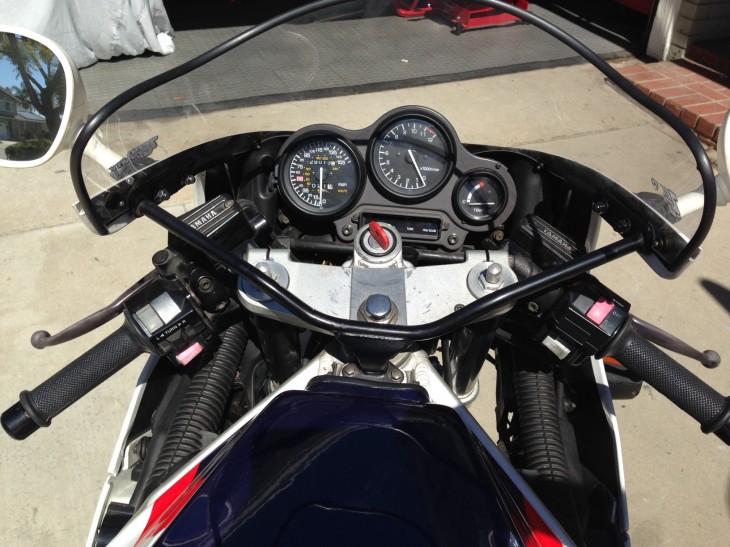 from the seller:
1987 Yamaha FZR1000 Genesis. Quite an early bike (#178) and with the exception of the red seat cover, very original. Also mileage states 29000 but the original clocks stopped at 20,000 (which I still have) and were replaced by a set from a different bike. I have not owned this bike too long and am selling it as I simply do not get along with it. I suppose I prefer my sportsbikes to have two cylinders and originate from Italy. Over the course of the few months of ownership I have replaced all of the fluids (forks, motor, coolant, clutch and brakes), set the suspensions for a 190lb rider and replaced the battery. She starts up instantly, idles nicely and goes down the road well. Tires have plenty of tread left. Chain and sprockets are virtually new. I replaced the rear suspension dog bones with longer ones to raise the back end a little to help her turn a little quicker. The only flaws that I can find (though many on this site may find more) would be the missing tool kit and damage to the left side fairing which has a missing tab and a couple of scratches from what I think were soft panniers. There is also some light checking on the paint on the tank. The bike is located in Long Beach, California. I am asking $3200.