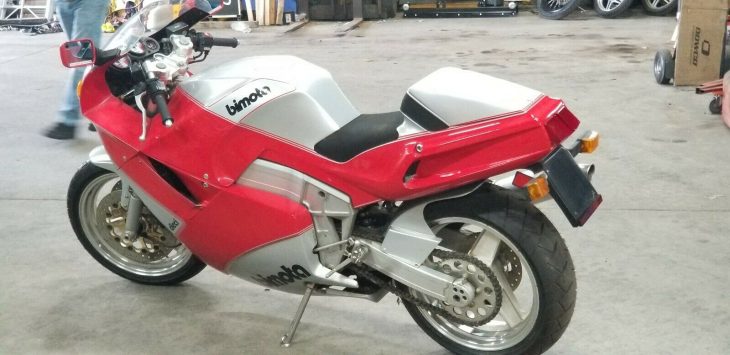 One of the things I love about Italian bikes and cars is that, no matter what, they look like the vision of one person, not a committee. Sure, there may be the occasional stylistic misstep, but oddballs like the Alfa Romeo Milano and Bimota Mantra make a statement, and you can feel the passion in their creation, even if it's sometimes misguided… Fortunately, the Bimota YB10 Dieci is one of the more timeless Bimota designs, and they obviously knew they had a good thing going, since the bodywork and frame seems to have changed very little between the YB4, YB6, YB7, YB8, and YB10.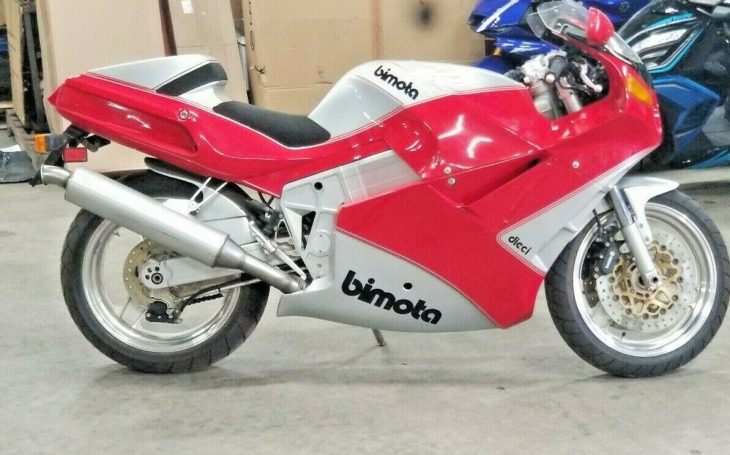 The sleek envelope of the bodywork is the first thing you notice, but Bimotas are uncompromising sportbikes and have always been about the frame. Earlier bikes used trellis-style frames, but by the late 80s, they'd moved to lightweight aluminum beam-style designs as seen here, complete with beautiful machined details. This was the 10th Bimota that used a Yamaha engine, hence the name YB10, which has nothing to do with displacement. In this case, it was Yamaha's smooth and powerful 1002cc five-valve Genesis engine and five-speed gearbox. The package was good for 145hp and 172mph, not world-beating in today's terms, but still very, very fast. In 1991, this thing was the epitome of speed, and the embodiment of exotic.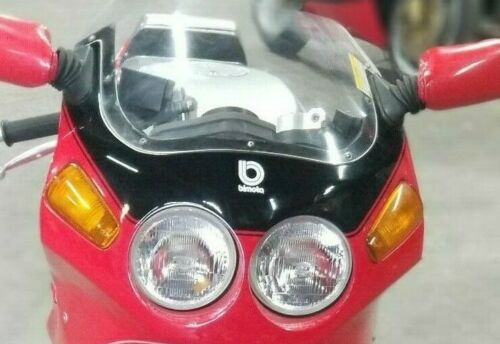 Some readers have misunderstood my previous posts featuring Bimotas, thinking that my criticisms indicate a dislike of the brand. I'm a huge fan of Bimota, and Italian vehicles in general, but experience means I'm very familiar with their… peculiarities, their qualities both superlative and frustrating. Bikes like the YB10 embody everything I love and everything frustrating about Italian machines: they're gorgeous, fast, and full of personality, with a few hand-built details that speak to their low-volume production and some elements of their construction that indicate the clear focus on performance above all else. If you're looking for authentic race-bike details, they're easy to find here, from the exquisitely machined frame and top yoke to lightweight bodywork made up of just a few pieces, all connected with quarter-turn fasteners… But it's a fine line between "race bike" and "kit bike" and these can be frustrating for owners used to more refined machines.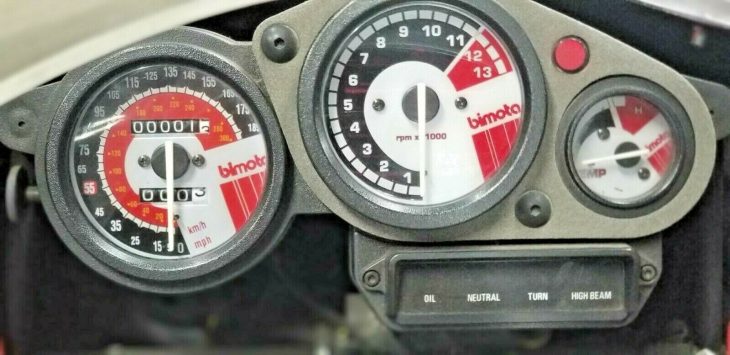 These days, this limited-production, Italian dream machine can be had for relative peanuts, although this particular example calls for a few more of those peanuts, since it's never actually been registered, or turned a wheel. Personally, I like my bikes to be usable as bikes, but collectors are strange creatures, and unused examples like this usually command premium dollars.
From the original eBay listing: 1991 Bimota YB10 Dieci for Sale
Up for bid is a 1991 Bimota YB10 Dieci – Rare 1 of only 224 made– Never registered, zero miles! This gorgeous super-bike is part of a collection of fine motorcycles at Formula One Motor Sports in Oakdale New York.

Bimotas are well known for their Italian style, class and over the top engineering. It has a one piece billet machined frame paired with a Yamaha FZR1000 motor, and seamless upper fairing it also comes with billet triple, classic style wheels!

The Bimota Dieci not only offers Italian Style but you get the reliability of a Japanese Motorbike. Don't miss out on a chance to bid on this museum quality bike it is a must have for any collector.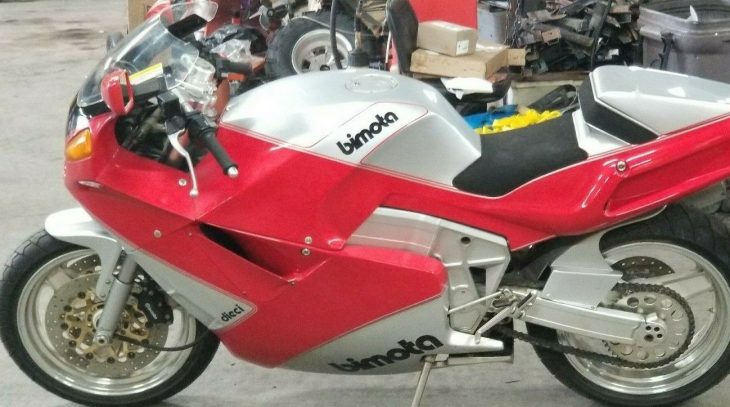 This may be a museum-quality bike, but the $21,000 the seller is asking is a museum-quality price. There are plenty of lovingly cared-for, low mileage Bimotas out there at literally half the price, so you'd really have to be one of those zero-mile obsessives to want to splash out for this one. "Plenty of" being relative, of course since, as the seller points out, just a little over 200 were made. But they do show up occasionally for sale and, to give you an idea of what they normally go for, the last one we featured had 12,000 miles and an $11,000 asking price.
-tad