The first generation VFR 750F was only offered with the uber-cool white bodywork in 1993 and it still looks quite good, especially in comparison to the other sportbike designs of the 1990's (cough-cough-I'm-looking-at-you-1993 Suzuki GSX-750R).  Fairly cheap just a few years ago, trying to find a 1993 VFR with the OEM white bodywork in good condition is now getting to be quite hard. Values have been increasing recently, as shown by this under 10,000 mile edition we listed last year went that for about $5,500 USD, well above its book value.
This one has a significantly higher number of miles than the one from last year but condition looks to be excellent and more importantly, mostly OEM.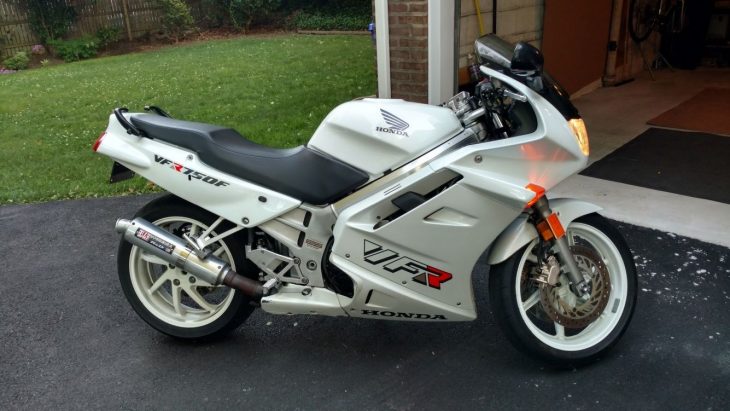 Back in the early 1990's the 600cc class really started to upset the previously dominant 750cc class both in terms of performance and in sales. New 600cc bikes like the Honda 600 F2 and Kawasaki ZX6R were suddenly close performance rivals to the previously dominant 750cc class and while some companies such as Kawasaki and Yamaha responded by making their 750cc offerings even more track tech oriented, Honda decided to go a different route.
Instead of a single pure track oriented 750cc offering like the Yamaha OW01 or Kawasaki ZX7RR, Honda instead took a two-pronged approach.  Honda put their considerable technological efforts towards what would become the mind bending oval piston equipped NR750 while at the same time allowing their 750 street effort to take a more balanced approach.  The result were two epic bikes; a technological tour de force in the NR750 and possibly the best all around sportbike of the 1990's, the VFR750.
When the VFR750 debuted Honda had just come through a debacle with the bikes predecessor, the VF700.  Flaws in the camshaft casting process had produced a reputation for "chocolate camshafts…they melt when they get hot!" and Honda was determined to restore their engineering reputation.  Rumor is that the focus on reliability was so intense that Honda lost money on the VFR750 for several years just to restore its reputation.
While reliability was a focus, the performance side of the VFR750 was nothing to sneeze at.  The VFR's handling was on a par with the best superbikes of the day. A stock VFR finished eighth at the Suzuka 8-Hour race and another nearly stock version finished in 3rd place at the Donnington park Trophy race against competition that included the legenday Kevin Schwantz.    The Honda VFR 750 offerred bulletproof reliability and performance that measured up to all but the most performance-oriented bikes of the time.   It should come as no surprise that the VFR would in later years become a big sales success, win bike of year numerous times in the mid to late 1990's and was even crowned sportbike of the decade by numerous motorcycling publications.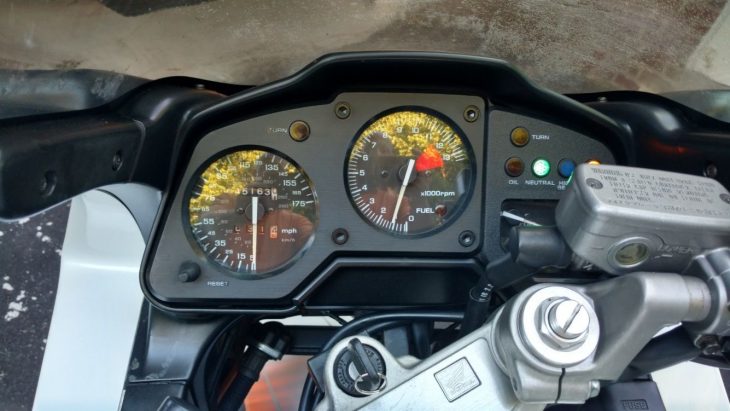 This particular VFR has a good chunk of miles on it; the seller indicates over 45,000.  Even so condition of the bike looks to be truly excellent, with no blemishes on the triple tree or gauges.   The only items that seem of note are the tailpiece and exhaust which appear to be non stock, there seem to be extra/non-stock reflectors on the front forks and perhaps a bit of paint bubbling or road rash on the lower mid fairing.
Here is what the seller has to say:
New brakes, grips, oil & filter
Good tires
Good chain and sprockets
Perfect seat
No leaks or other issues, Everything works, starts on first push
Yoshimura Pipe – subtle but noticeable
Needs 1 fork seal, plastics not perfect.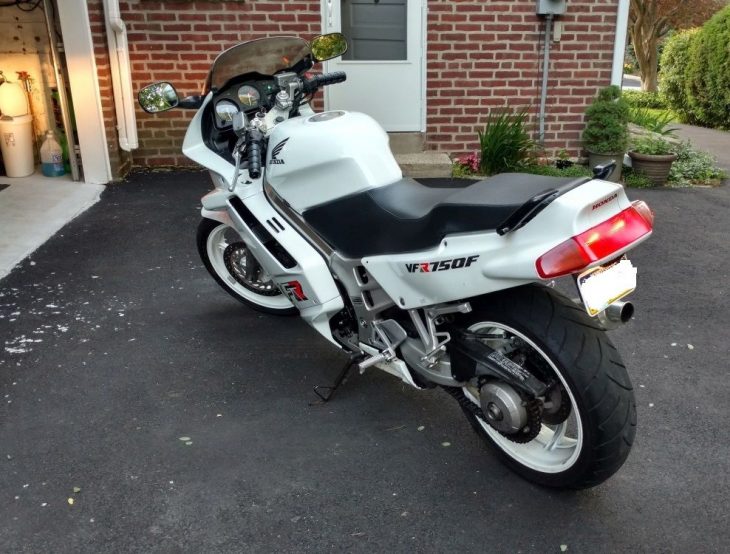 So now the question – what is this lovely VFR in the cool white worth?  Well let me put it this way…when I saw that the Buy-It-Now price was only $2,350 USD I almost bought it myself.  The condition of this one looks to be very good, its the rare white bodywork scheme, maintenance history looks reasonable and while the mileage is kind of high, given the VFR's build quality reputation I don't think there will be major issues once any initial issues are resolved.
This may be one of those rare occasions when a seller has underestimated the value of his bike.    I expect this one to sell pretty quickly so if you missed out on the one from last year you might want to act fast.
Marty/Dallaslavowner