No less a rider than Giacomo Agostini abdicated his dynasty at MV Agusta when Yamaha introduced the 4-cylinder 2-stroke 700cc racebike. He won the 1974 Daytona 200 with it, and its 750cc progeny went on to a 12-year run on the beach.  This newly restored example has matching numbers and a nicely documented race history.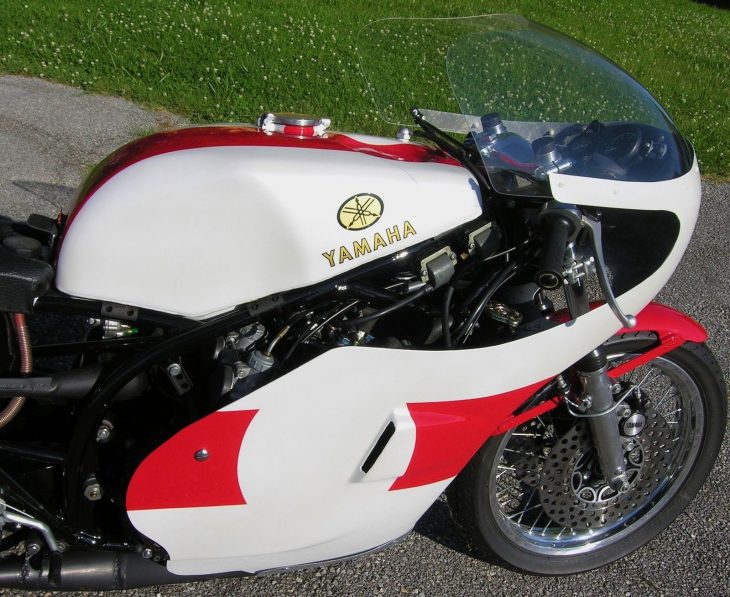 As ever, specs for a race machine are a liar's poker affair.  The engine had a nasty tone even at idle and was good for 140hp at full song.  The frame was a twin downtube arrangement and the swingarm was all new, spread at the rear wheel but converging at the bottom pivot and top where the shock mounted, the Monocross went on to bigger and better.  Initially a pair of RD350 race engines joined at the hip, the TZ750 was more purpose-built, water cooled though the crankcase bristles with fins.  Expansion chambers mostly taking the path of least resistance - except for the left which wound around and through the frame.  Triple hydraulic disk brakes provided the retro-force.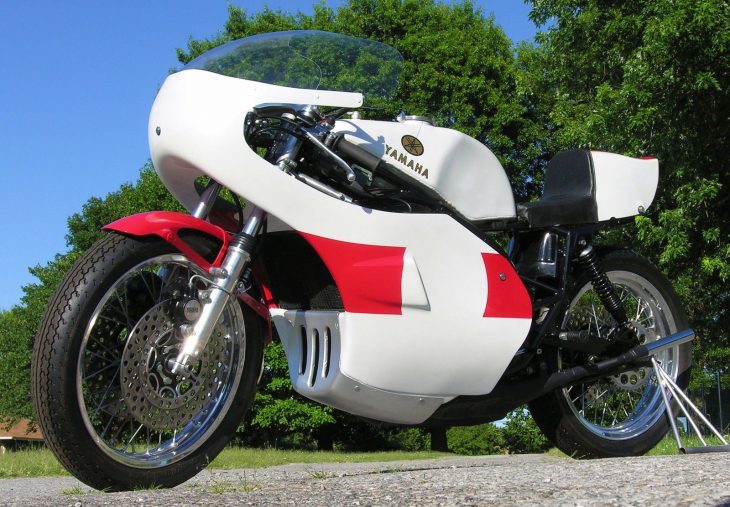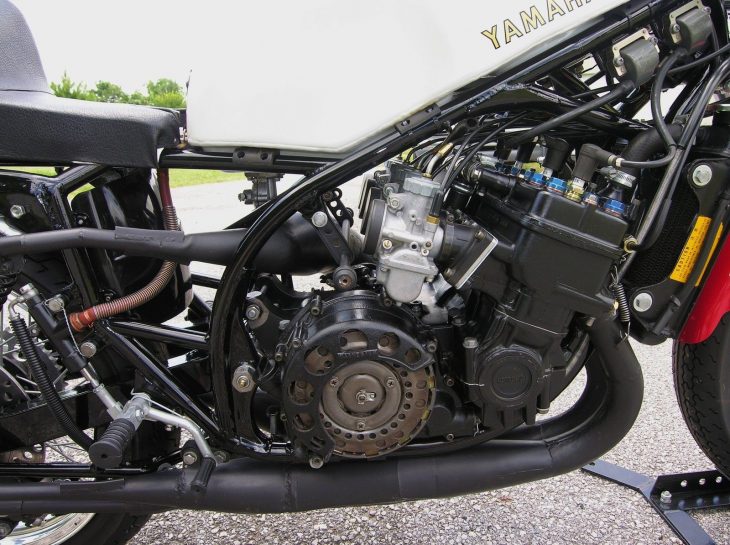 The owner has treated this TZ750 to a rare level of restoration, both mechanically and cosmetically.  Just part of the eBay auction's comments :
This bike has The Holy Trinity for the most discerning collectors and enthusiasts: Provenance, Rarity and Condition! What you see here is the culmination of a 10 year, no cost spared, meticulous frame-off restoration. The resto was done on a complete, running, period correct, and 'as raced' TZ from the 1970's. Amazingly, during the bike's campaign both here and abroad, it appears to have never been crashed or blown-up. The exact Factory paint scheme and colors were precisely replicated from Factory original. The Shipping Invoice (see pic, courtesy of NATS Forum) shows #159 being a genuine 1st batch racer. There were a total of 219 TZ750A's built;  few remain today.
Rather too specialized for a hobbyist, exercising the TZ-750 will take commitment.  Maintenance hours will be more numerous than "flight" hours.  But this race veteran is sorted and shouldn't bring too many surprises.  As the owner states:
The bike was built to run, but assembled primarily for display and ease of cleaning.
Successful to the point of domination, the TZ-750 will likely be invited back to any event it attends.  The fairing's well-drawn lines are sure easy on the eyes.  Mechanically, it's better than new - improvements to the exhaust system made and impossibly light brake disks, with blank livery as shipped.  Likely never to turn another hot lap, the velvet ropes beckon.  But once photographed, the years of racing history are in the books, and the soundtrack from a demonstration lap or two is all that's missing...
-donn