Warning!
This post is in our archives. Links in this post have been updated to point to similar bikes available to bid on eBay.
It's hard to think of a racing bike more uniquely American than the Harley-Davidson XR750. The bike combines all of the qualities that make us who we are as a nation, and carries a long history of victories through grit, determination and dedication to the art of plying your trade better than anyone else. For riders and racers in the 1970s and 1980s, the XR is as hallowed as Richard Petty's sacred 43 or McQueen's trademark smirk.
The XR750, which is variously quoted as having anywhere from 80 to 100 horsepower is the winningest motorcycle in AMA history, thanks in large part to the fact that, 50 years after it bowed, flat trackers are still finding success aboard updated versions. Evel Knievel made the bike famous outside the fairly narrow lane of flat track racing, jumping his 1972 XR to a string of then-world records.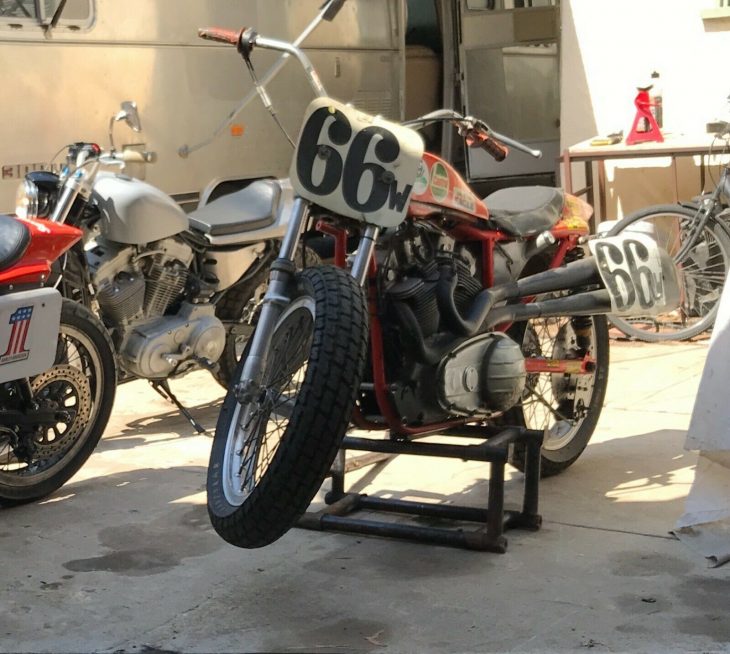 This 1972 Harley-Davidson XR750 was raced by Mike Boyes in the 1970s and 1980s. It sits in unrestored, as-raced condition, and has not started since Boyes last rolled it into the pits. It is a time capsule in the purest sense of the word. It is the first year of the alloy-head XR750 engine, and carries nearly 50 years of race patina on its simple orange bodywork. The fiberglass tank is uncoated and unlined, and therefore is likely unfit for use. The seller says that, despite its long slumber, the bike shows every sign that it would fire and run with minimal work.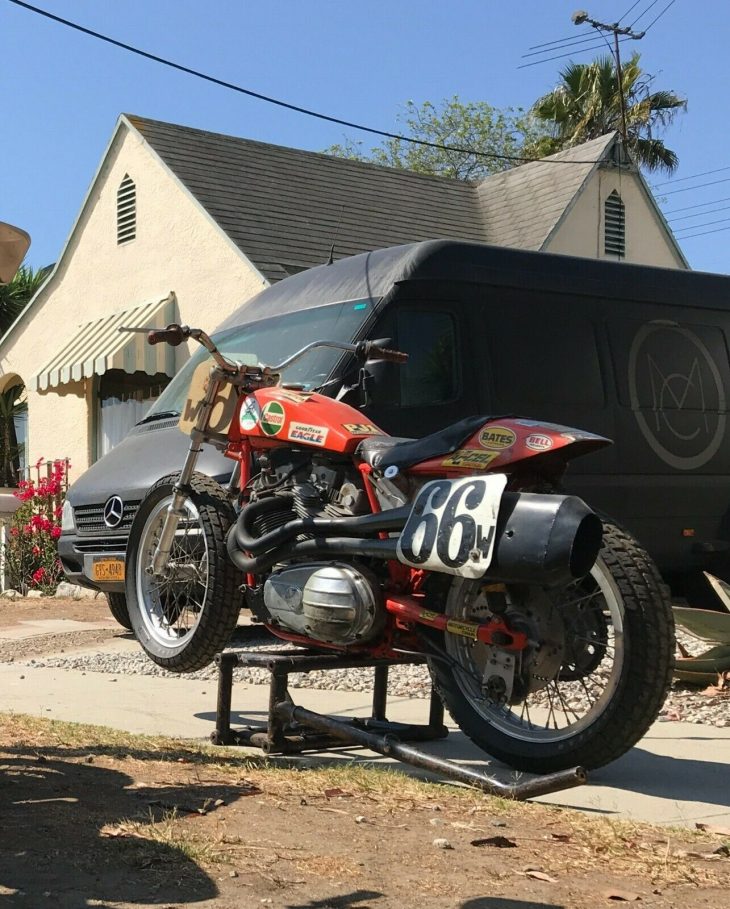 From the eBay listing:
1972 Harley-Davidson XR-750 flat track racing motorcycle
Engine no. 1C101XH0
Unrestored. As raced.
• First year of the alloy head XR
• Raced throughout California in the 1970's and 1980's
• Delivered in as-raced, unrestored condition
This 1972 alloy XR-750 was purchased by Mike Boyes from renowned Harley tuner Michigander Tex Peel. Boyes then raced it mainly in California in the mid-to-late 1970s and early 1980s. He lives near Seattle, Washington today. Boyes sold the bike to Yoshi Kosaka of the Garage Company, now of Inglewood, California, who kept the bike for many years before selling it to Mike Cheiky, a California-based inventor. Mike died last year and so his wife Charity enlisted a family friend to find it a new home. The XR-750 found its way to New York City Motorcycles. Its appearance – the patina, that is – has been 'undisturbed' since it was last raced at Ascot, San Jose, Sacramento, and others. The motor gives every indication of firing up with a minimum of proper servicing and safety checks although it is recommended that fuel not be poured inside of the XR750's original, un-lined, uncoated tank. To run it, a substitute tank or external fuel feed should be used.
Ran when parked 🙂
This is my third vintage XR750 and the purest racer of them all. The motorcycle looks exactly as it did when it exited the racetrack the last time.
Recent marriage and move to Japan makes keeping, shipping and/or storing impractical. My move is your gain 🙂
See other motorcycles offered for sale along with the XR.
*missing left footpeg
*Sold with a BILL OF SALE ONLY. XR750's do not have titles and are not legal for road use!*
***optional Harley Racing factory stand available to the winning bidder only. $500 value***

The motorcycle is sold as is, where is, and there are no warranties expressed nor implied. Judge the photos and make your own assessment of the bike's condition, rather than rely on my opinion and/or description. Questions and clarifications are encouraged. These are my personal opin Bidders must be certain of their commitment before bidding, as once its submitted. If you win it, you bought it. No time for nonsense please. Bidders with less than 10 or any negative feedback must contact me prior to bidding or else expect your bid to be cancelled and removed.

This motorcycle requires thorough inspection and recommissioning before running or riding. Know what you are buying before you bid. If you don't have the expertise and/or the budget, with all due respect, this is not the bike for you.

New York City Motorcycles ( nycmc dot com) is reasonably well known in the vintage motorcycle community and this is not the only platform for offering the bike. Therefore please consider not waiting until the final seconds of the auction to bid. Because while you're waiting to pull the trigger, if a fair offer arrives from elsewhere and there is not a comparable bid here, the auction will instantly disappear from your watched items.

Motorcycle is located in Venice, CA. I will work with your shipper but its your responsibility.

I've had several questions regarding the engine number.  Firstly, thank you for pointing out the number being incorrect, incomplete or possibly the engine number of the prior series, 1970 Ironhead.  I've just added addtional photos of the engine case, which shows the full number: 1C1013(followed by 2 with a slash over the number) H8

The slash through the two is consistent with a 1975 model I owned previously – in that instance the number 6 followed by the number 5 slashed out.  The unanimous opinion from experienced XR owners and collectors was 6 referring to 1976, the bikes completion date; the 5 slashed out refers to the 1975 model.  In that case labor disruptions at Youngstown were responsible for some 1975 bikes being carried over and released the following year. 

The number first shown was indeed incorrect.  I used the text from the Bonhams auction catalog from the Barber Motorsports, sale in October of last year, where the XR was listed.  Bonhams conducted their own independent review of the bike's provenance.  I should have proofread their reference then, as well as now before I put the bike up for auction now.  Apologies for my oversight and hope this clears up any confusion caused.  Feel free to ask additional questions if my hypothesis appears incorrect!

Thanks again.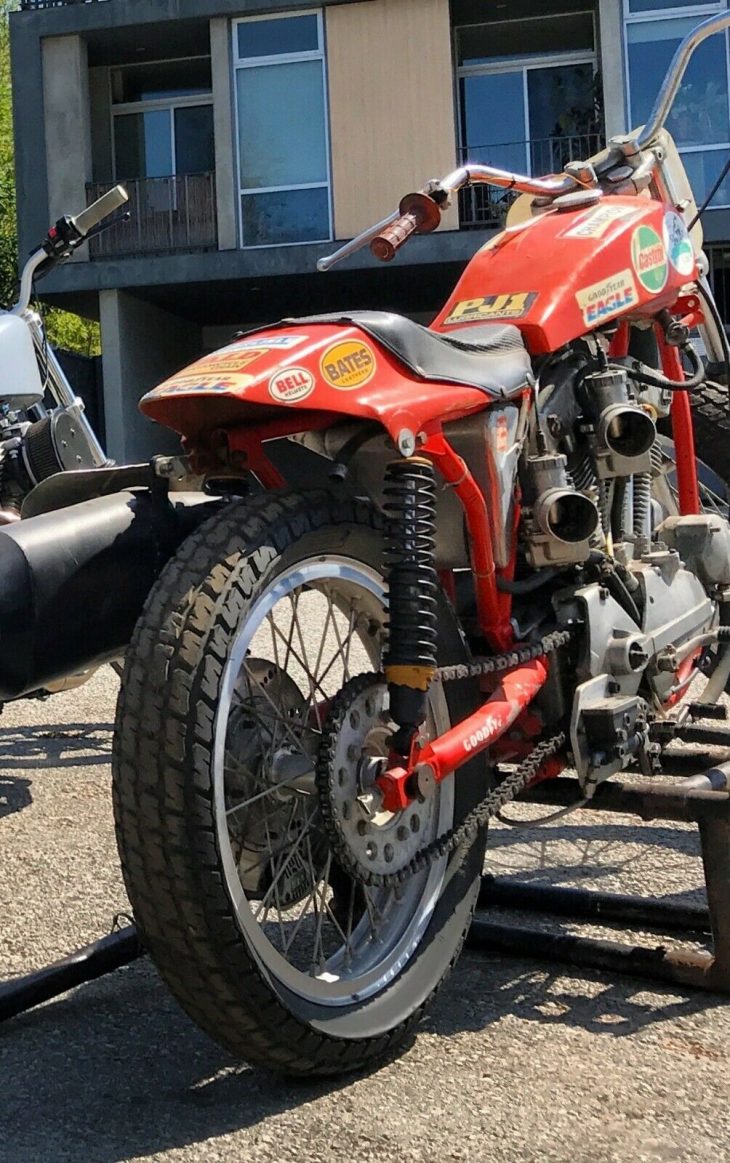 Running original XRs command silly money, and this one is a true museum piece with race provenance to back it up. Hurry over to eBay if it tickles your fancy, the auction is about to wind down!