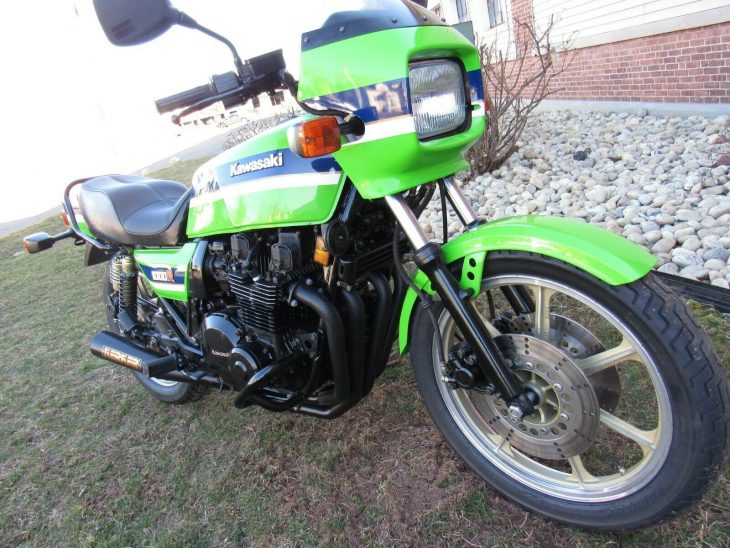 The boxy, purposeful 1983 Kawasaki KZ1000R Eddie Lawson Replica is one of those machines that elicits reverent guttural grunts from the most jaded superbike fans, connected as it is to American roadracing history. Before Lawson flew the flag on the 500cc World Championship stage, he won back-to-back AMA Superbike titles in '81 and '82 aboard a wild Kermit green and royal blue KZ1000.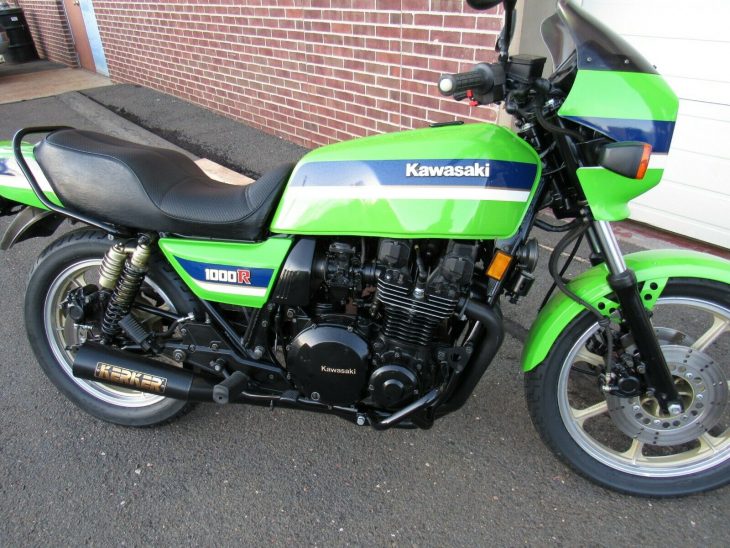 To celebrate, Kawasaki stuck some special parts and that iconic livery on around 750 street bikes, putting a crown on the KZ range and setting a benchmark for other superbikes to be measured by. At least for a couple model years until the mid-80s gave birth to the first "modern" sport bikes. The ELRs had a GPz1100 head on the 1,000cc mill, a 4-to-1 Kerker pipe and reservoir shocks to elevate them above their stablemates.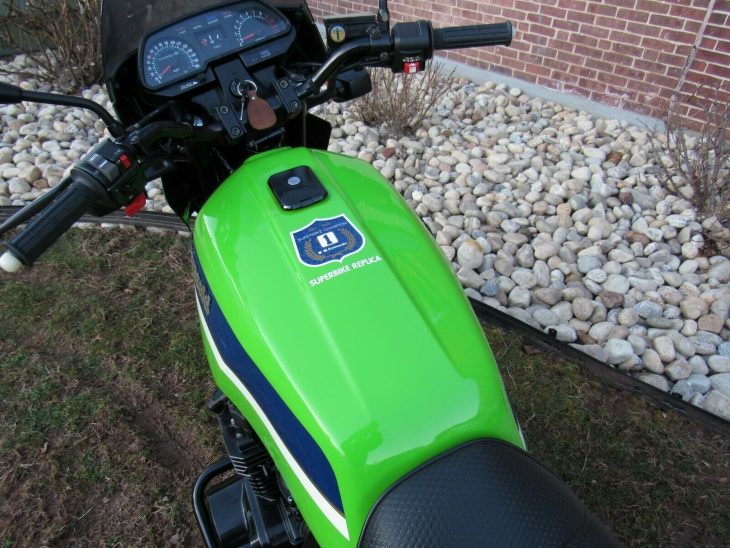 The bodywork was standard-looking 1982 GPz fare, but sported that gorgeous paint scheme, and a laurel graphic in front of the filler cap that announced the brand's racing success.
This 1983 Kawasaki KZ1000 ELR has covered fewer than 10,000 miles, and is food-grade clean. The seller says all he has changed are the tires, though the condition definitely belies the miles and the fact that it is unrestored beggars belief.
From the eBay listing:
A limited edition tribute to Eddie Lawson, just 750 examples of the Kawasaki KZ1000R ELR (Eddie Lawson Replica) were built between 1982 and 1983. , the press and the public loved this bike and how aggressively it was set up.
The 998cc inline four produced 83 horsepower in a bike that weighed 543 pounds. Top speed was just shy of 130, and none of those numbers matter to me because I think this is one of the definitive muscle bikes of all time.
Kawasaki KZ1000R Eddie Lawson Replica
Years produced: 1982-1983
Total production: 750
Claimed power: 83hp @ 8,500rpm
Top speed: 128mph (period test)
Engine type: 998cc double-overhead cam, air-cooled inline four
Weight (dry): 247kg (543.5lb)

Building the KZ1000R followed Kawasaki's typically deliberate path. From the J-model came its 998cc, DOHC, two-valve, air-cooled four, with electronic ignition and strong roller-bearing crank assembly. It was a hammer of an engine, really, and the perfect starting point for hot-rodders already in love with the bulletproof Kawasaki fours. The conventional steel-tube frame was J-spec, too, with slightly lazier steering geometry and additional trail for the presumed higher-speed work the bike would see.
The ELR's more memorable parts—the long, coffin-esque tank, swoopy tailpiece, and sporty cockpit fairing—came from the GPz1100, as did instruments, brakes, wheels, and its Dunlop K300s. Also added was a deep-dish saddle, more rear-set footpegs and controls, an oil cooler, a black Kerker 4-into-1 (which, by law, had to be installed by the dealer after the bike was uncrated), and a superbike-bend handlebar designed by Lawson himself. It was an impressive piece, visually and technically, with strong, near-GPz performance, reliability, and more than its share of chutzpah that took riders back to the famous Z-1.

This example came from the original owner, the only things i changes were the tires…..which are period correct the bike obviously was stored inside
this is is in extremely nice shape for a bike that has been ridden and not restored and everything appears original and correct !
all electrics work shifts through all gears ….seat is perfect exhaust looks fantastic bike comes with original owners manual tool kit , clear title and the original sales lit from dealer
this bike is a blast to ride ,and dont forget this a true collectible that will only gain in value !
bid high bid often bike is sold as is with no reserve!
questions….call paul 860 828 1771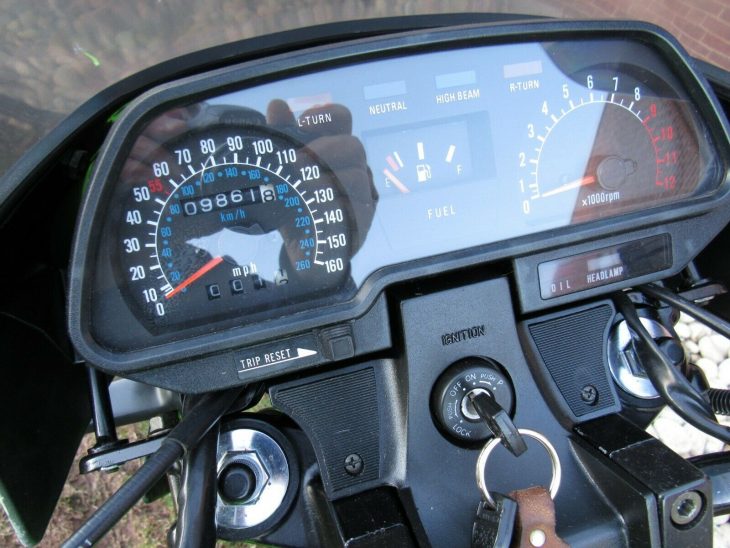 With just a few days left in the auction and active bidding, the price is starting to snowball. We expect there will be plenty of bid sniping going on before the auction wraps.