For Sale: 1986 Suzuki RG500 Gamma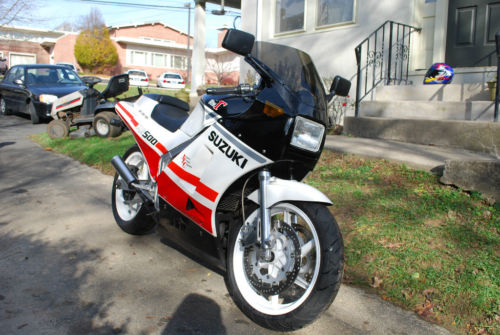 From the great state of Pennsylvania comes this fantastically clean Suzuki RG500 Gamma. Now mind you ALL Gammas are objects worthy of our lust, but here is one wearing less common livery (ranking right up there with the Walter Wolf variety in rarity). The bike is very well kept, tastefully modified, and available to the highest bidder. Happy Holidays indeed!
Much has been written about these fabulous square fours, and I KNOW the folks reading this board have a hankering for that smell of smoke in the early hours of morning. This RG is as imported as they come (probably snuck over the boarder from Canada as a used bike), as the US shores never held open arms to this, or any other street-going two stroke from the early 1980s onward. I do so love the look of those upper pipes exiting the seat cowl. I look at this bike and say to myself: Someday……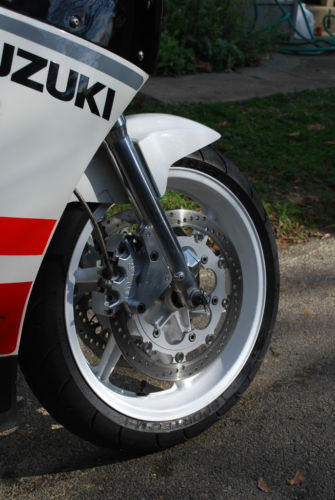 From the seller:
Heres a VERY nice 1986 Suzuki RG 500 GAMMA up for auction.It looks like new + runs better than it looks! It has the rare black/red/white color combo…only 60 out of 650 or so GAMMAs came in this color when originally imported into Canada….its even rarer then the Walter Wolf (at least in this hemisphere..maybe europe had more) It has most all of the Rick Lance mods that make the bike much faster,better handling + better stopping then a totally STOCK Gamma is…Tommy Crawford pipes,tri-pod air box mod., floating EBC front rotors + calipers,wider more modern tires,in-line petcock mods, etc…etc..this bike FAST as F— when you hit the powerband + is NOT for the faint of heart! If you never rode a Gamma..your in for a BIG treat!! Tons of FUN! comes with clear title.

Additional info:
Bike also has a FOX racing shock+ resevoir ,fully adjustable / Lance strut NEW….tires are 120/V-17 front 160/v-17 rear,great shape,engine is ported/carbs. modified to flow more air/fuel, this bikes performance + looks are exceptional!! buyer will NOT be disappointed!
It is not often that we find a RG in the States with a title in this kind of condition. When we do, they invariably do not last long. Today's RG has the added benefit of being sorted and nicely updated – reference Rick Lance mods and parts, as Lance is the guru of the Gamma. This auction has just started and your chance to own this beauty before Christmas is now!
So what price do you place on the rare, exclusivity that is an RG? This auction started with an opening bid of $3k and very quickly jumped up to $9,689 by the time of this writing. The reserve is still in place, and the BIN number is set at $15,500. While high by many counts, this appears to be the new going rate for super-clean RGs and RZs these days. No doubt that values of these bikes are on the rise given the ever growing polulation of Priuses in our EPA-choked and limited world. For more info and details, click the link and jump over to the auction. Good luck, and don't forget to tell 'em you found it on RSBFS!
MI