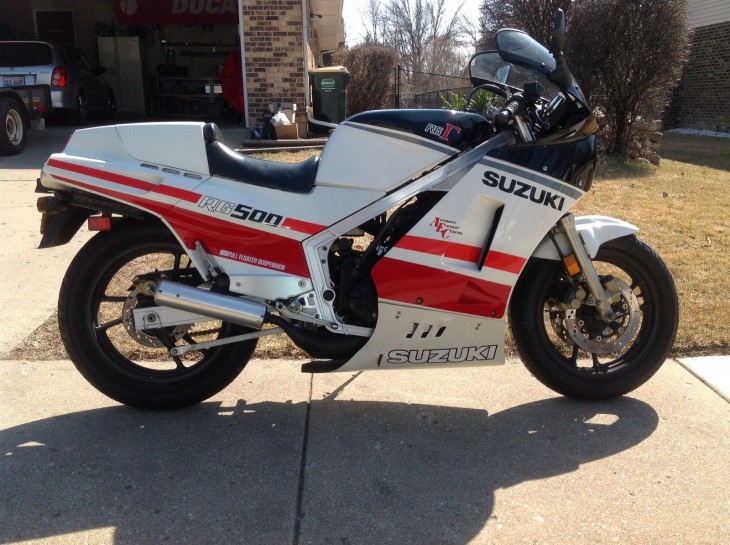 Today's ride is a 1985 Suzuki RG500 Gamma. For all those who criticized the last RZV we posted for being too modified, this RG appears to be mostly stock and OEM, with noted exceptions. Like the last big smoker, this one also appears to have a California title. If the mileage is correct, the kilometer conversion works out to be just under 12,000 miles. Currently located in the great state of Illinois, this bad boy would be a terrific addition to any collection. As always, RSBFS recommends that you do your homework on any collectible machine, and especially a gray-market import. Depending where you live, importation and registration could be tricky.
From the seller:
This is a Re List, previous buyer was in Hawaii and turned out the bike needed some mods (amber turn signals, dash in mph,certificate of import) to regiater there and i was not willing to alterate the condition as is .Rare opportunity to own a very special bike, never imported into US , the Rg500 Gamma was considered by most the closest think to a GP bike ,this one came from Canada, has Ca title. The provious owner intented to sell the bike in 1997 but the deal fall through, ended up buying a different bike and he never got to register or ride this one, even the title is signed over and dated with that date . I brought the bike home, cleaned the carbs, changed all fluids, ordered a new clutch kit ,fuel lines, petcocks and air filters from Lance Gamma and bike started after few kicks. with the exception of these upgrades and maintanance i had done to it is all original, pant is beautiful , has few small dents, scratches but no rust or manor damages,very clean ,dry and solid. Rides like a dream, i got to put few hundred miles on it but the tires are old and weather in Chicagi is still very cold. Comes with Ca title, manuals and one key.

The white belly pan is an aftermarket piece (looks geat) but i have a brand new oem belly pan i ordered from Japan. Also the cusion for passenger is included . This bike is for the purists as much as for the enthusiasts wanted to ride it as much as to show it.
This RG has an opening ask of $16,500. That may seem a bit high – and is likely why there have been no takers yet – but the aforementioned RZV easily topped $20k in bidding. For those interested in something closer to stock, this is a tasty alternative that should soothe the blue smoke cravings in your soul. Check it out here, and let us know if you would prefer to park this RG, or the more heavily modified RZV in your garage or man cave…or both! Good Luck.
MI