East Peoria, IL – 15,867mi – $4,550 w/Reserve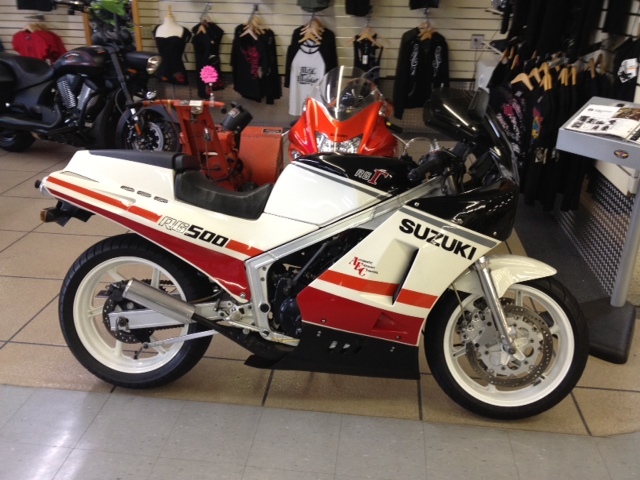 Those unfamiliar with the Lance Gamma bikes, feel free to checkout lancegamma.com and see the host of parts and performance upgrades they have to offer. The Lance bikes are seriously dialed in and no doubt make considerably more power than stock RG's.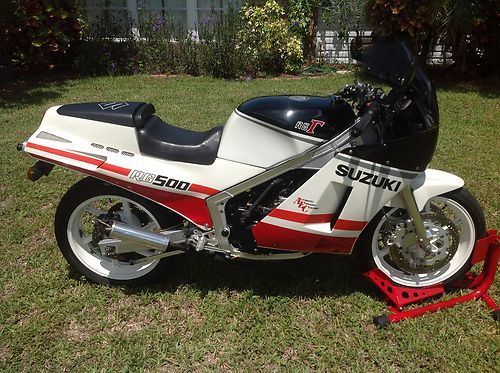 Just a little background info on the 1986 RG500 for all of you out there who don't quite know what it's all about. This classic smoker has a square-four engine design, which is basically two parallel twin engines crammed together using two crankshafts. Weighing in at around 350lbs and making 95hp from the factory, this 500cc bad-boy is sure to inspire some Gran Prix style fun!
From the seller:
1986 SUZUKI RG500 GAMMA. I PURCHASED THIS UNIT ON EBAY LAST YEAR FROM A GUY IN FLORIDA. IT WAS EVERYTHING HE SAID IT WAS AND MORE! THIS BIKE IS PERFECT. I HAVE OWNED 2 OF THEM AND THIS ONE BY FAR IS THE NICEST I HAVE PERSONALLY SEEN. I DO OWN A MOTORCYCLE DEALERSHIP AND I AM RATHER ANAL ABOUT THE MECHANICS, AND CONDITION OF THE BIKE. SINCE MY PURCHASE I HAVE PUT 3 TANKS OF FUEL THROUGH IT. IT HAS 15,867 KM ON IT NOW. I AM ONLY PONDERING SELLING IT BECAUSE I HAVE THE OPPORTUNITY TO EXPAND MY BUSINESS. IF IT SELLS GREAT, IF IT DOESN'T GREAT. (THIS IS NOT A HAVE TO SELL SITUATION)

THE PREVIOUS OWNER OUT OF STUART, FLORIDA INFORMED ME THAT RICK LANCE HAD OWNED THE BIKE AT ONE TIME. I WAS ABLE TO SPEAK TO RICK AND HE DID VERIFY, THIS WAS IN THE LATE 1990'S. AT THE TIME RICK MIDLY PORTED IT, DID THE INLINE FUEL PETCOCKS, LANCE STRUT FOR RIDE HEIGHT, TRIPOD AIR FILTERS, FOX TWIN CLICKER SHOCK, PM FRONT BRAKE CALIPERS FOR BETTER BRAKING POWER (POLISHED FOR LOOKS WITH THE FORKS) ALONG WITH THE CBR600 WHITE WHEELS THAT I FEEL MAKE THE BIKE LOOK BETTER.

IT ALSO HAS TOMMY CRAWFORD PIPES WHICH ARE AS RARE AS THE BIKE! THE PRIOR OWNER PURCHASED A EXTENDED RADIATOR FROM RICK BUT NEVER INSTALLED IT, I HAVE IT AND IT WILL GO WITH THE SALE AS I NEVER INSTALLED IT EITHER. IT HAS BEEN SAID THAT THERE ARE ONLY 60 OF THESE COLORS THAT WERE BUILT. OIL INJECTION IS STILL IN PLACE! BATTERY RELOCATED TO THE FRAME UNDER THE TANK AREA ALL DONE BY RICK LANCE.
This bike was featured right here on the site back in 2011, and it looks like not much has changed, which is good. These Gamma's of the Lance variety always seem to command higher prices and more attention. That's because they are generally much more cared for and maintained than the rest of them. This one does also feature the less common of the graphics (aside from the WW and Skoal units). She does look good with the white wheels too! Sounds like Reserve is top dollar for this one and the seller isn't in any hurry to dumb it. I would guess somewhere in the $15k+ range for the reserve and would also put that right there with the top dollar value. Have a look at the auction here and place your bid!
-JS