1993 Ducati Supersport Superlight
Location: Seattle, WA
Mileage: 5,175
Price: $6,200 with reserve still in place
Found this one laying low on eBay this morning and as usual it put a smile on my face. No, no, I'm not turning to the dark side, but I've always had a soft spot for the SuperLights. Not exactly sure why, but it may have something to do with the Cagiva style lettering 🙂 and the cool Magnesium/Aluminum hybrid rims.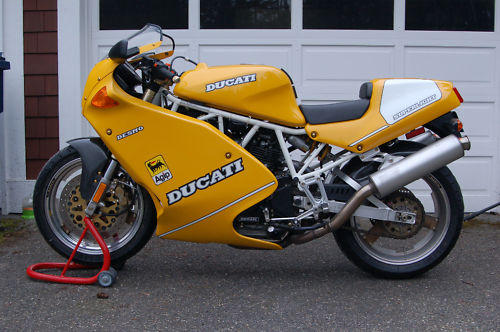 Pretty darned nice looking if I do say so myself! Yes, those are anodized gold fairing bolts you are seeing. For me they would be the first to go, but I don't own it so I'm not going to pass my judgment on someone's bike.
The 900 Super Light appeared in 1992 (93 models in US) as a limited edition model Super Sport – up swept exhaust pipes, vented clutch cover, fully floating front discs, carbon fiber fenders, and lightweight Marvic/Akront 2-piece wheels (magnesium hub and spokes which then bolts on to an alloy outer rim). Ducati made 1,250-1,350 MK1 Superlights worldwide with only 300 coming to the US.

This is a very collectible, low mileage specimen that is mostly stock and in excellent condition. Modifications from OE are oil temp gauge and required dash to hold it, European 3 position light switch, throttle lock, auto-retracting side stand defeat, braided brake lines, gold headed fairing screws.
If you've never seen the oil temp gauge and required mounting dash you'll need to check it out because it's a slick piece. It looks like factory equipment and no one would ever know it wasn't.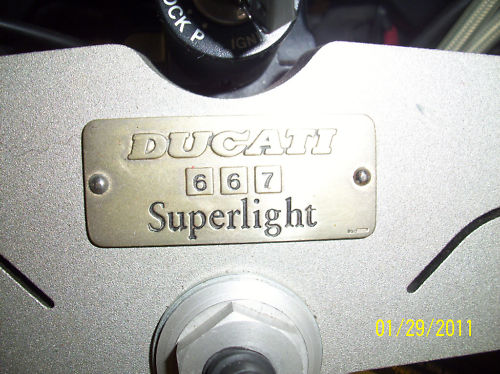 #667 appears to be as nice as any that we've featured on RSBFS.com.
Spring time is here and whoever picks this one up will be lov'n it!
Cheers!
doug