Update 8.24.2017: Dean has notified us that this bike is sold. Congratulations to buyer and seller! -dc
Update 8.18.2017: Price dropped $10k to $35,000 or BEST OFFER. -dc
Update 7.31.2017: Dean has contacted us to upgrade this post to a Featured Listing. Dean mentioned that he's working to help a deceased friend's family, and that he doesn't have much history on the bike other than a 1988-89 conversation where he mentioned the bike came through Canada, maybe from the UK? The family is open to offers near the asking price. -dc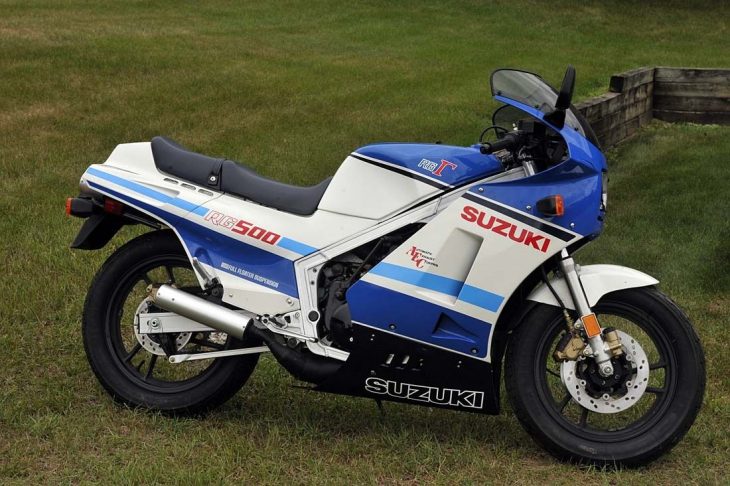 I'm obviously a big fan of the phrase "squirreled away" but it's never really been more appropriate than here to describe a zero-mile 1985 Suzuki RG500Γ. A perennial favorite here at RSBFS, the Gamma pretty much embodies everything we love about bikes: it's rare, features exotic specifications, and has very real motorsports links. Sure, the RG500's exotic, two-stroke square four shares no actual parts with Suzukis Grand Prix machines, but neither was it used in any other bike in their lineup. Much like the Desmosedici, it was designed from scratch to resemble the racebike motor, but doesn't need rebuilds after every weekend ride...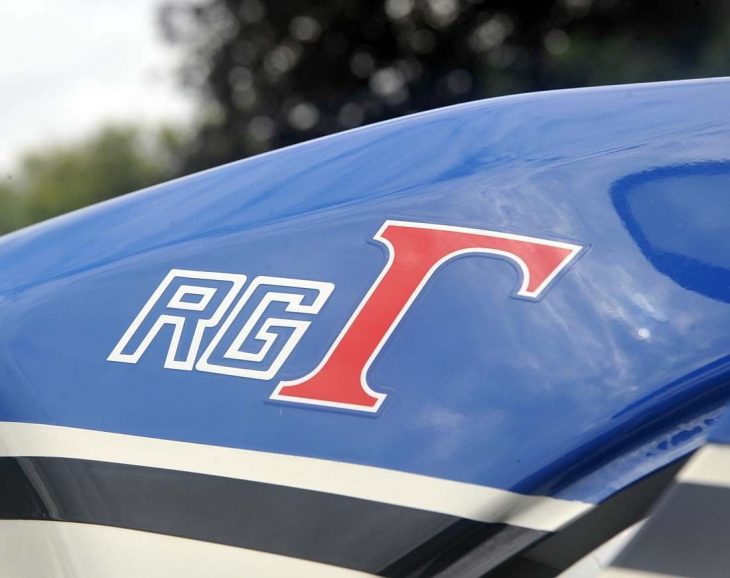 So two crankshafts, four cylinders, a slick-shifting six-speed cassette gearbox, and sophisticated suspension that featured Suzuki's Full Floater rear suspension, a system of linkages that applies equal pressure to both the top and bottom of the rear shock. A racing-style tachometer that doesn't have any numbers lower than 3,000 to help you keep tabs on a powerband that's dead below 6,000rpm and signs off past 8,500rpm in spiky, two-stoke style. All wrapped up in racy bodywork that is much smaller in person than you'd expect.
But as authentic as the style and specification may be, the hundred-ish horses and 350lb dry weight won't have you leaving many modern sportbikes in your wake. And once you introduce a set of serious corners, those skinny little wheels and tires won't leave you all that much grip to play with. However, fans of two-stroke performance won't likely argue any of that. It's the sound, the feel, and the general lightweight character of bikes like this that won them their admirers.
From the original eBay listing: 1985 Suzuki RG500 for Sale
Purchased new in Canada, shipped to USA and put in storage. 0 Miles. Engine kicks over and 99% of bike looks beautifully new. Never had fuel in the gas tank. Never had the seat off before today. Tool kit is still folded and strapped in from the factory. Stored in dark, dry garage since 1985. Never seen sun before this year!

Inside of tank looks even more beautiful than the outside.

Note nibs still on tires. Note black rubber shipping band still on the headlight from Suzuki!

One mirror and mount are dinged from a storage incident.

Sold on bill of sale and transport is responsibility of buyer. I have shipped bikes previously and can be here for truck but nothing more.

Payment in cash or cashiers check my bank will accept and clear.

Bike is for sale locally. Also selling Honda NR750 : $145,000.

I have been on eBay since 1998. I have owned, ridden and raced motorcycles for 44 years. I have also worked in a motorcycle shop. I believe I am honestly describing the condition of this RG500. I currently own something like 20 bikes.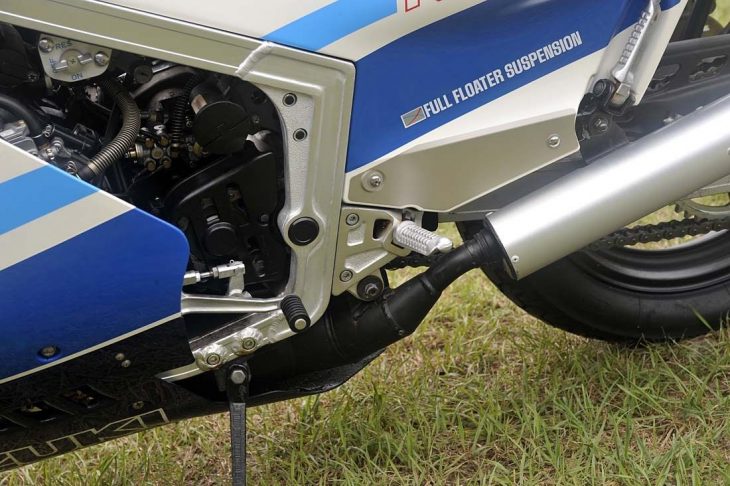 Considering its condition and $45,000 $35,000 asking price, you're not likely to head out to the garage on a Sunday morning, kick this RG500 over, listen to its crackling idle, then take it out for a spin. But I hope the new owner will at least give it pride of place in their living room or office, instead of storing it in a "dark, dry garage since 1985"! That just seems a sad fate for such a fêted machine. Considering what a comparably-sized sculpture might cost, this RG might actually make sense as decoration...
-tad