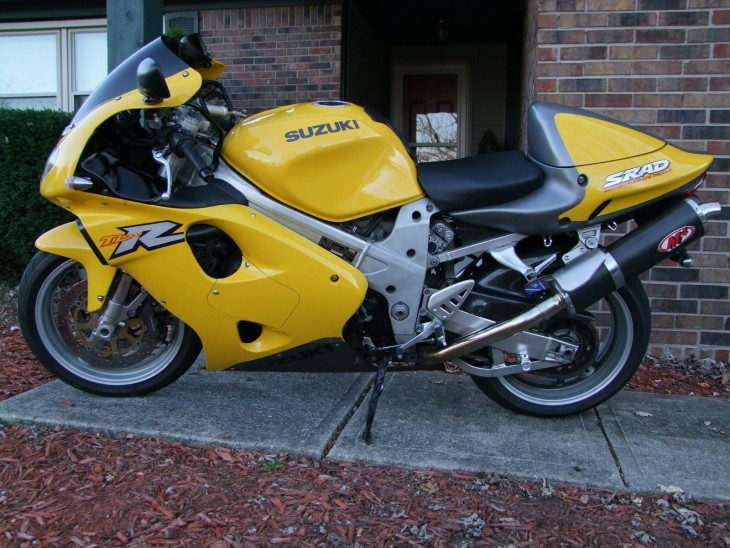 In the late 1990s, manufacturers of sportbikes had basically given up on the v-twin like the one that powers this Suzuki TL1000R. Twins could still be found in smaller bikes, but serious sport machines had mostly moved onto the inline-four configuration. Except, of course, for Ducati and they probably stuck with it because they couldn't afford to develop an all-new four-cylinder engine. But the highly-evolved Pantah engine, now fitted with water-cooling and four-valve heads made a big splash in World Superbike racing in the 851 and 916 that followed, thanks to good aerodynamics and rules that favored big twins. So other manufacturers stepped up with their own v-twin sportbikes, and the TL1000R was the bike Suzuki hoped would compete against the bikes from Bologna.
Introduced in 1998, just a year after the half-faired TL1000S, the TL-R was built for just a few years and production ceased in 2003. The bike itself was a bit of a failure, as it didn't really compete with the 916 in terms of sex appeal: that duck-tailed styling is a bit odd, and the broad fairing feels more inline-four and less v-twin.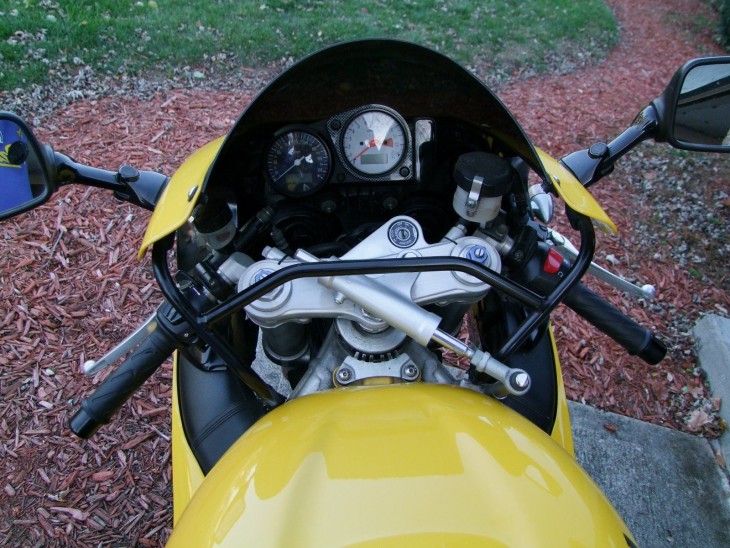 And the handling was an even bigger problem: to save space and keep the wheelbase short, Suzuki fitted a rotary damper to their twins. The concept is certainly sound, but the TL's was too small, which caused the unit to overheat and lose its dampening. The result was a tendency to tank-slap and the original S was considered a bit of a "widowmaker."
But you can't really argue with the engine, and that 135bhp lump found its way into a pretty wide variety of machines over the years, including a couple of Bimotas. When the TL-R was introduced, some reviewers felt it was almost inline-four like in terms of its power delivery, with a top-end biased delivery. But its still torquey, reliable, and sounds great with a set of aftermarket cans.
From the original eBay listing: 1999 Suzuki TL1000R for Sale
Up for sale is a fantastic condition fuel injected 1999 Suzuki TL1000R with 15,900 miles on it. This bike has great personality, tons of highend power, super fast but easily controllable, and has great handling. This bike would make a great weekend twisty runner, commuter bike, or fully at home on the track. It is extremely fun to ride. It rides very smooth and is faster than just about any bike in the twistys. Its a fantastic mixture of lightweight body/frame and the perfect amount of power for the street. You wont be disappointed with this bike. Thousands of dollars in aftermarket goodies and hundreds spent on recent maintence items. This bike is ready to hop on and ride.

The bike has thousands of dollars in aftermarket upgrades and accessories below is a list:

1. Full M4 Stainless steel exhaust system with Carbon cans (This exhaust sounds just like a Jap bike should)

2. Carbon Fiber Rear Hugger

3. Carbon Fiber look Air Dam Surrounds

4. Shorty turn signals front and rear

5. Smoked Windscreen

6. Tank Protector

5. Chrome swingarm spools

Here is a list of recent maintence items done to the bike (All done within 100miles)

1. New Avon tires installed (Front and Rear)

2. Brand new oil and filter (Synth oil)

3. Chain adjusted and oiled

4. Steering stem bearings cleaned and repacked with fresh grease

5. Front and rear axle bearings cleaned and repacked with fresh grease

6. Valves checked and found in spec at 12k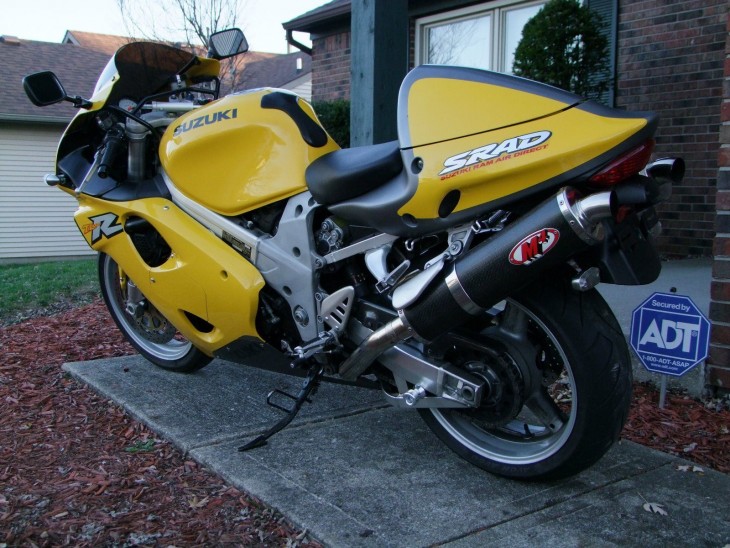 The seller also includes a helpful startup and walk-around video.
These change hands for shocking small sums these days, so it's a pleasure to find one that's so clean. Mileage is relatively low and, aside from the pipes and those questionable front turn signals, appears to be pretty stock. The seller doesn't mention whether or not this bike has had a conventional shock fitted to replace the rotary unit, a modification that is well-worth doing and generally solves the issues with the handling.
I prefer these in traditional Suzuki blue-and-white colors, but no matter what color, the TL-R makes a great, charismatic roadbike with v-twin sound and Japanese reliability, all for chump change.
-tad