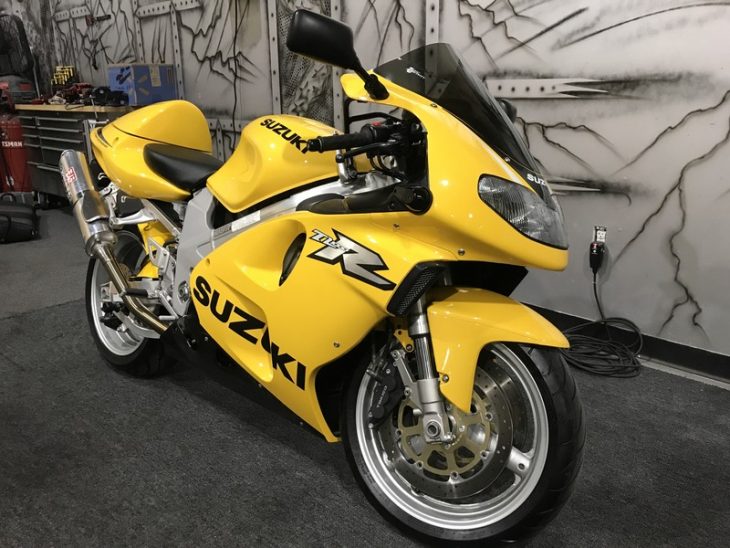 Look, here's the thing. If you're buying bikes [or cars, for that matter] that were hyped to be "instant classics" when they were introduced, thinking you can flip them for a profit... You may be waiting a while. Consider all the folks who bought the MV Agusta F4 750 Serie Oro when it was new, hoping it would be a valuable investment. That was almost twenty years ago and those are still selling at a significant discount, especially when you factor in inflation... So if you're trying to buy low and sell high, you need to to look around the fringes, find the slightly forgotten and overlooked bikes. Maybe bikes that got universally blah reviews and didn't sell all that well when new, but have strong performance, distinctive character and, if possible, a face only a mother could love. Something like this very low-mileage, banana-yellow Suzuki TL1000R.
When introduced, pretty much every review I read of the TL1000R was damning with faint praise. Billed as a "Ducati killer" it was too heavy, handling from the still-rotary-damped-dammit-Suzuki-stop-being-stubborn suspension wasn't as good as the 996, and styling was... odd. Sort of like the designers looked to the animal kingdom for styling inspiration, and found... the platyus. Still, the 996cc motor was a excellent, and made plenty of power with the fat midrange for which v-twins are justifiably famous.
See, when they're new, bikes get reviewed in context. But decades later, they get to stand on their own merits, without being compared unfairly to the bikes they were supposed to outperform. I'm joking a bit, but it's true: reading some magazine comparison tests, you get a sense that "if you ain't first, you're last" and I think many very competent sportbikes have been unfairly overlooked because they made a couple horsepower less than the class leaders, had questionable styling, or had handling that tried to kill their riders.
The TL1000R looks oddly bulbous, but it makes a great road bike, and a set of aftermarket cans like the Yoshimura bits seen here liberate some pretty great v-twin throb. The 135hp won't see you winning any stoplight races against newer tackle, but if you can't have fun with that much power on road or track, maybe you should choose a different hobby. The package was high-performance enough for Bimota to use in their SB8R, and Performance Bikes did a series a while back, turning a nice TL-R into a literal Ducati-killer with a wild big-bore engine build, new gearbox, and lightweight bodywork.
Significant upgrades to the power might be elusive or at least expensive for those of us without engine building friends or contacts with the gearbox specialists at Nova Racing, but fit some carbon panels and maybe a slimmer solo tail, change out the rotary damper at the rear for a more conventional unit, swap in a later GSX-R1000 front end for better forks and brakes, and you might be surprised at how much fun you can have on this affordable, reliable, easy-to-maintain v-twin sportbike.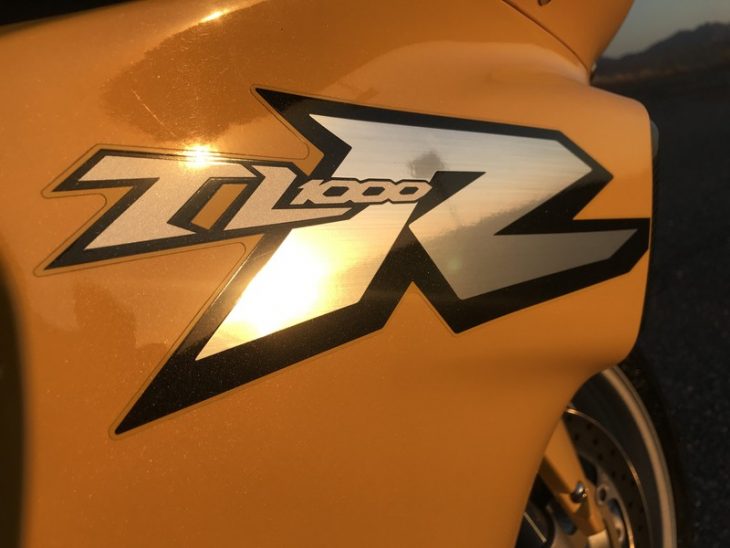 From the original eBay listing: 2001 Suzuki TL1000R for Sale
It's time to scoot your computer chair a little closer to the screen..... grab your reading glasses and prepare to view the cleanest Suzuki TL1000R on planet earth!!  This is no exaggeration, view any of the provided photo's below and you will see what I mean.  This bike was purchased brand new in 2003 by an elderly car / motorcycle collector and parked inside a carpeted and climate controlled garage it's entire life.  This bike has NEVER seen a race track and has never been ridden past 8,000RPM's, ever.  This is the most babied and well taken care of example you'll ever see, anywhere.  Literally looks like it just rolled off the showroom floor - as the photo's clearly show.

If you're a true motorcycle enthusiast, this particular bike will bend you at the knee's.  With with only 2,583 ORIGINAL MILES, it's probably the lowest mileage TL left in existence too.  Look anywhere you can think of...... Cycle Trader, Craigslist, Ebay, Offer up, or anywhere else you can think of and you will see how rare these bikes truly are.  Most of them have been highly modified, raced or stunted and abused.  Primarily because they are so well built and tough - they can handle the abuse of people beating the hell out of them.  As sad as that sounds, you will have nothing to worry about in that department with this bike.  Look over all of the provided photo's in detail and you will see what I mean.  This is the closest you will ever get to showroom perfect as they come.  And SURELY the cleanest 2001 TL1000R on the market - anywhere. Hands down... Guaranteed!!  You absolutely WILL N O T find a cleaner TL anywhere.  This bike is SO clean you could eat your steak dinner right off the engine.  I have provided close up images showing the inner wheel hubs, the engine cases, coolant lines, chain, seats, trunk, dash, brake levers, shocks....... everything you would hope to see if you were buying a bike.  Look closely at the images provided and you will see what I mean.  Being garaged and covered it's entire life, there is no rust, no corrosion and no discoloration from road grime or road salt etc.  This bike looks just as clean underneath and inside the fairings as it does on the outside.  The paint condition and quality is (literally) like new.  No pit marks or chips on the front end and no (dirty rag) swirls or marks on the body.  As I said - this truly is the cleanest one you will ever find.  This bike is so clean it could be parked on the showroom floor at a Suzuki dealership on a display stand just to show it off.  Unsuspecting customers would mistake it for a brand new bike....... it's THAT clean!! 

Although there are no internal motor modifications, there are a few bolt on upgrades:
- Dealer Installed Yoshimura RS-3 polished slip on dual exhaust
- Dealer Installed power commander
- Custom rear fender painted to match
- Carbon fiber brake & clutch levers
- Zero gravity smoke tinted windscreen
- Smoke tinted flush mount turn signals
- Smoke tinted rear tail light lens
- Brand new front & rear tires (just installed 4-18-18)
- Rear under tail fender setup painted to match (never installed)

Being a collector bike, all stock parts were saved, packaged, boxed up and will go to the new owner.  If the new owner would like to put everything back to OEM stock condition, the parts are here and can easily be re-installed.  It comes with the original sales contract when it was purchased new, the original TL1000R owners manual and original TL1000R CD service discs.  It comes with a matching yellow helmet, only worn twice.  There's a custom motorcycle cover too that will go to the new owner.  It fits the bike like a glove!!  I even saved the original OEM tires that came on the bike when new.  The tires were still in good condition, but I wanted to install brand new one's for safety.  Not good to ride on old tires in my opinion, so I just had brand new tires installed front & rear.  All of the extra's that come with the bike are shown below in the photo's.  
 
Flaws:
As with any pre-owned motorcycle or vehicle, normal signs of wear & tear may be present.  Scratches, nicks, chips, dings etc.  If you have any questions as to the condition of this bike, by all means - bring your mechanic and feel free to inspect it in person prior to bidding or purchase.  The only noted flaw I can find on this entire bike is on the left mid section of the fairing there is a small scratch in the chrome TL-R graphic.  Not even sure how it happened, but it's about the only noted flaw I can find.  Replacing the TL1000R left side logo sticker would eliminate this completely. Also on the back edge of the left fairing just above the letter "K" where it says SUZUKI there is a small mark.  At one point in the bikes past, the fuel petcock sprung a tiny leak and some gas ran down this specific edge of the fairing which caused the smudge area.  This can most likely be rubbed out or buffed back to yellow with ease.  Also there is a tiny smudge on the back left outer edge of the Yoshimura slip on.  Looks like it was done from shoe rubber.  Will most likely rub off with a bit of effort.  You would have to be sitting on the pavement looking eye level at the side of the bike to notice either of these imperfections.  However, it is Ebay and I value my reputation as a seller so it's something I wanted to point out. Aside from this, the bike is a close to mint as you will ever find.  This bike looks like it has barely been ridden.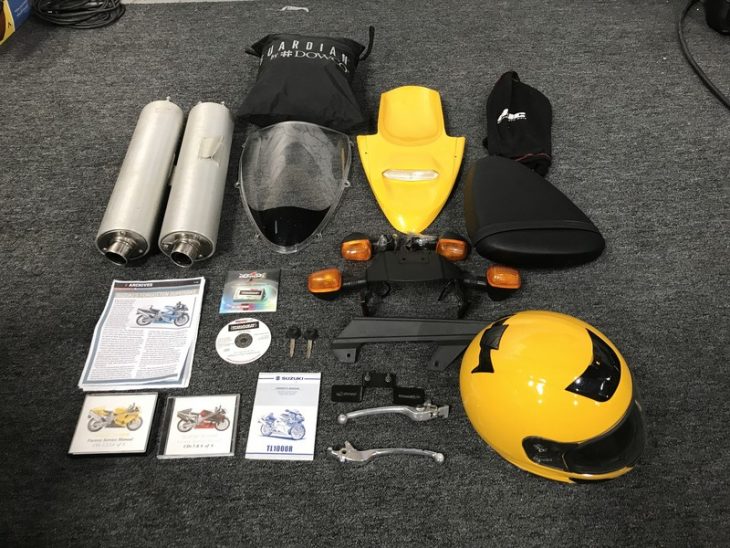 Obviously, I'm not really suggesting the TL1000R is a great investment opportunity. But they're surprisingly affordable, offer great everyday performance, and really should increase in value over the next decade or so. Maybe not as obvious: for all the cheap shots I've taken at the TL1000R, I like them. This example has seen just 2,600 miles so far, so you can actually do some riding on your duck-billed modern classic and still maybe make a few bucks when the time comes to sell it on to some sucker... err, collector, when values have really spiked down the road and you're ready to move on to the next forgotten superbike. And before you scoff too loudly, or in print in the comments below, remember that nice, first-generation GSX-R750s have pretty much tripled in price over the past few years. That may not be the reason you buy motorcycles, but it's nice to know you might at least break even on your weekend toy, after you factor in consumables and a bit of maintenance. The seller didn't set some wishful-thinking Buy It Now price either: bidding is very active and up to north of $4,000 as I write this.
-tad