Warning!
This post is in our archives. Links in this post have been updated to point to similar bikes available to bid on eBay.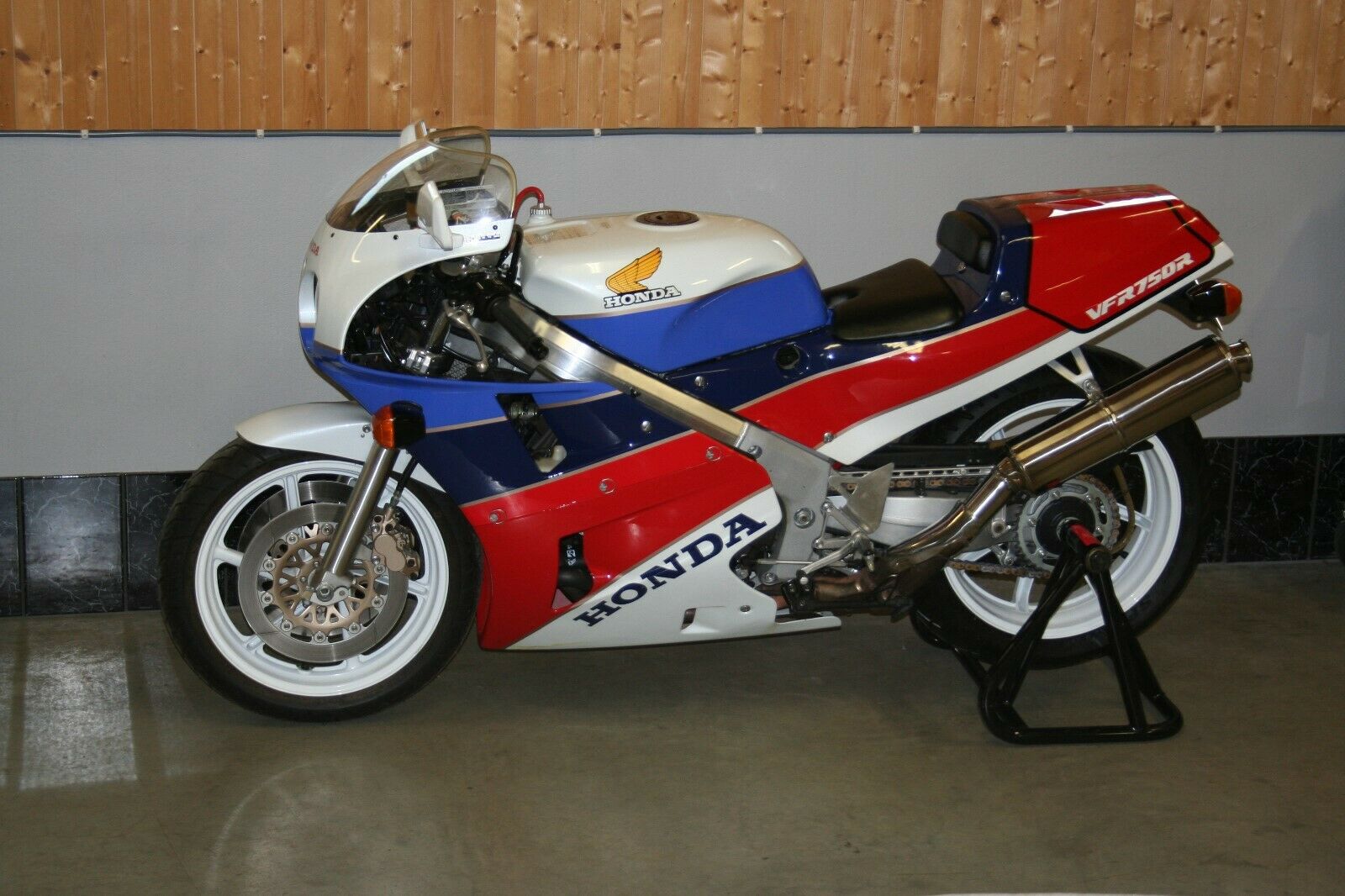 The multiple motorcycle auctions in Las Vegas in January each year are somewhat of a bellwether for prices overall. Sure, pricing is a bit over-inflated due to peer-pressure, bidding competition and the general excitement of the auction atmosphere, but what sells high at these auctions will generally do well on the open market. If you've never been, you should definitely consider going – at least once. The lights, the noise, and the thousands of bikes that cross the block over multiple days and multiple auction houses are a sight to behold. It also gives you an appreciation for what is hot, and what has cooled off (or failed to make the cut). But you didn't need to attend – or even follow – this year's auctions to know that the RC30 is hot. Possibly the most collectible of the 80s vintage homologation racers, the VFR750R tops the bucket list of many, and remains on a rocket ship trajectory in terms of value. If you want one you will have to stand in line, and bring your wallet.
The RC30 is known for good looks, sharp handling, and glorious sound. The latter comes courtesy of a mass-centralized V4 engine, utilizing gear-driven cams for precise valve control – which contributes to that legendary and iconic whine. The flatter sound of the RC30 exhaust is the result of a 360°crankshaft. The approach results in greater traction due to the more widely distributed power cycles (when compared with a conventional 180° crank). Everything that makes beautiful noises also helps with the sharper handling; pull the bodywork off of an RC30 and you quickly realize how packed in tight everything is. Mass centralization is the real deal, and the more you can concentrate weight centrally and down low, the easier the bike will be to flick from side to side, etc. And while those who are lucky enough to see an RC30 in its naked form will call that magical V4 beautiful, the good looks really come from the beefy aluminum twin spar frame and endurance racing inspired bodywork. The twin headlamps are straight out of the 80s, and they went straight into the book of classic looks. The single sided swing arm completes the package, and proved its worth during wheel changes at the racetrack – especially during those endurance events.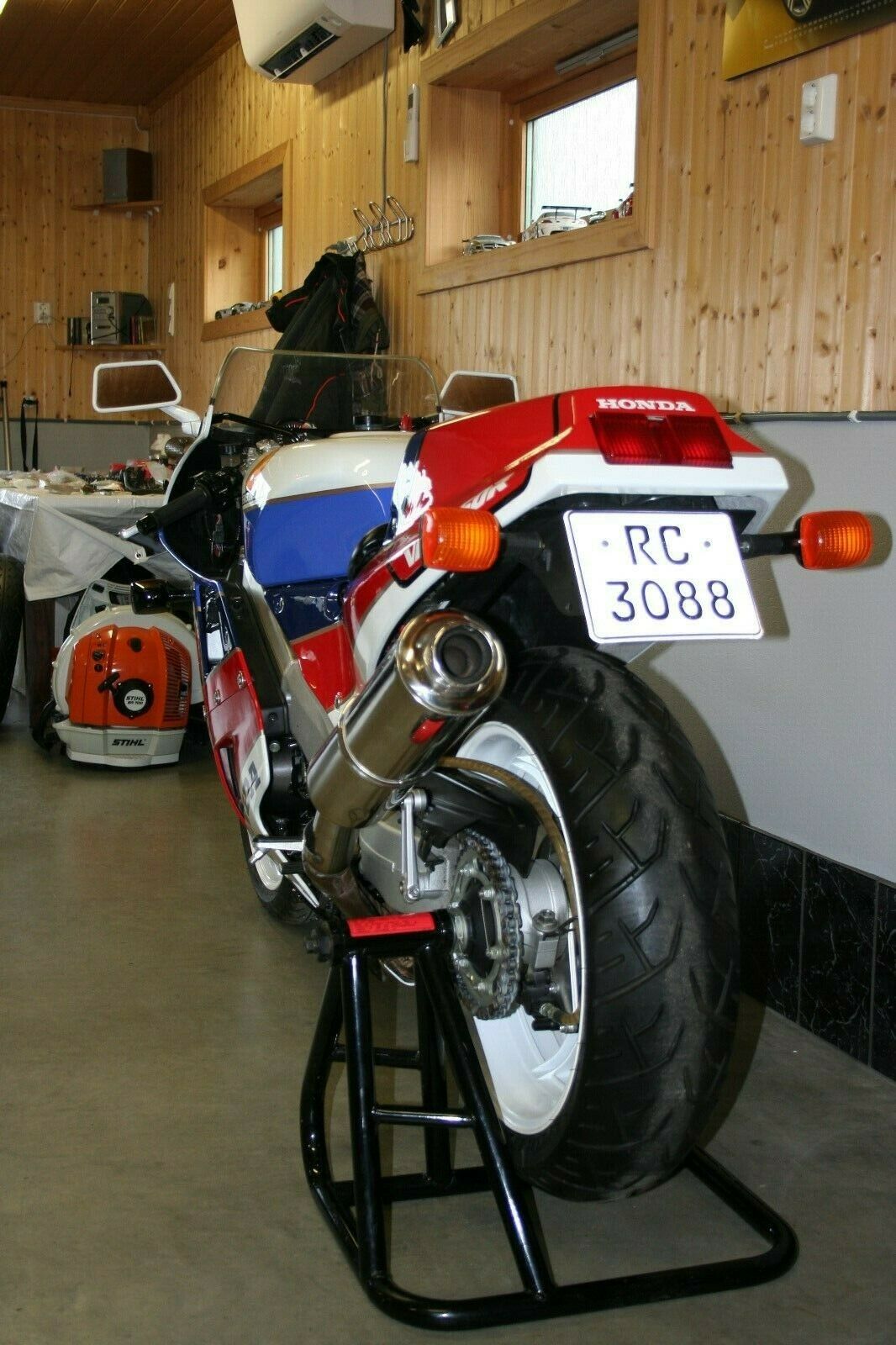 From the seller:
Selling my rc30 vfr750r, very low mileage (3553km) and extremely well take care of. 100% working order. Been standing in the living room as eye candy since bought in 2002.
Got first bought in Germany by the original owner,then driven to Monaco and back, after that parked in his office. I then later purchased it. (2002)

The bike is located in Norway (Sarpsborg).
Contact me for more info/pictures.
Price is 500,000 nok (Norwegian Kroner)
We can help with shipping.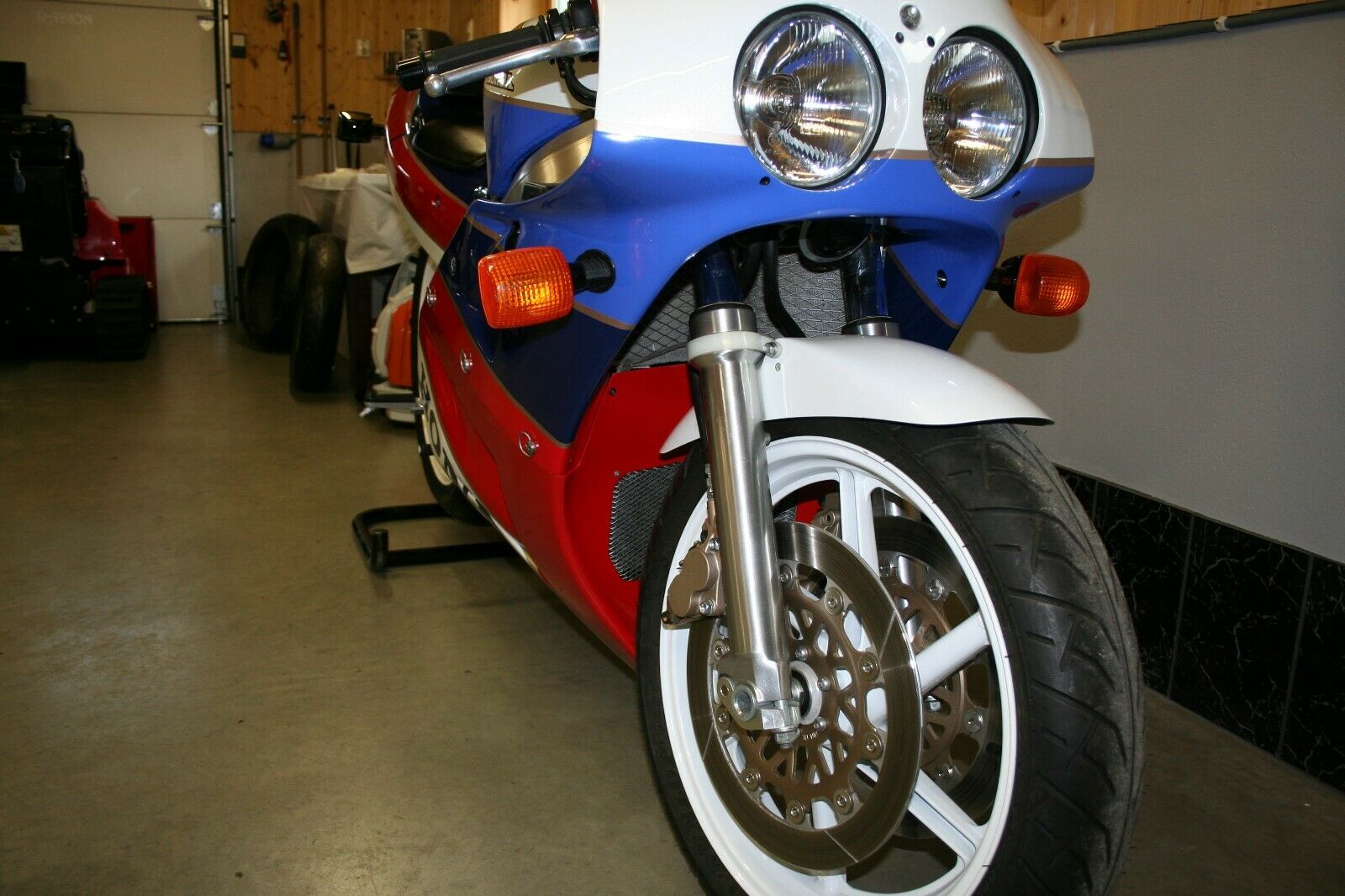 Most RC30 we find these days are collector bikes. It is pretty rare indeed to find a RC30 thrasher, and few are regular riders. This particular bike has but 3,500 KM (2,200 miles) and appears to be in complete, original order. Which brings us to problem #1: as RC30 enthusiasts are not limited to North America, this wonderful example is located in Norway. US-based buyers might want to start consulting shipping and importation guides now. Problem #2: RC30s are no longer $15k, $20K, $25K or even $30k. The asking price on these models continues to rise. This particular example is asking well neigh on $60k. And the worst part for those that have a hankerin' for homologation is that the asking price is not really out of line with where the market is going. We have seen higher asks – much higher – and not just at auction. Check it out here. Look over the pictures. And then decide if you want to board the RC30 price elevator. We have seen nothing but up for these models with nary a dip in valuation over the years. If you want in, you best commit before these are $75k and then $100k bikes. Good Luck!!
MI