Update 3.15.2018: SOLD IN ONE HOUR! Congratulations to buyer and seller. -dc
Please note: Ted from AutoManiaGP has asked us to open the comments on this post in the hopes that the RSBFS community can assist in determining what has been done to construct this bike. There was no accompanying documentation and we would appreciate your help by examining the pictures and commenting with any additional information you can provide. The text below is our first shot but we look forward to what else can be learned. Please forward widely and thank you for your help! -dc
---
Suppose you had been a racer, and owned a race team, over the years acquiring intimate knowledge of several different brands of factory race gear – what might you build as a street machine?  The few production years of Suzuki RG500 Gamma imprinted Mike Canepa of 10K Racing, and he put together a race-derived machine with Spondon Engineering chassis, with trackside details stem to stern, in race livery.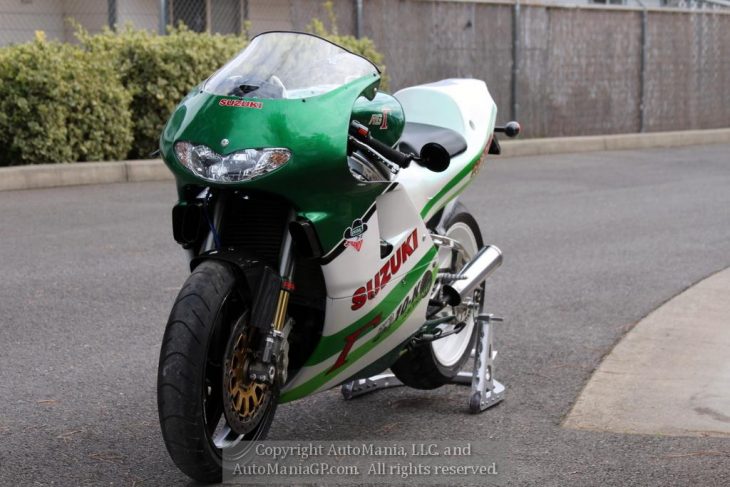 Suzuki's RG500 used a twin-crank square-four two stroke, with almost unmatched power-to-weight, 95 hp in factory street tune.  No doubt well above that with racing carburetors and exhaust.  Like any privateer's racebike, specs are hard to come by, but this RG appears to have a Spondon chassis, an English specialty manufacturer with a long history of chassis development for major manufacturers and well-heeled weekend warriors.  The twin spars are at least twice the size of a road-going RG.  Later upside-down Showa forks are installed, with Nissin 6-pot front calipers radially mounted.  The swingarm is thought to be from a Yamaha TZ250, an asymmetrical fabrication with a massive right side but straight left side with a brace to allow the chain to pass through.  Fairings are quite like a later RGV-500, with air scoops just above the front fender feeding the four sidedraft carbs inside.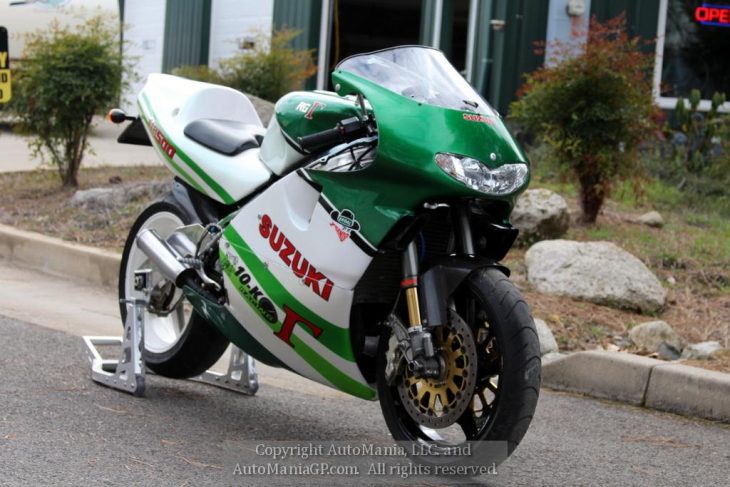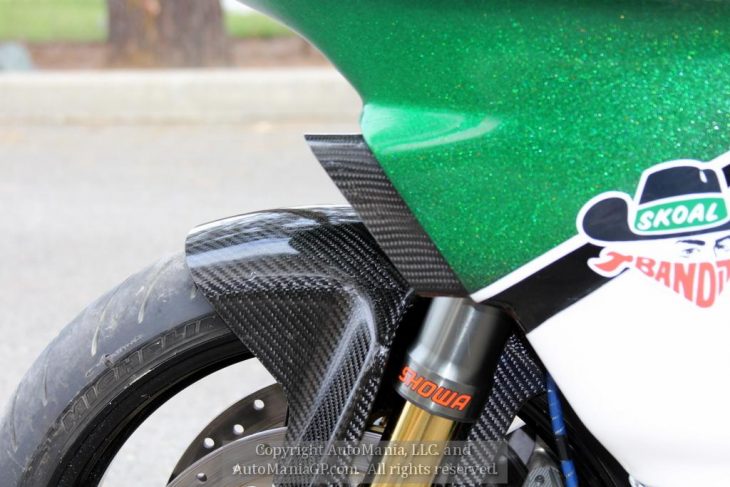 Unlike any actual racer, this RG500 is clean, polished, and road legal despite the Skoal Bandit graphics.  Trim carbon mudguards are installed, along with a full featured instrument cluster.  Conflicted as the four expansion chambers and turn signals, there's a locking gas cap on the tank.  The fairing's post-and-pin supports are safety-wired to keep the cotter pin around.  Consigning dealer Automania of Oregon has a great collection of pictures – here – and says this about the bike:
Mike Canepa, owner of race team 10-K Racing was in the later stages of building this race bike for the street when he passed. I had been hearing about it for over two years and unfortunately did not pay attention to what he was telling me at the time. Hind sight is 100%. The engine is V-4 Two Stroke out of a 1986 Suzuki RG500 according to the records we found, but everything else has been a guess or information others have offered up. It was not finished, but he had been riding it recently.

This motorcycle is based on a 1986 Suzuki RG500 but everything except the engine is either custom or race track sourced. The rear swing arm looks to be from a 1991 Yamaha TZ250, the front forks Honda RS250 and the frame appears to be a Spondon that had no identifying numbers or manufactures id on it. It has been titled with an assigned OR State VIN plate and the bike is registered for the street. I am open to anyone looking at the images and suggesting where they think the parts came from. Don't be shy…

The selling price is $16,695. The VIN# is ORSPERG9G1003 and miles are unknown.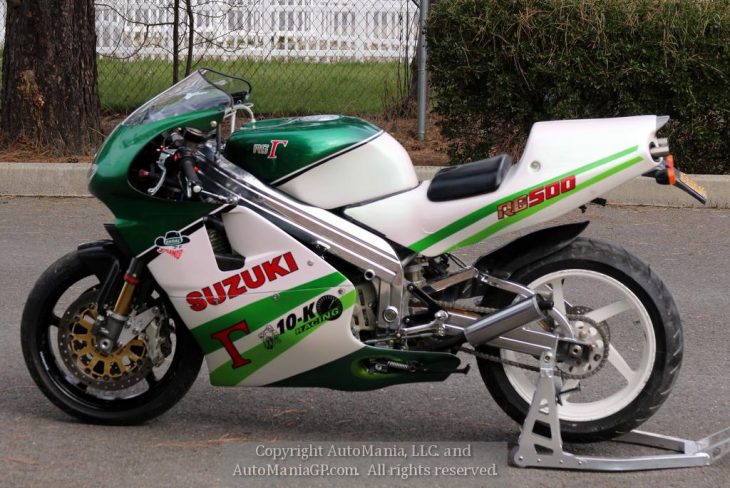 Hard to tally up the hours and dollars invested in this racer-with-lights, though the preparation is immaculate.  Likely the frame has a pedigree, and Spondon Engineering has quite a following, even a fan website for reference.  Power-to-weight is probably more important here than on a factory machine, and the weight should be closer to 300 than 400 lbs.  Evidently inspected by Oregon DMV, it is titled and has road registration, which speaks to how close to completion the bike is.  RG and RGV did well in the 500cc years of Grand Prix racing, accounting for four championships and seven constructor's titles.  Automania invites knowledgeable comment and asks $16,995 for this one-of-one, and can be reached at (541) 479-8888 or emailed – here –.