Warning!
This post is in our archives. Links in this post have been updated to point to similar bikes available to bid on eBay.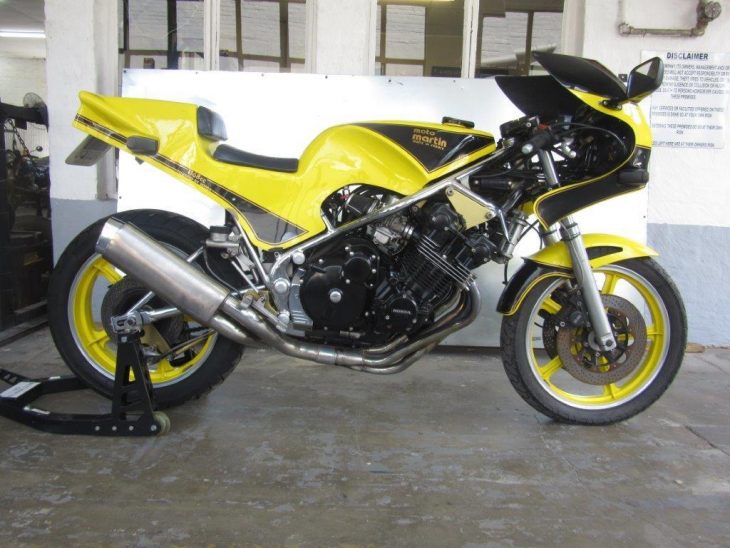 You might initially be confused by what you're looking at here, but get past that riot of color and the swoopy bodywork, and the big aluminum brick of an engine could only be one thing: Honda's 1047cc, 24-valve straight-six CBX motor. But what about the rest of it? What exactly is a Moto Martin CBX?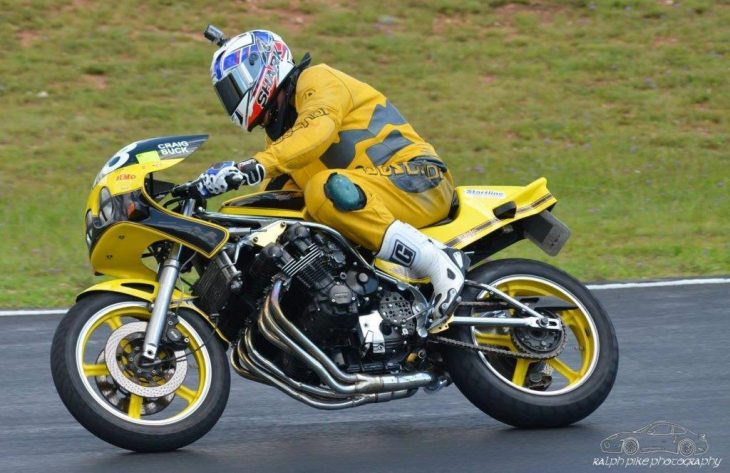 Honda's original CBX was a bit of a missed opportunity. It seemed designed to capitalize on the six cylinder racing bikes of the late 1960s, but no real link between the two seems to have been made in advertising the bike. And certainly there was no obvious visual connection, either: the original machines were jewel-like, pure racing motorcycles, while the CBX was a sophisticated, premium machine clearly designed for the road. It was big, heavy, and pretty powerful for the day, but handling was poor due to a flexible frame and the bike's overall weight.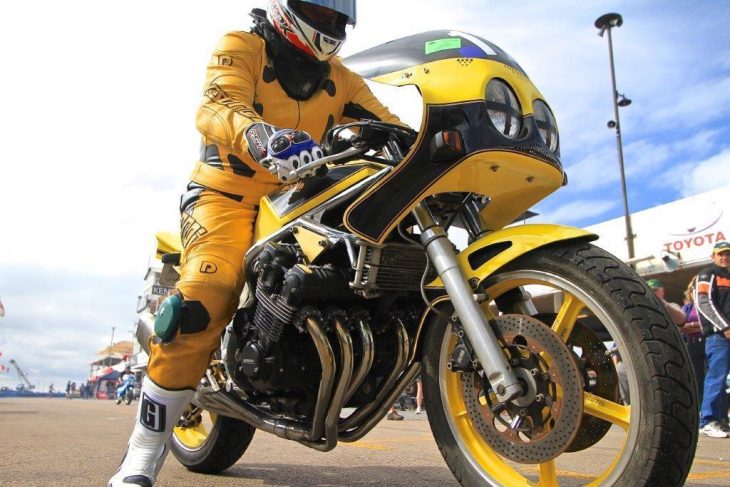 The main reason to own a CBX was always that huge brick of an engine with its cascade of exhaust pipes sweeping around and under it, the wild shriek of the engine, and its smooth power. But in its original iteration, that was pretty much the only reason to own one. They could be made to get around a race track: some great videos exist of them shaking a leg on track, but they weren't really suited to it. And styling was relatively bland as well, typically conservative 70s UJM, with just a small duck-tail spoiler at the rear t0 add a bit of zing.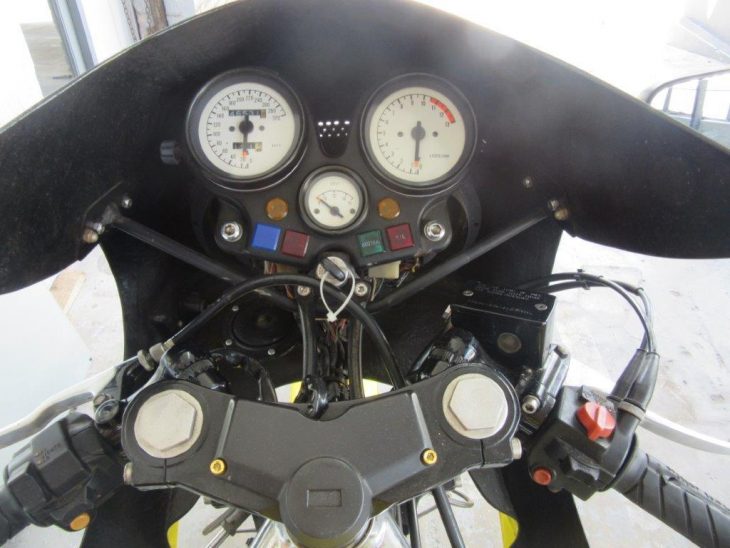 The solution was pretty simple if you had a bit of money and the ability to twirl some wrenches: find a nice, clean CBX, remove the motor and electrical system, and basically ditch the rest. By 1980, the Japanese manufacturers had gotten a handle on the art of making their motorcycles go around corners, but the small frame builders that had sprung up during the 60s and 70s were still around, and the CBX was a perfect candidate for a custom creation. Certainly Frenchman Georges Martin thought so, and his Moto Martin-framed CBXs are often considered the CBXs to have.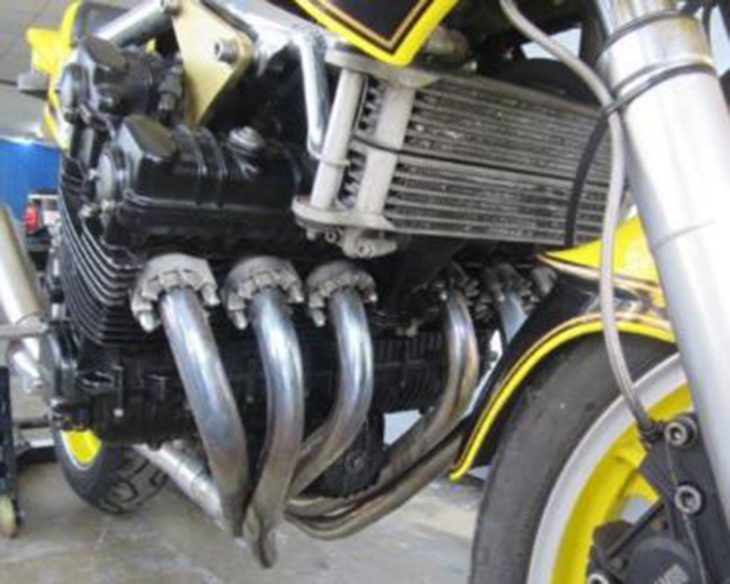 There's no getting around the width of the inline six, and any replacement frame is going to have to figure out how to go over or under, since there's just no going around… The Moto Martin part hugs the back of the engine pretty closely, making the stock airbox pretty much impossible, and replaces the original twin-shock arrangement with a monoshock setup, with thicker forks up front. Interestingly, it kept the original bike's geometry, which was basically fine. A finished Moto Martin CBX was both lighter and stiffer than the original bike, with new bodywork, including a one-piece tail, kept the ducktail spoiler but gave the finished bike a much sleeker, more purposeful look, while twin round lamps gave it a bit of endurance racing cred.
From the original eBay listing: 1980 Moto Martin CBX for Sale
This is an extremely rare and highly desirable Moto Martin CBX built from a complete Moto Martin rolling chassis with all of the best equipment of the day as fitted by Moto Martin including: Moto Martin aluminium 18inch wheels, Marzocchi forks, Brembo brakes front and rear with drilled cast iron rotors, braided hoses, De-Carbon under tank rear mono-shock. It has been customised with a different bikini fairing and single piece fibreglass tank and seat unit as in the pictures (and has received a FB like from Georges Martin himself) but the original Moto Martin aluminium tank, fairing, fairing bracket, headlight bracket, seat unit, screen with a spare as shown, are also included in the sale.

The motor is very strong as befitting the bike and is fitted with Carrillo Rods and Arias 1168cc big bore Arias forged piston kit and has done very little mileage since the big bore kit was fitted (hence my reason for sale), being ridden by me only in a few exhibitions for historic motorcycles at our local racetrack.

All in great condition with a few marks and slight damage to the side cover as shown in the photographs. I am the third owner, the previous owner and I each owning the bike for over 15 years.

Your opportunity to own the rarest and most desirable bike in the CBX world!

Seller can help with shipping – I live in a city with a major port.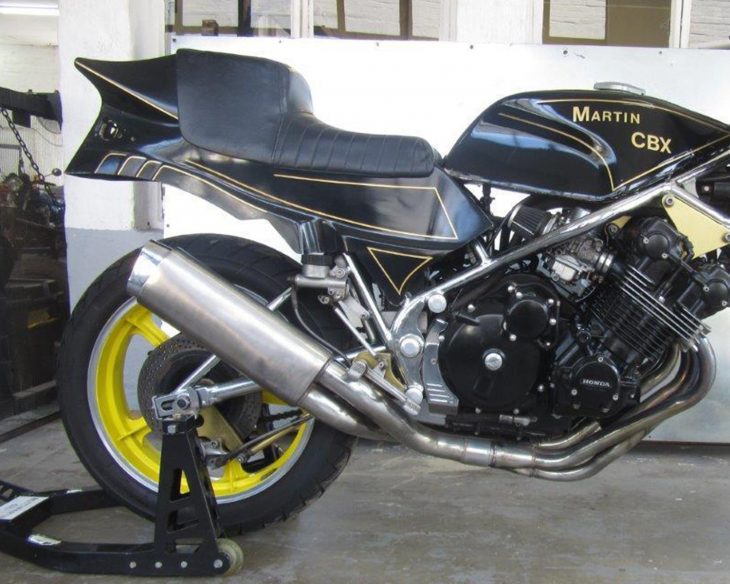 Like a Spondon or a Rickman, there's really no "standard" Moto Martin: they were generally sold as kits and built to the customer's specifications. As few as 50 may exist that are actually titled as Moto Martins, but more kits were probably sold. The listing shows this as a 1980 model, but I believe the Martin kit wasn't introduced until a bit later, so this might be titled as a Honda CBX, per the donor engine and transmission. The starting bid is $10,000 with no bids as yet. Depending on the reserve, this might be a good opportunity to get a very rare machine for a pretty good price, but note that this bike currently resides in South Africa, so keep that in mind if you're suddenly having fantasies of wheeling this beast past your local bike hangout.
-tad