Things I Like In The UK:  Spondon Framed Honda RS125,1989 Yamaha  FZR750R OWO1, Suzuki Pepsi RG250
There wasn't a whole lot that caught my eye in North America this week so I looked to the old world for some inspiration and they didn't let me down.
——————————————————————————
It is all about the frame here.  I'm sure I'd get a pretty big yawn out of most of you by posting an average RS125 but I thought the Spondon frame really made this a unique bike.  The seller claims only two were ever produced.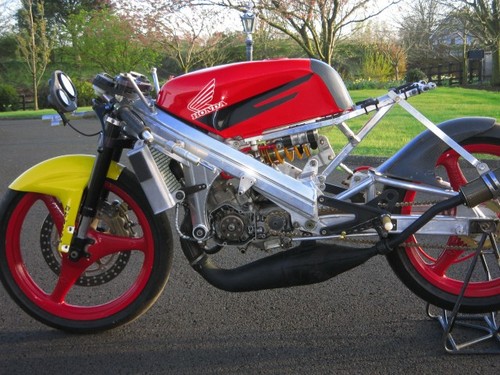 I'm interested to know how it differs from a stock RS frame.  What needed to be improved?   Maybe not much since they only produced two?  I know 125 racers are consumed with trimming weight so is this possibly a lighter frame?
As for the rest of the bike, the seller lists the specs as:  a pre 95 engine, WP forks, Ohlins shock, Marvic wheels and Brembo brakes.  The auction is on going but it also has a BIN of 3,750 GBP (rougly $6,000).
—————————————————————————————–
Next up is a very tasty FZR750R.  It brings up the question; do we have any RSBFS readers that own an entire late 80's-early 90's super bike collection?  I've seen Honda collections, Yamaha collections etc. but does anyone own all of them?  Say an OWO1, RC30, GSXR750RR and ZX7-RR?  On second thought, don't tell me, it will just depress me.
This appears to be a very nice stock example.
The info:
This bike was imported from Japan in 2002 and I have owned it for the last 4 1/2 years. It has had one other UK owner. It has had very limited use while I have had it, a few little rides here and there and it has been far too precious to me to take out on the track. It has never been out in the rain during my ownership, nor for that matter has it been out in the cold! That said, it is 23 years old an has not been sat in a museum either so there are a few cosmetic signs of age. However, because of it's limited use, it feels the same to ride as it probably did back in 1989.
Would a Japanse spec OWO1 be any different than exported models?  The auction is ongoing here with it hovering in the 7,000 GBP  ($9,000) range as of this writing.  There does not appear to be a reserve; hmmmm.
—————————————————————————————————-
I'm just taking a flyer on this one. This could be a Suzuki UK/Dream Machine Pepsi bike or just a simple respray.  As you may know, Suzuki UK had some RG500's sprayed in Pepsi colors (and some in Skoal Bandit) to liven up sales.  Did they do that with the RG250 as well?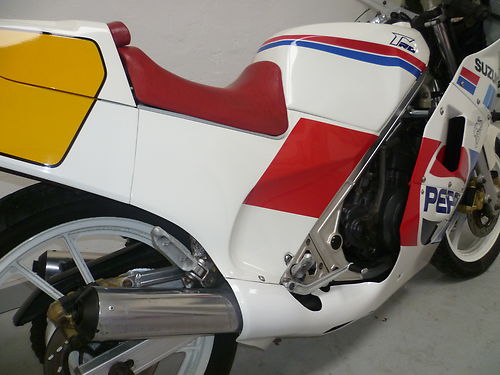 A couple of things don't quite add up to me though.  First this is listed as a 1989.  Was the RGV250 (VJ21) not out in the UK in 1989?  Now that I said that, am I remembering correctly that the UK only got the VJ22 officially imported?  Secondly and maybe more curious is that it is a high mileage bike and the paint looks unblemished in the photos.  That makes me think it is a more recent respray.  On the flip side the paint looks correct and the red seat is just like the RG500.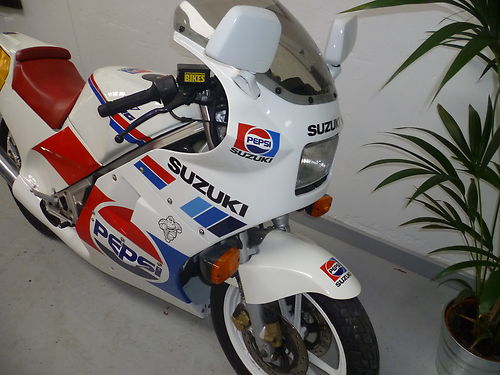 Be it the real thing or not, it is at least some eye candy to start your week with.  The asking price is the real thing.  They are asking  3,999 GBP ( roughly $5,200).
Ian