Although it lacks the lean and crisp looks and GP-specification of the later RGV250, the Suzuki RG250Γ Gamma makes up for it with classic styling that closely resembles the bigger RG500. The paint scheme on this example is very subdued and the low, shorty pipes are strangely modern, making for a surprisingly contemporary look considering this bike is more than thirty years old.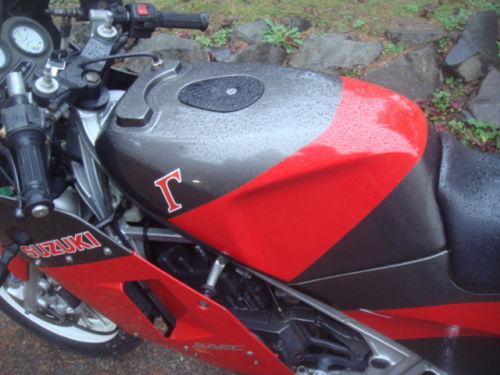 Manufactured from 1983-1987 and weighing in at just 286lbs dry with a lightweight aluminum frame, anti-dive front forks, and a pair of tiny front discs, the RG250 wasn't some primitive, stripped-out learner. The 247cc engine was a water-cooled parallel twin with perfectly square bore and stroke and featured Suzuki's AEC or "Automatic Exhaust Control" to beef up the midrange. This sophisticated engine was backed by a six-speed gearbox, something that was still fairly uncommon in the mid-1980s.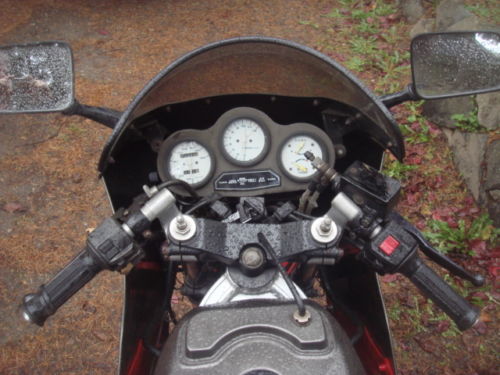 Originally restricted to just 45hp for the Japanese market, the new owner may well want to get this little Gamma modified to unleash its full potential, but that should be a far easier task on this early example than it would be on a later bike.
From the original eBay listing: 1985 Suzuki RG250 for Sale
Just imported from Japan through U.S. Customs, this 1985 Suzuki RG-250 comes with a clean and clear street legal title ready to be transferred into your name in your state.

Your new RG-250 is showing just 6436 original miles (10,358 kilometers) on the odometer so it is a low mileage bike. The original bodywork is intact with original paint and the original exhaust is in good condition. This is a 30 year old motorcycle so it isn't perfect; you have to expect paint wear and the normal scratches and chips and cracks on the bar ends and lever ends and fairing mount points; please see the right and left lower fairing scratches as an example. Surprisingly the foot pegs and gear change/brake levers are nice with the only scuff I can find being on the front brake lever and front turn signal. And those are too small to see in the pictures.

I suspect this was a well cared for and inside stored bike as the windshield is clear and bright and the paint presents well and the seat is in good condition. The gas tank does has one very small ding on the right side of the tank at the top (barely visible in the pics). The tires are Dunlops with good tread but the front tire should be replaced for riding. The seat is in good condition with no scuffs or tears anywhere. The signals are original and the exhaust is original and in good condition which is rare for a 30 year old used motorcycle.

Here's your chance to own a titled Japan market only Suzuki RG250 but don't let this one pass you by. Someone is going to own this bike – why not you?

I can get great shipping rates (anywhere in California for $300 as an example) so don't let the cost of shipping keep you from owning this collectible Japanese streetbike. This rare two stroke is not a grey market import, it has been imported through proper legal channels and is already titled in the USA and ready to be transferred into your name just like any other vehicle purchase and title transfer. You will not need my US Customs documents and EPA documents but I will include them in the sale of this bike so you have documentation your RG was legally imported.
The seller also includes a clip of the bike running and moving under its own power.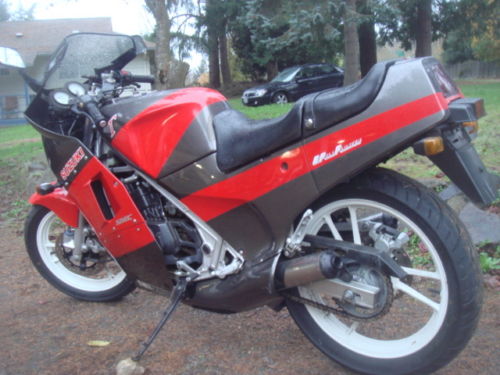 I'm not sure if this is the original paint, but overall the bike looks to be in very decent condition and in far better shape than many of the recent two-stroke imports we've seen, with just some minor scuffing and general wear. While the skinny tires and 18″ wheels limit tire choice and track-day antics, the "baby RG500" looks are classic and if you're able to register this where you live, this would make a fun back road bike and a great conversation piece at your local hang out.
-tad