Well this one's pretty exciting: the recent influx of two-stroke sportbikes has been notably lacking in Team Green Kawasakis like this KR-1, thought by some to be one of the best, or at least the craziest, of the breed. Considered by the press to be a significantly better performer than the RGV, the KR-1 was very fast, but flawed and somewhat fragile: reliability was pretty sub-par even compared to other highly-strung two-stroke whippets, and the bike was notoriously tank-slappy over uneven surfaces, something that affected road riders more than track users.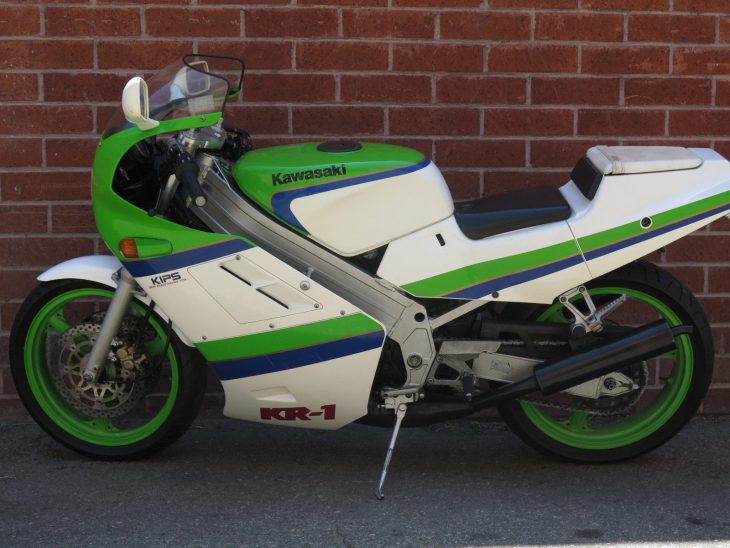 Although it followed the very familiar "249cc, six-speed, liquid-cooled two cylinder" formula common to every bike in the class, that little motor was noticeably more oversquare than the Honda NSR250: bore and stroke of the parallel-twin were 56mm x 50.6mm and the bike put out a claimed 55hp which, in the KR-1, was good for a top speed of 131mph. The later KR-1S saw a slight bump in power and a max velocity of 139mph, making it the fastest 250 by a pretty wide margin, considering the virtually identical specs of the bikes in this class.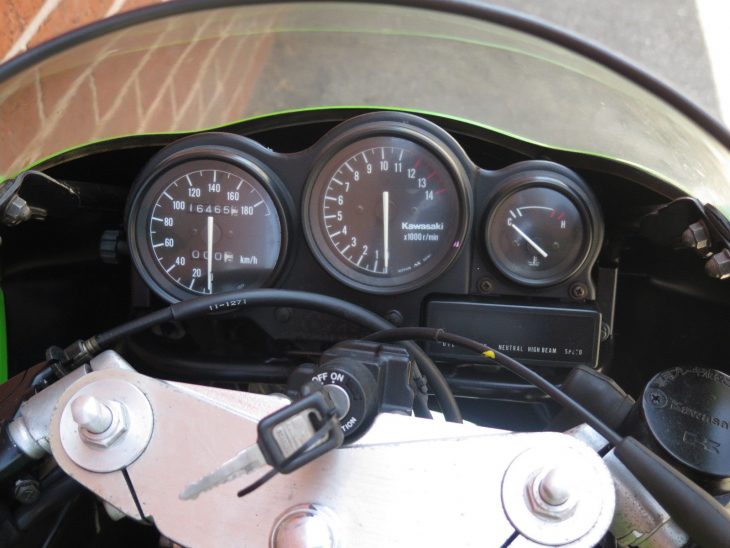 The 271lb dry weight helped, of course, and the cassette-style 6-speed gearbox was an exotic piece of kit, if basically useless on the road. But on the track, the bike shined and it was very successful in British Supersport racing at the time.
Today's example looks very sharp, except for a few minor cosmetic imperfections like that discolored pillion seat and those possibly non-standard rear indicators. Many recently-imported two-stroke sportbikes are selling for very reasonable sums, but the seller is jumping right in with a $6,500 starting bid on this one.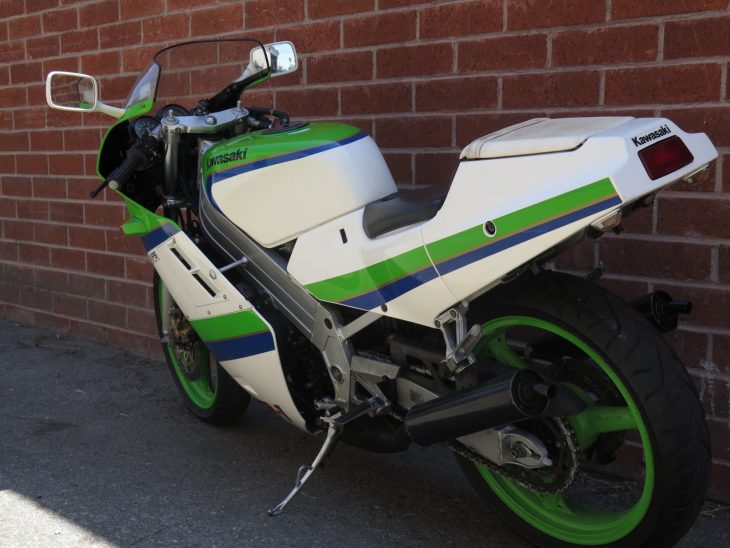 From the original eBay listing: 1988 Kawasaki KR-1 for Sale
Nice original KR-1 for sale.

Good for Collection or Track days.

Not recommend on street too fast! No title bill of sale only.

Bike runs well.

Will ship worldwide, export shipping papers available.
Ultimately, the KR-1 is missing some of the trickness found on the TZR and NSR. It doesn't feature reverse-head wizardry and banana swingarms are also conspicuously absent, but these have that reputation for being unruly and wild, which made up for the more pedestrian components. And since two-strokes always require a bit more effort to run, the lack of reliability didn't seem to negatively affect the bike's image when new and doesn't seem to affect it now.  The 18" rear wheel does limit tire choice somewhat, although manufacturers are starting to offer some grippy rubber in that size, owing to two-strokes' popularity in vintage racing.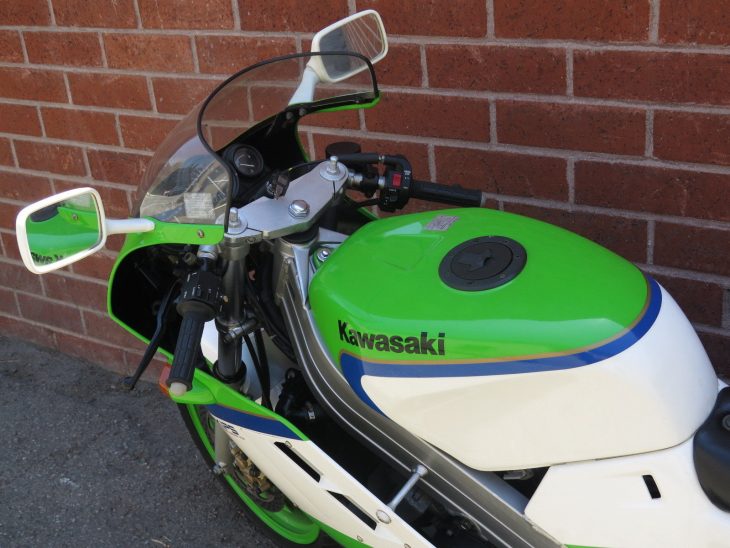 The KR-1 lacked the later KR-1S' nickel-plated cylinders, which might help when the time comes to source engine parts. It was also supposed to be a bit roomier than competition from Suzuki and Honda, something that might help it appeal to US riders, assuming they can get it titled. Just fit a steering damper and have at it. No seriously: you'll be fine. I'm sure. Safe as houses.
More Kawasaki weirdness in the pipeline for tomorrow, so stay tuned!
-tad