Warning!
This post is in our archives. Links in this post have been updated to point to similar bikes available to bid on eBay.
If you're looking to import a rare and unusual vehicle that was never intended for the US market into the country like today's Yamaha TZR250, there are a few ways to go about it. Some of these desirable machines can be found in Canada, and others can be found already here in the US, imported at some point in the last 25 years by one means or another. These days, there are a number of people bringing in little smokers by the container-load, buying up bikes that are relatively ordinary in Japan and shipping them across the Pacific to two-stroke-starved US buyers. If all else fails, you can simply browse the internet and buy all the parts you'd need to build one in your own garage, one bit at a time. Which is what the seller of today's bike appears to have done.
In the late 1980s and early 1990s, the Japanese Big Four were competing for sales in the hotly-contested 250 two-stroke class. Specifications were very similar on paper and performance advantages could be razor-thin, with the RGV, NSR, TZR, and the occasional KR all fighting for a slice of the pie. Early on, parallel-twins were the most common configuration, although later bikes shifted towards v-twins. Yamaha eventually followed suit with their TZR250 3XV but, for a couple of years, they experimented with an unconventional reverse-cylinder layout in their 3MA.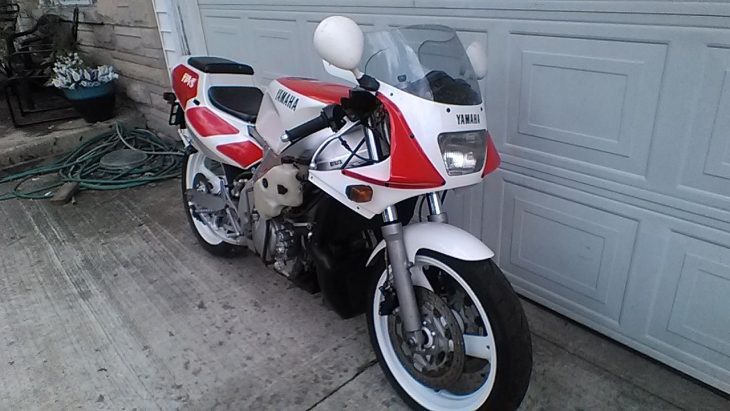 Reverse-cylinder engines claim a number of performance advantages, although the reality is that actual gains are very minimal. The main goal in the 3MA appears to have been packaging: two-stroke exhausts require bulging expansion chambers for optimal performance, and wrapping them around engines and behind fairings and underneath swingarms can be a packaging nightmare. In the TZR 3MA's case, the expansion chambers are tucked up neatly under the rider to exit through the tail section, avoiding cornering clearance and swingarm fouling problems, in addition to saving some weight and any ram-air benefits the bike might have seen from mounting the carbs at the front of the engine.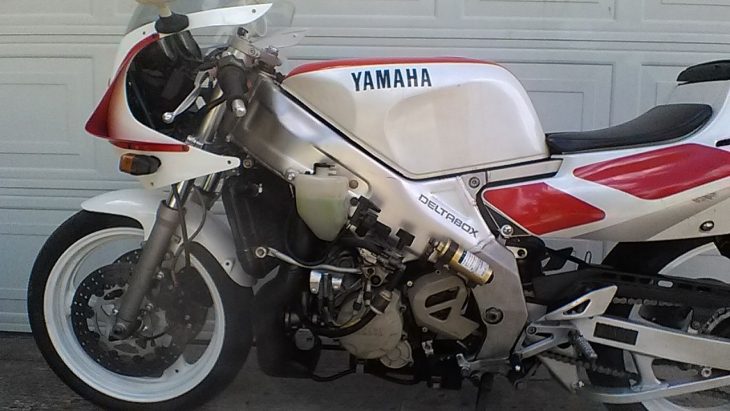 The 3MA TZR's handling was supposedly excellent, and the little twin made good power compared to its rivals. Unfortunately, the bike quickly developed a reputation for being very unreliable compared to the RGV and NSR, although I've read comments in various two-stroke forum threads claiming that they're no worse than any other bike in the class. There's really nothing here an experienced two-stroke rider wouldn't expect, so the main concern with the 3MA is limited parts availability, although eBay and Google can likely provide most of what you need if you have a little patience.
From the original eBay listing: 1989 Yamaha TZR250 for Sale
I have for sale a 1989 Yamaha TZR250 with a 3MA20 engine, wiring harness and ECU but a 00 clutch and top end. We did NOT import this bike whole but spent about 5 yrs getting parts and pieces for from all over the world to make this a complete running/racing bike. This bike was not sold in the US but can be titled here for street use or raced in Vintage Roadracing classes through a number of organizations.

She is a two stroke streetbike that was issued in Japan for street use or roadracing. She is about 95% complete, starts and runs (have even tested it around the streets of Indy). Doghouse shown in pictures is the only new piece of freshly painted bodywork on the bike ~ I have everything else to install still but have not yet since she wasn't completely built but could be tested this way and if anything happened, the new bodywork would still be pristine. I have a Japanese title and registration for her. I have the paperwork for Indiana BMV to assign a new VIN # to her and issue a Indiana title for her. Things still needing done ~ Rear brake caliper is leaking and needs replacing (I put in a rebuild kit and it still leaks ~  it needs replacing). Windscreen is not the proper one and too small for the bike ~ got tired of dealing with the supplier I was working with. Custom painted bodywork needs to be fitted to bike but have all pieces ~ front fender and doghouse already installed ~ seat, side panels and rears need to be installed. You can keep the old bodywork on her too. Wheels freshly powder coated white. New tires just put on last year.

Currently oil tank is not connected due to trying to keep the gas tank from rusting any further by using oil/fuel mixed in the fuel tank. A dust seal on LH Fork needed. Like I said, some minor things need finishing that I just can't do or afford right now. Just one hell of a bike. I will try to post a video of her starting and running. Contact us with any questions. This is also listed locally on Craigslist. Whenever it sells, the ads will be removed from both Ebay and Craigslist.
The seller also includes
a video of the bike starting and running.
It's great that this TZR is here and I've developed a real fascination with this particular model. These reverse-cylinder bikes were a bit of a failure in practice, but they're very cool and, for some insane reason I've put the 3MA on my wish list. But importing a bike in pieces seems to absolutely be the most difficult way to go about purchasing a TZR250. The question is: since these are being regularly imported these days from Japan and elsewhere, why go through the trouble to bring one in in pieces? A noble endeavor, but that's a pretty big hassle. Did the seller begin the project before that was commonly done? Was he avoiding import taxes on a complete machine, or planning to title it as a "kit bike"? The seller does mention that he has Japanese paperwork for the bike, so I'd imagine it be just as easy, or just as difficult to get the bike registered, depending on where you live.