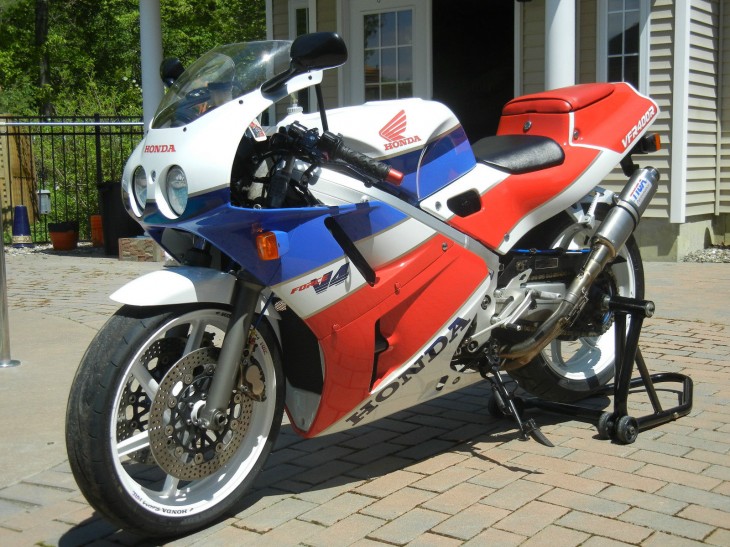 Here's a great looking NC30 that is a welcomed breathe of fresh air from all the two smokers we've been seeing on the market this spring. This one has clearly been loved by it's current owner as evidenced by his 2+ page description of the bike. It comes with OEM and spare bodywork, thoughtful upgrades like the VFR800 rear wheel and modified CDI, and is overall mostly stock. -dc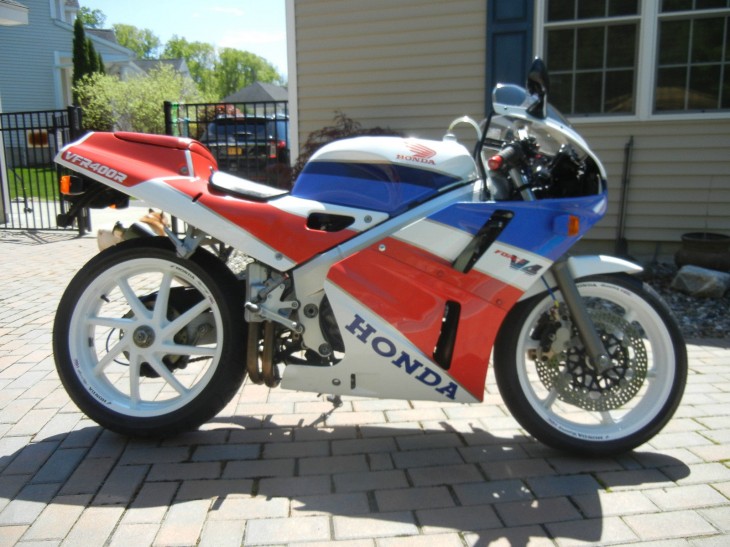 from the seller:
Complete set of unrestored Tri Color Honda OEM body work and Original Gas Tank with all home market stickers and warning labels in place.
-Complete MotoStar ABS Tri Color Honda replica body work – OEM gas tank with professional restoration of OEM colors and stickers maybe negotiated separately, but not included with the bike.

-Upgraded CDI and de-restriction (raises rev and MPH limit)
-Ethos Half System Rear Race kit pipes combined with Front OEM header – popular upgrade / race setup in Japan at the time. Produces a smooth mid-range power delivery.
-Tyga SS exhaust can with OEM hanger (OEM passenger foot pegs in place)
-OEM forks with Rick Oliver upgraded spring kit for weight range of 180-200 pound rider – OEM springs included
-Newly Powder coated white OEM front wheel and 17" Rick Oliver rear wheel conversion – VFR750F 5 spoke rear rim with fully modified Rick Oliver Center Hub/Suspension linkage / rocker included.

-Original OEM unrestored 18" rear rim/tire and linkage parts included

-OEM rear Suspension
-COERCE` Race Rear Sets- Japanese made and an expensive `top of the range` item– these were on the bike when I bought it and there are no OEM front pegs with the bike.

-Hel Steel Braided brake lines in Blue – OEM brake lines included.
-Adjustable Shorty Billet Brake and Clutch Levers – OEM Levers included

-Brand new Sintered Racing Brake Pads installed – OEM pads included

– Brand New Dunlop Q2 tires – 17"

-OEM Directionals (blue housings) on OEM body work – Aftermarket black OEM Pattern style Included.

Original OEM passenger Pegs and Mounting brackets included.

-Original OEM rider and passenger seats in perfect condition – NO rips or excessive wear or fading.

-Fuel Tap rebuild kit and full replacement of all fuel lines with Rick Oliver OEM replacement parts.

– All Gaskets replaced 5/10/2014 along with a new battery and oil change.

-HiFlo air filter installed – OEM included. OEM Airbox is unmodified.

-Original OEM gas Cap key matched to Original Ignition included.

One OEM Key and one aftermarket Honda blank included.

-OEM Mirrors installed – Replica Originals included.

– Speedo reads in KM – NOT MPH! Converter overlay included.
-Multiple windscreens – Extra MotoStar Windscreen included – OEM windscreen installed on OEM body work with all original warning stickers in place.