Practically an RSBFS staple, the NC30 is always a welcomed treat. While much nicer than the last NC30 we posted, it might be a bit of a stretch calling it fully restored as advertised. On the other hand I'd be proud too as it's obviously been cleaned up a lot more than some of the JDM imports we see. The seller has included many close ups for you to decide for yourself. This example has 26k miles and is California plated with the 11 digit VIN. Current bid is past $7500 with reserve not met and over 6 days remaining on the auction.
dc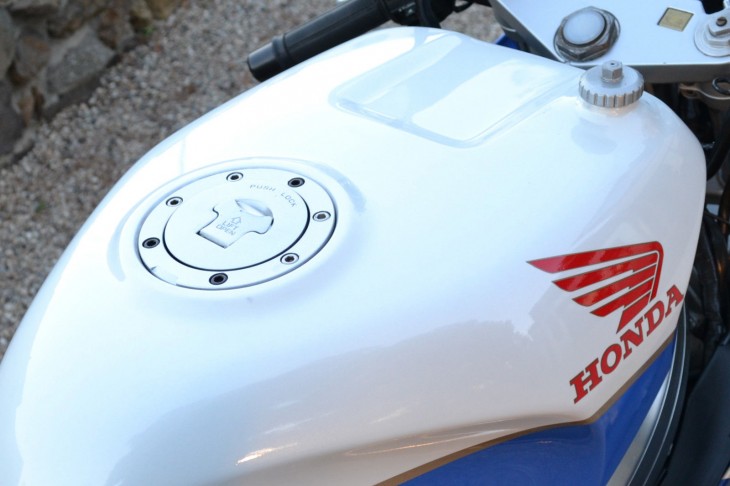 from the seller:
Originally produced for the Japanese Domestic Market this NC30 is 400cc sibling of the RC30. If you were old enough to ride in the early 90's then the bike needs no introduction. It's not a rare bike in the UK in but they still command $4-$10k in fair to good condition. That being said there are only a handful of them in the US and even more rare are ones registered in California. I have yet to see one for sale in this condition ever at any price.

Full restoration less than a year ago under the supervision of RC30/V4 authority Jim Granger

Everything was completely gone through, reconditioned or replaced

Unmolested original example. Stock and OEM everything where possible including exhaust . Only exception is the windscreen that's rarer than an albino unicorn.

Paint done by Jim Granger on original OEM bodywork in exact RC30 detail with OEM decals with a custom-fabricated solo seat cover (pillion Included)

Wheels- HRC Magnesium replicas in correct HRC gold

Derestricted UK ECU- no speed limiter

Everything that was done would be a long list, if you have questions just ask.

The story- I bought the bike in 2006 from an Air Force serviceman who brought it to the US on a Japanese MSO. It ran but hadn't been ridden for a few years and the bike needed some TLC. I registered it with no issues in Washington State and left it with a shop to restore and long story short three-years later I boxed up the partial basket case and shipped it to Los Angeles. By miracle I found Jim Granger in Reseda, probably one of the world's foremost authorities on the RC30's and V4 motors and we spent the better part of a year restoring the bike.

We stripped it down to the swing arm and frame in Jan 2013 and completed it in Oct 2013. Jim went to work on all the mechanicals and we dissembled the entire bike bit by bit. My daily project was to degrease, scrub, wire brush, polish, prime, paint and clear-coat every piece. EVERYTHING was reconditioned or replaced when necessary. Every seal and hose was gone through or replaced. ALL fluids were changed. I even disassembled the clocks to ensure there was no fog on the interior glass of the speedo, tach and temp gauge. I replaced the bulbs in them too. A true nut and bolt resto and nothing was done half-ass.

Its a dream to ride and completely dialed in. Restoring it was one of the best educations i've received and now its time for the next. I've got a new toy and projects under way. If you know of an OWO1 I'm on the hunt too.