Update 12.17.2013: Posted late last month, this one failed to get any bids with an opening of $10,500. It's back on eBay with a starting bid of $8500. Links updated. -dc
If you still consider America a colony, look away. While they may be a dime a dozen in the U.K. these are still rare birds here in the New World. At first glance this particular NC35 looks very sharp.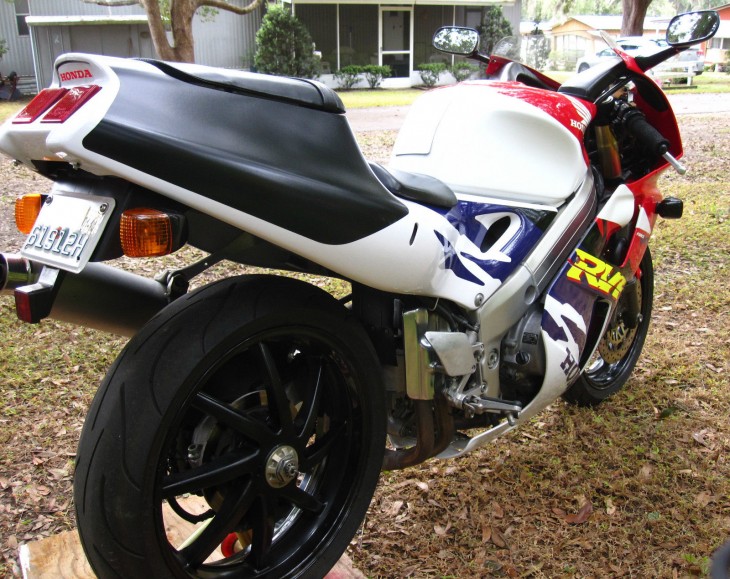 As I mentioned you get the RC45 looks without losing your wallet. You aren't going to out horsepower anyone but the 400's were made for the twisties and I think give a similar experience to riding a street, 250cc two stroke.

It has some miles on it with the odometer showing 23,000.
The story on it:
YOU ARE BIDDING ON A RARE HONDA RVF400 COMMONLY CALLED AN NC35 OR BABY RC45. ONE OF HONDA'S CROWN JEWELS OF MOTORCYCLES WITH IT'S 90 DEGREE V4 RACE DERIVED ENGINE AND 250GP SIZE. IT IS IN ALL STOCK CONDITION WITH JUST OVER 23,000 MILES (I'M NOT THE FIRST OWNER. I'VE HAD IT SINCE 2005 AND IT CAME WITH A KPH TO MPH CONVERTER SO I THINK IS ALL MILES). IT INCLUDES OWNER AND SERVICE MANUALS IN JAPANESE ALONG WITH SOME SPARE PARTS (PLUGS,TURN SIGNAL, REAR PASSENGER PEGS AND OTHER SMALL MISC. PARTS. COMES WITH PIT BULL RACE STAND, ONE YEAR OLD LITHIUM BATTERY NEARLY NEW CHAIN AND SPROCKETS AND VERY GOOD CONDITION MICHELIN PILOT TIRES.

PLEASE NOTE: THIS HAS BEEN A TENDER LOVED RIDER (NEVER ABUSED- NO WHEELIES, PEG DRAGGING, TRACK DAYS OR ANYTHING LIKE THAT). IT'S READY TO GO, BUT THERE ARE A FEW MINOR MARKS. THAT I HAVE TRIED TO SHOW IN PICTURES. MINOR STONE NICKS IN FRONT COWL, SMALL SCRATCH IN BLACK BY SEAT, MINOR RUST ON CHROME EXHAUST SHIELD, SLIGHT FOGGING OF PLASTIC HEADLIGHT LENS, SMALL NICK IN PAINT ON TANK (MOST OF THESE WERE THERE WHEN I BOUGHT IT). THESE ARE ALL VERY MINOR BUT I WANT TO POINT THEM OUT SO EVERYONE IS HAPPY AT THE END OF THE DEAL
That front end still says Suzuka to me.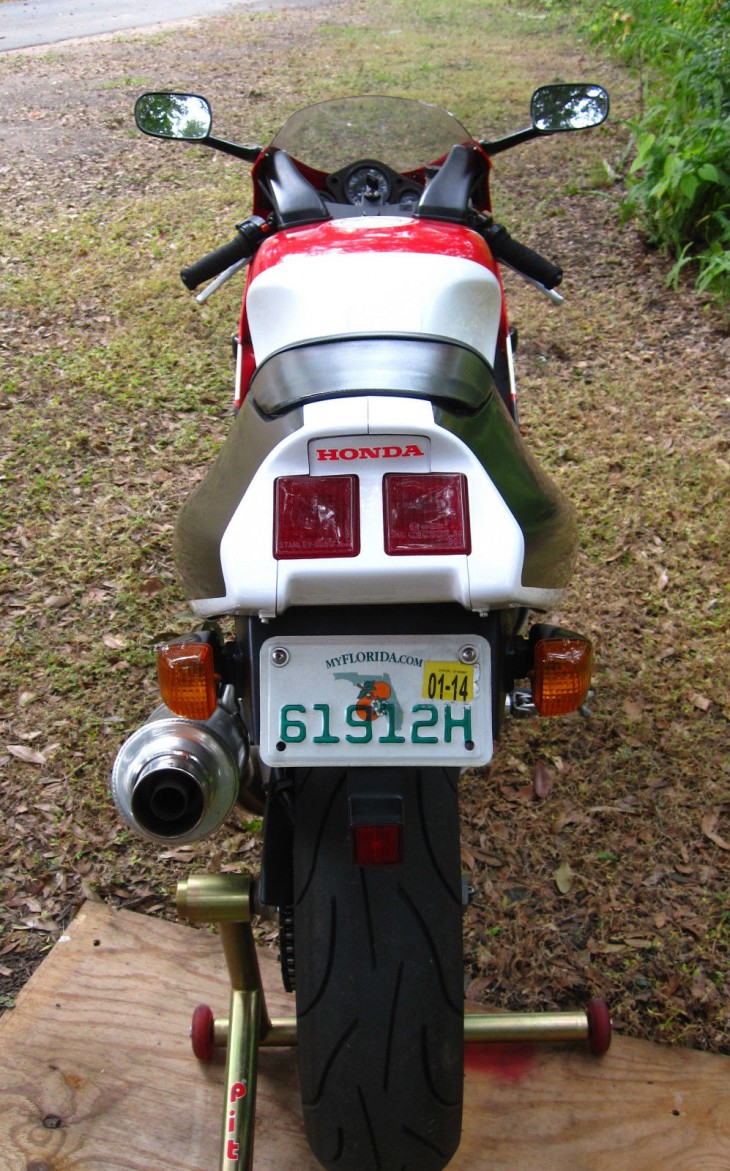 It's clean, it's stock and it's rare but I have a feeling the price will be an issue. The bidding starts at $10,500. I'm a fan of all the 400's but the fact is they just don't command the dollars. On the other hand, nice examples like this don't appear for sale all that often; decisions, decisions.
Ian