Located in Palo Alto, California is a 1996 Honda RVF400R NC35.  This bike is in track condition but is titled and registered in California with an asking price of $3,000.  This bike has been fully converted for track use: including, but not limited to, removal of the odometer, removal of all lights and key-less ignition.  See a partial description below:
1996 Honda RVF 400 NC35
~10K miles (the 14K shown on the title is in km, so you do the math) on engine
Clean CA title
Valve clearances checked ~4 trackdays ago.
Standard exhaust, with Arrow can.
NC30 (VFR) carbs
520 sprockets and DID chain. like-new
Michelin Power Race and Power One tires (120 and 160). like-new
'06 GSXR600 complete front end (not exactly sure on year). This includes powerful dual-piston radial brakes. Fresh Oil and GP piston kit installed by Evolution Suspension.
'06 GSXR600 rear shock. Re-sprung (1100# spring) and re-valved by Evolution Suspension.
All suspension set for a ~180# rider and massaged by Dave Moss.
Tyga front body kit, tail section is standard fiberglass RVF solo seat.
Tyga rear-sets
Drilled and safety-wired
Frame and bar-end sliders
Single-Sided Pitbull Swingarm stand included
Key-less ignition system. Flip the red switch and fire it up
VFR and RVF Haynes Manual to aid all repairs.
Red paint with white number plates
See this NC35 track-bike–that is legally eligible for being converted back to street use–on Bay Area Riders Forum here.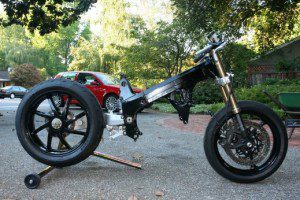 AG