For sale: 1984 Yamaha RZ350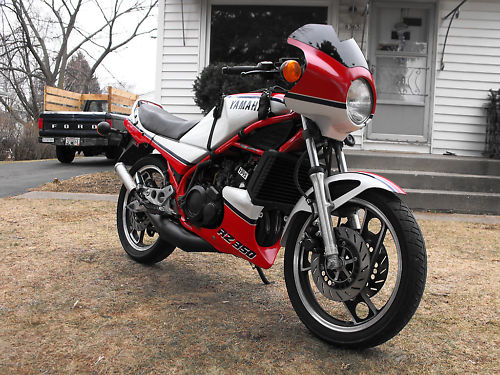 There is nothing like a nice RZ 350 to get you into the Christmas spirit. Admittedly this is not the nicest RZ we have seen in the pages of RSBFS, but it is the last legal, road-going two-stroke brought into this country by a major manufacturer – and that deserves a little oversight on our part. Besides, for those of us who find million dollar MHE twins a bit pricey, this bike fits nicely into more modest budgets.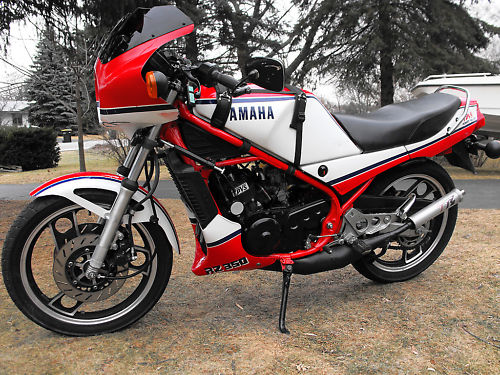 From the seller:
USED 1984 YAMAHA RZ-350 WITH 2,482 MILES ON ODOMETER. WAS USED FOR RACING BY THE FIRST OWNER,THEN I GOT IT.
ALL OF THE DAMAGE WAS FROM THE FIRST OWNER, THE WINDSHIELD HAPENED IN MY GARAGE ,IT FELL OVER.
AT AROUND 2,000 MILES I HAD DONE:
TOP END REBUILT .025 OVER
NEW BRAKES
ALL FLUIDS CHAINGED
TIRES HAVE CRACKING
I PUT AROUND 475 MILES ON IT THIS LAST SUMMER
IT GOES LIKE A BAT OUT OF HELL
TOOMEY CHAMBERS
JETTED
ALARM SETSTEM
AS YOU CAN SEE THERES MINOR DINGS & DENTS
TANK BAG NOT INCLUDED
SOLD AS IS
The seller is not making any attempt to hide the damage, and from 30 feet away everything looks pretty minor. It even has Toomey pipes on it! After a glass or three of eggnog, I can almost hear the ring-a-ding-ding of Christmas. All you really need to do is ask Santa for a new windscreen and you will be able to deck the halls – as well as a few unsuspecting middleweights.
As described in previous RSBFS posts, RZ350s are fun little strokers that are getting harder to find. This one is not in ideal shape, but the major bits are all there. If you want to get in on the affordable classic collectable, this might be your chance! Click on over to the auction and
MI