The original Suzuki GSX-R750 that was introduced in 1985 may have been a "race bike for the road" in theory, and it certainly gave privateers an excellent foundation on which to build a pretty competitive machine. But there are always areas where compromises are made for production efficiencies, so there's always room for improvement when sharpening a motorcycle to a razor's edge for competition. This GSX-R750 Limited Edition was created to help remedy some shortcomings the original machine had, and homologate completed machines incorporating those changes for production racing classes.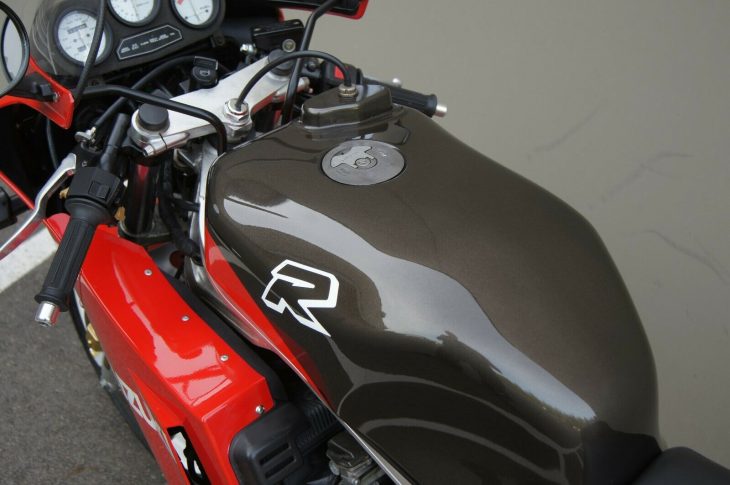 The original package was pretty potent to begin with: suspended in a cradle-type frame, the GSX-R's inline four had twin cams and four valves per cylinder, good for about 80hp at the rear wheel. Weight was saved using Suzuki's Advanced Cooling System that eliminated water-cooling in favor of a high-capacity oil system that included a double-chambered pump and jets directed at the underside of the pistons. SACS proved pretty effective, and the system remained in place for the first two generations of Suzuki's cutting-edge sportbike.
The Limited Edition homologation version of the bike included a vented dry clutch that made them a popular target for thieves at the time, along with a solo seat, longer swingarm, and electronic anti-dive forks from the bigger GSX-R1100, all for a price that made it the most expensive Japanese sportbike available at the time.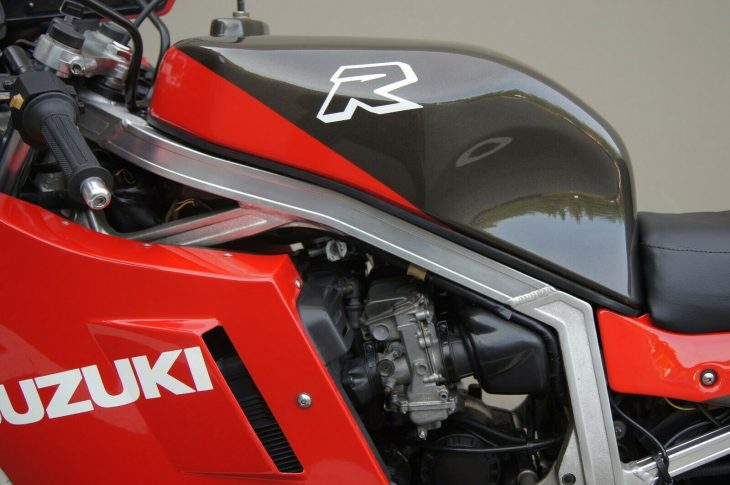 This Japanese-market bike features a distinctive red-and-grey color scheme that looks terrific and appears to be in very stock condition, down to the original rear fender and exhaust that looks much less "vintage," with a blacked-out heat shield that downplays its bulky, 80s style.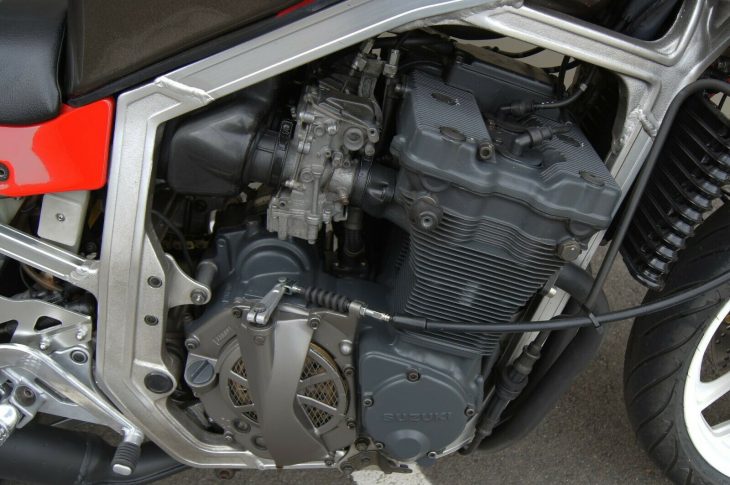 From the original eBay listing: 1986 Suzuki GSX-R750 Limited Edition for Sale
INTRODUCTION::: 

You are bidding on a 1986 Suzuki GSX-R750 Limited Edition (in Japanese Domestic Model Specification and original factory color scheme) Suzuki produced the GSX-R750 Limited Edition in red Yoshimura colors only in Japan to celebrate the success of the Yoshimura racing team in the Japanese racing class. According to the January 2017 edition of Pratical Sportbike UK magazine only 150 units were produced by Suzuki in the special Yoshimura red colors… Suzuki only produced 500 units world wide of the GSX-R750 Limited Edition, homologation rules required a certain number of models to be produced by the manufacture in order to qualify for endurance and superbike racing. The Limited Edition models were equipped with many race oriented parts most notably the dry clutch system. Also below this description I have listed all of the special features the limited edition models were equipped with. This particular GSX-R750 limited edition is in all original factory condition, and has 11,235 kilometers (6,981miles). But please feel free to read more about the specifics of this bike and look at the pictures for verification. If you have any questions, please do not hesitate to contact me. U.S. and International bidders are welcome to bid on this motorcycle but must arrange shipping themselves…

CONDITION:::

All of the body panels are in excellent condition, there are no cracks or major nicks anywhere. The paint is in very good condition and shines very nicely. The original Suzuki exhaust is in excellent condition with no scratches or dents anywhere, the wheels are also in excellent condition with good paint and no major chips anywhere. Basically the motorcycle is a 9 out of 10 cosmetically. Mechanically the bike runs and rides perfect. All of the electrical components work as they should; lights, blinkers, horn, speedo, tach, fuel gauge, all work properly. The bike just had a full service tune up, all fluids were changed, and mechanically everything was inspected and replaced if necessary with original Suzuki parts.

LIMITED EDITION FEATURES:::

The Japanese spec GSX-R750 limited comes with a few extra features that the USA spec limited models did not have: flat slide carburetors, all black ray gun exhaust, fuel gauge, city lights, headlight kill switch, deletion of side reflectors, tinted turn signals… The following parts are unique to GSX-R750 limited models world wide; dry clutch basket, aluminum body rear shock with remote reservoir, wider rear wheel, larger 41mm front forks, NEAS electronic anti-dive system, lightened counter shaft cover, wider handlebar, steering damper, solo rear seat cowl and seat, plexiglass headlight cover, quick release fairing screws, swing arm drop outs for stand, triple tree with milled pattern, larger 310mm fully floating disc brakes.

CONCLUSION:::

This is a great opportunity to buy a rare, all original Suzuki GSX-R750 Limited Edition. International buyers please keep in mind that there are some small variations in original parts in different countries; this GSX-R750 limited edition is a Japan market original specifications edition. If you need any additional pictures or have any additional questions please feel free to email us. Domestic & international buyers are welcome to bid but have to arrange the shipping themselves; however we will be glad to help with any loading of the motorcycle. We have assisted in shipping motorcycles overseas for other customers in the past. Please feel free to bid as long as you make the shipping arrangements.
Interesting that the seller mentions the tinted directional lenses: at first I assumed they were non-stock, but they appear to be exclusive to the Japanese-market bikes. This thing is pretty frighteningly clean, and the high-quality photos should give anoraks plenty of information about the bike's originality. Honestly, the paint on the brake calipers and anti-dive system looks brand new, so I wonder if it's been restored, or just sealed in a vacuum, since even the low 6,981 miles should see at least a bit of wear-and-tear. Regardless, it's a very nice example with plenty of time left on the auction.
-tad