When you see "Oro" in a motorcycle name these days, it immediately conjures images of low-production, high-spec exotics like the MV Agusta F4 750 Serie Oro. This little smoker was really anything but "limited-production" or "high-spec," and Aletta Oro translates to "golden wing." Of course, it's obvious that it has nothing in common with Honda's famous luxury touring mount, other than it being a motorcycle. Instead, the Cagiva Aletta Oro S2 was intended as a classy, entry-level bike with limited performance and plenty of style.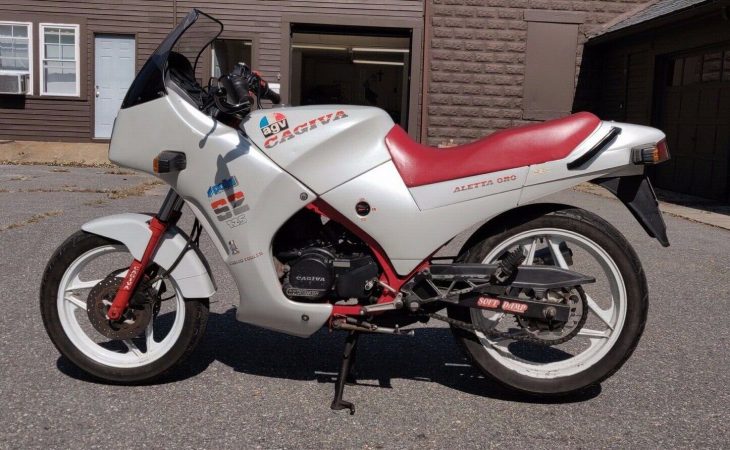 As you'd expect from an entry-level European machine, the Aletta Oro was powered by a motocross-derived, liquid-cooled 125cc two-stroke, with automatic oil injection to keep the little motor happily smoking. A six-speed gearbox helped newbie riders keep the engine in the meat of it's meager powerband and make the most of the claimed 23.6hp. Thanks to a 277lb claimed dry weight, the little Cagiva could keep pace with its contemporaries in a straight line and the bike was a nimble handler, although ultimately limited by the budget suspension components.
Styling is very, very 1980s with pearl white bodywork and a red frame. Fuel goes in the normal place at the top of the tank, but the right-side fairing features what looks like a fuel door that hides the radiator cap. The dash is pretty comprehensive, although not shown here, with an absolutely huge tachometer front-and-center, temp gauge, and a digital fuel gauge, as well as the usual speedometer and row of idiot lights.
From the original eBay listing: 1986 Cagiva Aletta Oro S2 for Sale
I purchased this bike off of original owner in about 2017 and installed a brand new Polini 162cc cylinder at my shop in New Hampshire. This is a stock bike otherwise originally 125cc 6 speed liquid cooled 2 stroke auto mix. Dash works and headlight/taillight work. Turn signals are cracked a little and have been repaired once (very poor design). I have personally taken this bike apart and ridden all over NYC this past summer and fall. Bike does a healthy 75+mph and shifts through all gears. Starts 1 kick and sounds very healthy. Can provide videos and additional photos upon request.

CLEAN STREET TITLE AND REGISTERED IN MY NAME. CURRENTLY BEING USED ON ROAD ONCE A MONTH OR SO.

Please keep in mind this is a very rare all original bike and there are almost none of these in the USA. this is not a showpiece but a running riding bike perfect for inner city domination or to hop on the highway for short trips here and there. 

I can also deliver up to 350 miles of NYC for Gas/tolls/fee discussed. Thanks.
The bidding is currently up to $2,000 with a couple days left on the auction. I highly doubt these will be worth much anytime soon, but you can't beat a weird 80s Cagiva for novelty value. And, unlike a Motocompo or Monkey, it's a thoroughly usable novelty, one that could make a great commuter or city bike, as the seller mentions. The biggest issue would likely be bodywork, although I'd expect you should be able to find plenty of used parts, if you're willing to look online and trust shippers outside the US. This one isn't pristine, but when will you have another opportunity to pick up something this rare for so little?
-tad