For Sale: 1980 Moto Guzzi SP 1000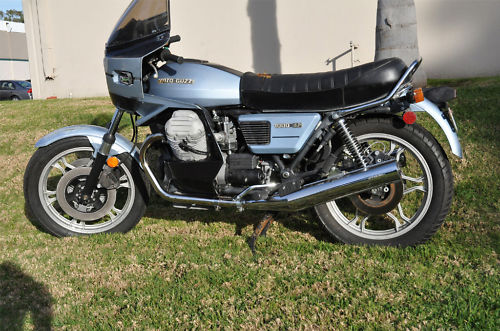 Guzzi fans rejoice! It would appear that followers of the M/G brand are finally getting their due. People are coming around to the style, grace, and just plain "coolness" of the Moto Guzzi lineup. Collectors are driving prices higher, which makes bikes like this – a 1980 SP 1000 – more desireable and harder to find.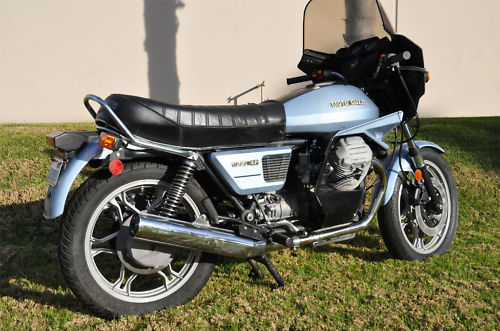 The SP 1000 model was intended to be the more "sport touring" variant of the Guzzi lineup. Think of it as the older brother to the upstart LeMans models. Under the covers, the two are very similar, and some riders really prefer the comfort and protection offered by the SP fairing.
From the seller:
I am selling my nice used 1980 Moto Guzzi SP with original powder blue paint, 35K miles, runs and rides excellent. It has Current California registration with insurance and title in my name. This is a nice reliable running street bike, and fun as hell to ride. I can add a one year unlimited miles warranty on the drive train for an extra fee. Brakes & clutches work excellent, new tires, all electrical works along with the Speedo and Tach. We just replaced the light switch with a new one, and did a full tune up. It has Electronic Ignition, and we set that up to work perfect with the proper advance rate. Great bike to convert into a Cafe Racer, since the motor is basically set up as a LMII. It hauls Ass!

The Bad:
Left front turn signal needs to be replaced, the original seat cover is splitting. Crack in lower fairing under right side sylinder, Needs fairing Mirrors, Front fender has badly faded paint. We can of course fix these things if a deal is worked out on doing the work.
While the LeMans models tend to be more desireable from a collector standpoint, the SP variants are well known for devouring mile after mile of ambling pavement. This particular bike is not perfect – which the seller clearly states – but appears to be a sound foundation for what will certainly be a long term investment.
This auction is live right now. The current bid is in the $1,500 range and there has been a number of interested parties. The reserve has not yet been met, but I would expect a reasonable reserve given the condition of the bike. For more info and to get in on the bidding, click the link to . Good Luck!
MI