Ducati's iconic 900 SuperSport has everything you need and nothing you don't.  The early 90's edition inspired this retro-faired monoposto, where even more of everything is out in the open.  The custom frame, tank and fairing hang together very well, looking like a Friday afternoon ride into the hills waiting to happen.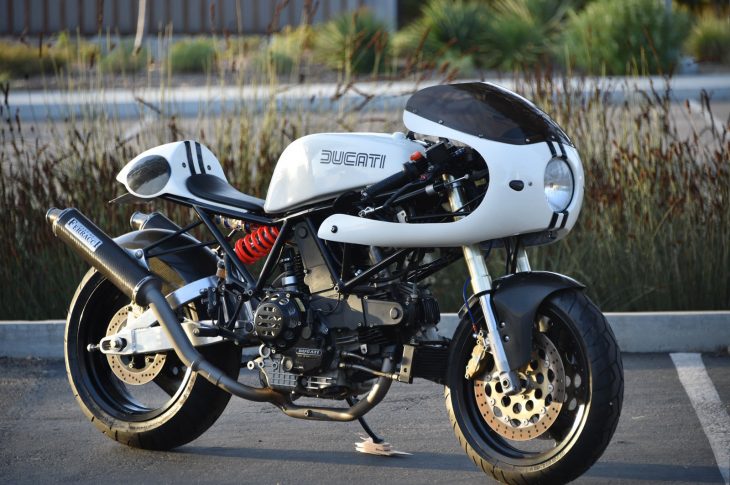 The 900SS goes way back to 1975, but belt drive unburdened the engine in 1988 and the conversion to Mikuni carburetors in 1993 freed up 84 hp.  Big brakes from the 851 provided ample stoppage, and fully adjustable Showa suspension were a nice improvement.  Dry weight was under 400 lbs.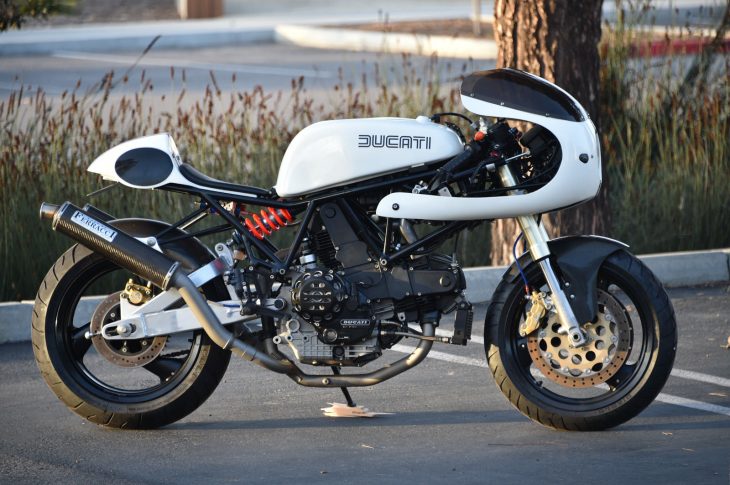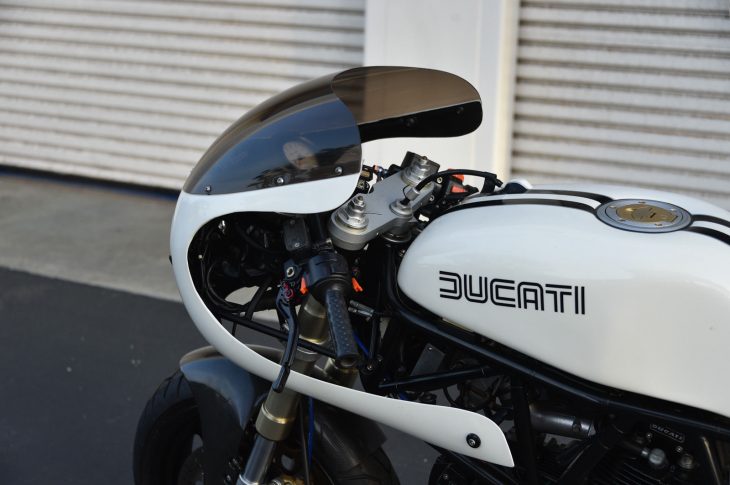 As built by Union Motorcycle Classics, this SuperSport might be under 400 lbs. with half a tank, though the trip odometer might want to be used as a gas gauge.  Perhaps the wafer-thin seat atop the revised subframe would remind the rider to take a break, though the aluminized Ferracci exhaust and Fox rear shock say go.  From the eBay auction:
Introducing a one-of-a-kind professionally built 900SS. Everything on this beautiful motorcycle shows attention to detail and mechanical craftsmanship. (search "custom 900SS" on google and this will be one of the top 5 motorcycles that appears in images.)

The one-off hand crafted tank is a merging of a 900SS tank and a late 80's 750 Sport. Beautifully done. You will see throughout the build are custom manufactured brackets and period race parts, with all work performed by Union Cycles.
Likely the builder didn't change the frame geometry, not messing with one of the best handling SuperSports of the day.  Union has beautifully reduced the 900SS to its cafe' racing denominator, as Hunter S. Thompson described in his original Cycle World review of the bike.  With the limited seating position, rider endurance might be even lower.  But cafe's aren't that far apart these days, and the new owner will likely be having extended Q&A at coffee stops, with spirited blasts in between...
-donn