Long and lean, Ducati's 1000 Dual Spark SuperSport impressed reviewers with stable handling and sensible seat height.  Its 85 air-cooled hp don't snap the bike upright but do just fine making the cars and bikes behind get smaller.  This 2004 model has miles but recent maintenance and a very factory appearance.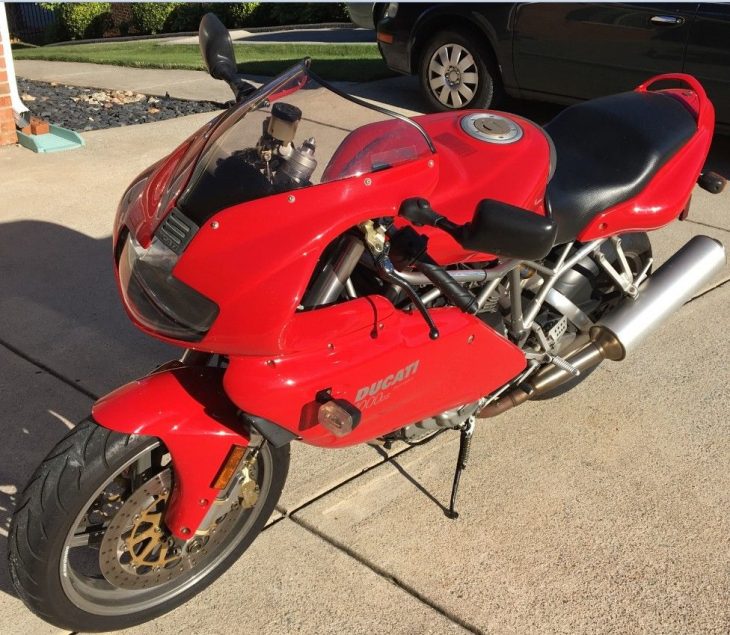 Ducati used two sparks plugs ( and valves ) per cylinder to help increase power.  Similar 90-degree L-twins powered the Monster and Multi Strada, trading the stable temperatures of liquid cooling for the simplicity and lighter weight of air cooling.  Many updates were made to the heads to improve valve angles and gas flow.  The classic trellis frame provides a solid platform for the 43mm Showa forks and alloy swingarm with Öhlins shock.  The dry clutch is also all aluminum to save weight.  Gold line Brembo calipers are found over dual 320mm front disks and 245mm rear.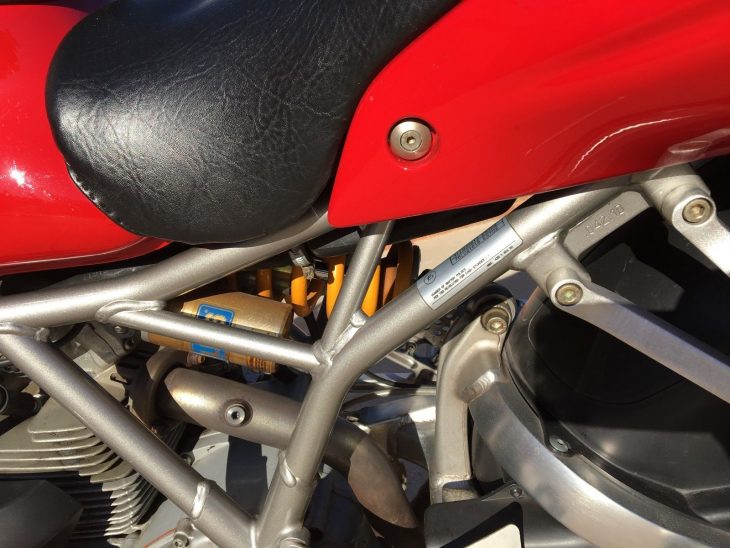 Despite 24,000 and 14 years, this 1000DS looks very good.  As a 2004 it has alloy swingarm, Marchesini wheels, and Öhlins rear shock that were later value-engineered into cheaper components.  It also has the rarely seen aluminum mufflers and factory turn signals.  I had thought that Ducati only offered the 1000DS SuperSport with full fairing, but maybe this example snuck in under that wire as well.  Maintenance history from the eBay auction :
Work at 17,000 Miles :

Valves Checked (No adjustment needed)
New Timing Belts Installed

Recent Work at 21,000 Miles :

Just Installed at 24,000 Miles :

Oil Changed – 100% Synthetic, with new mounts on the oil cooler
Ducati Air Filter
New Front and Rear Tires
New chain
Both sprockets (front and rear) are new, geared for the highway
New Battery
New Rubber Oil Cooler Mounts
Fans might differ on the complex Terblanche design, but the basic facts of a nicely faired 1000cc sportbike remain, with the fanfare of the big L-twin on approach.  Some afficionados recommend buying the very latest of whatever model you choose, but the 1000DS SuperSport is an exception, this 2004 being better equipped than later years.  Since the last year of the model was 2007, all major improvements are on board the '04.  The simplicity of the desmodue also lends itself much better to hobbyist maintenance than a new bike, and this well cared-for example is worth a look-see...
-donn