Since there's been so much push back on Ducati's this year, I figured rather than have separate entries for each of these they'd all share one big post together. Let's start with dessert first:
1995 Ducati 916/955 Corsa Factory Customer Racebike For Sale on eBay
from the seller's website:
As part of a larger collection of rare and high end Italian Motorcycles we have been asked to sell is a full-on Factory Ducati Race Bike. This 1995 Ducati 916/955 Corsa 916/ Racer Customer bike, vin# ZDM9165*004192*, 1 of 31, was built by Ducati for private use and sold here by Eraldo Ferracci in 1995. It was campaigned in California from 1995-1997 by it's present owner. The bike won AFM Open Twins and California State Championship in the Open Twins Class in 1997 and is as raced condition today. The bike required a new fuel pump to start, but Hansen's BMW of Medford, Oregon was able to locate the parts and be successful in bringing this very rare piece of Ducati race history back to mechanical life recently. A couple of interesting facts about the bike. There is no starter on the bike, it requires an external starting engine which is included with the bike. The other amazing fact is that it weighted 342 Pounds with a full tank of fuel as measured at Buttonwillow in 1996.
---
How about a Bayliss 998S with just 39 miles?
2002 Ducati 998S Bayliss For Sale on eBay
---
Or a Bostrom 998S with 6700 miles:
Ducati 998S Bostrom for sale on eBay
from the seller:
This is a 2002 Ducati 998s Ben Bostrom limited edition super bike. It is built to commemorate Ben Bostrom's 998 and is signed by him on the gas tank with a clear coat on top. There were only 150 of these built. This is number 115.

Unlike the Troy Bayliss edition with 400 produced, the Ben Bostrom edition is much more rare and only seen in magazines or online. I've never seen one on the road or at exhibitions.

This bike is totally fresh with a new lithium battery, brand new tires and fluids. Belts are fresh and everything is stock except the exhaust which is a Marving Carbon. I have the original system as well. Some of the stock highlights are carbon fairings, Ohlins forks, Ohlins rear and Ohlins steering damper.
---
Continuing with the low mileage theme is the 2001 996 with 1100 miles:
2001 Ducati 996 For Sale on eBay
from the seller:
I have for sale a beautiful, almost brand new Ducati 996 superbike with only 1082 miles! I just had the brake fluid flushed, oil change and the clutch fluid changed. This bike is in mint condition! It is very fast and handles better than any bike I've ever ridden. You will not be disappointed with this motorcycle! Marchesini wheels, Ohlins rear shock and Showa front shocks. All stock except a carbon fiber tank guard on the tank.
---
And finally, the original 916 with 1700 miles: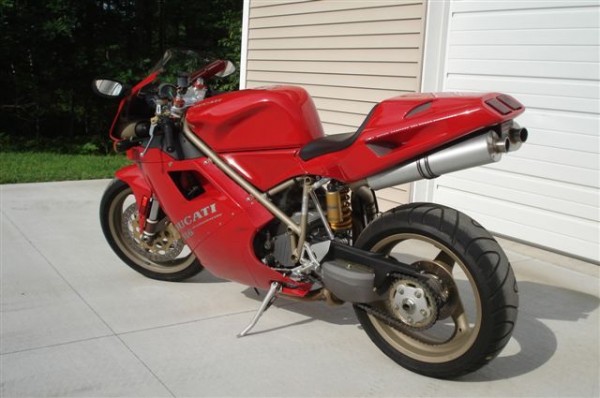 1996 Ducati 916 For Sale on eBay
from the seller:
You are bidding on a 1996 Ducati 916 Super Bike with only 1700 Original Miles, I have owned this motorcycle since new and it has been in heated storage (my house) for its entire life
---
Good luck to buyers and sellers!
dc