For Sale: 2002 Ducati S4 "Carl Fogarty" Monster #213
Update 6.5.2013: Original posted last October, this Foggy is back with some new pictures and text on the auction. It had an opening bid of $11,500 and a BIN of $12,500 previously, but today it is a BIN of $9,250 or best offer. Thanks for the heads up Mike. -dc
Ducati limited edition models are an interesting lot. There are a few truly rare machines available, bred for performance or homologated for racing purposes. And then there are the myriad "numbered" bikes, named after famous racers, historic moments, notable retailers, Formula 1 drivers and more. There is much argument around the artificial rarity of these bikes, yet they do stand out from the crowd.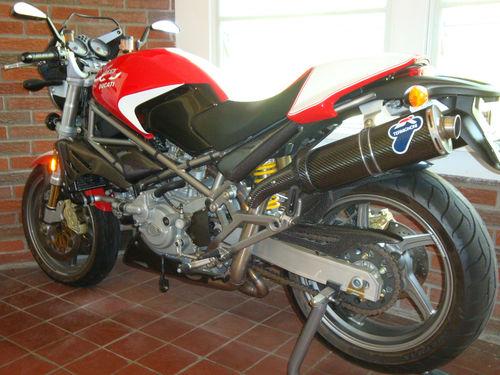 This particular LE model is a Carl Fogarty numbered S4 Monster. Now most people would tend to pair Foggy up with a Ducati Superbike as we are accustomed to seeing him in his WSBK days. Ducati, however, chose to honor him with a tarted up urban assault scooter – and what a fabulous motor scooter it is! With a 916 motor shoved into a Monster frame, the S4 was a superbike without the bodywork. And what little it did have in the way of trimmings was dripping with carbon fiber.
From the seller:
Like new! Front and rear stands, Ducati "Foggy" Cover included. Only 300 made worldwide. Selling due to a powerboat racing accident which left me paralyzed from chest down just after I purchased the bike — didn't even get it home yet.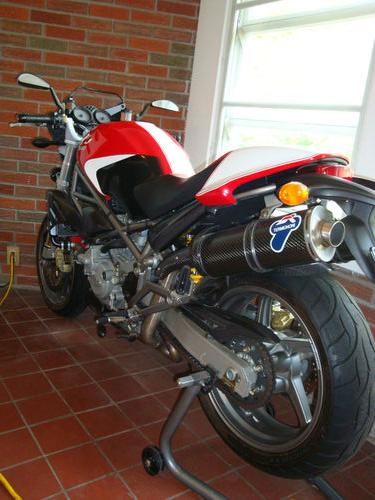 Yikes. Powerboat racing is some nasty stuff. Best to keep safe and participate in some aggressive street riding. You can do so on this baby – but only for a price. The opening bid is $11,500, and there is a $12,500 BIN. Click here to jump over to the auction. Pricey for a Monster, but there is some panache of the limited and numbered Foggy edition. How much that adds is up the buyer, but this one might go unsold at this price. Good luck to the seller!
MI