Warning!
This post is in our archives. Links in this post have been updated to point to similar bikes available to bid on eBay.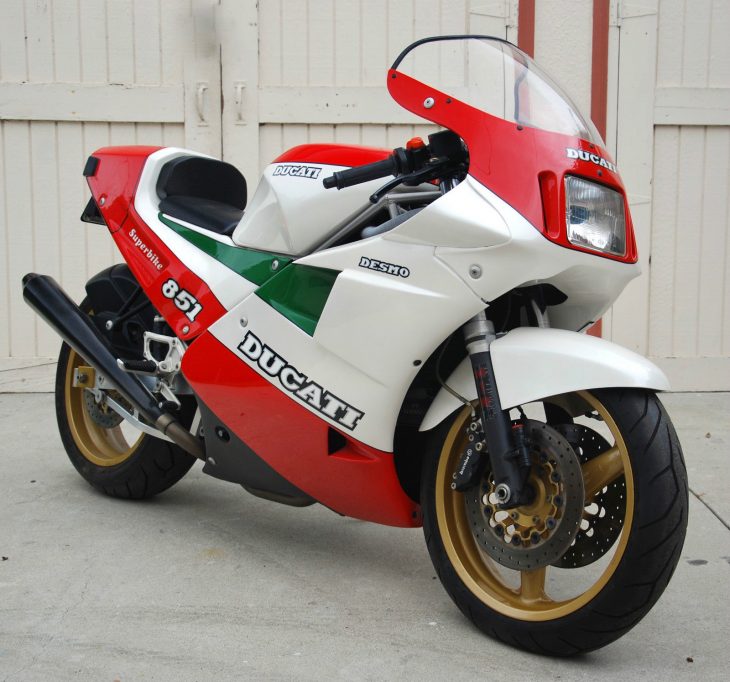 If you're looking to get close to your racing heroes, style yourself a Very Serious Motorcyclist™, or just like the idea of riding something with genuine links to legitimate race bikes, homologation specials offer their owners a taste of the trick parts and lightweight performance available to professional racers, all in a streetable package. This 851 Tricolore wears its Italian heritage proudly, and takes things a bit beyond what you'd normally expect in terms of road-legal performance: its about as close to a road-legal race bike as you're likely to find.
The 916 gets most of the fame and is more instantly recognizable, but it's really the earlier 851, introduced in 1987, that paved the way for Ducati's World Superbike success and the company's return to racing glory. The older Pantah-derived air-cooled L-twin engines were certainly high-performance motors in their day, but had been long-since eclipsed by the inline fours from Japan, and Ducati needed something new if they wanted to compete on relatively equal footing with 750cc inline fours in the brand-new World Superbike Championship.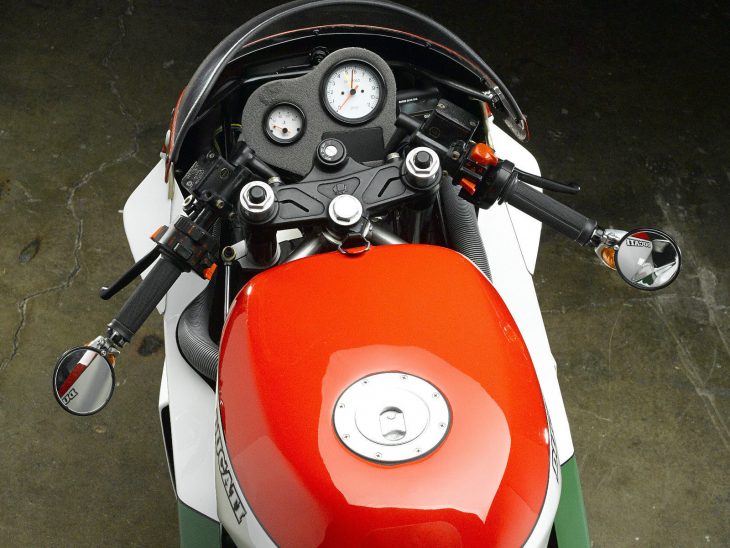 Ducati kept the proven foundation of their v-twin, but added liquid cooling and brand new four-valve heads to create their "Desmoquattro" that pumped out 93hp along with plenty of fat midrange torque and gave the newly introduced 851 the performance to compete, factoring in a bit of a displacement bump that allowed the twins approximate parity with the smaller, revvier inline fours. Wrapped around that heavily updated engine was Ducati's distinctive trellis frame and chunky bodywork, along with ergonomics that were considered extreme at the time, but seem positively luxurious compared to the masochistic 916 that came later… For a while there, the 851 and the 888 that followed were less desirable than the gorgeous 916. But as they say, "familiarity breeds contempt" and with so many of Tamburini's masterpiece running around, it's hard not to be a bit blasé about them now. But the 916 would never have existed without the success of the 851 and that functional bodywork has a style all its own.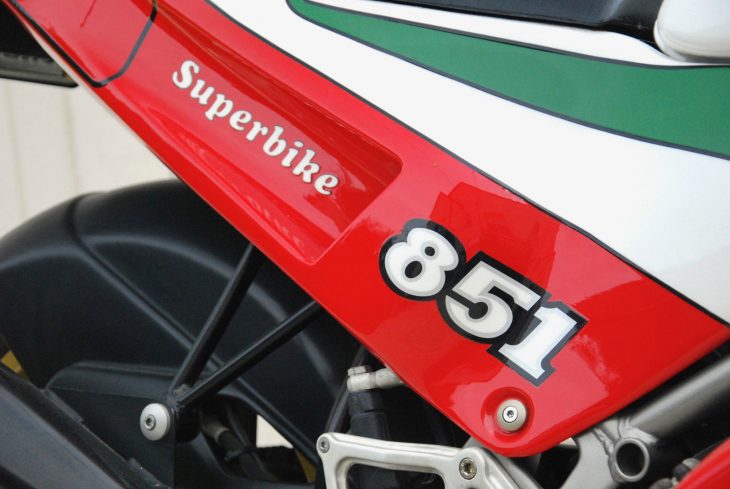 From the original eBay listing: 1988 Ducati 851 Tricolore for Sale
One of 207 homologation "kit bikes"!
Frame Number: ZDM3HB6T6JB850034
Engine Number: HB6J850032

It was the Ducati 851 that first served notice that high-performance sportbikes and World Superbike racing would no longer be Japanese-only affairs. Where before Ducatis made do with simple air-cooled motors, the 851 had liquid-cooling, four-valve desmodromic cylinder heads and electronic fuel-injection. In 1990 Raymond Roche rode a factory 851 to the World Superbike championship, the first of 13 titles to date for Ducati.

World Superbike racers were required to be based on production streetbikes. One way to get the highest-specification base model possible was to build homologation specials – expensive, limited-edition versions that needed relatively minor modification to be track-ready. Ducati took this so-called "kit bike" approach with the 851 Superbike. Just 207 of these nominally street-legal machines were hand-built, enough to satisfy World Superbike rules, with an estimated 20 examples coming to the U.S.

 Differences from showroom stock include a braced swingarm, close-ratio gearbox, ventilated dry clutch and lightweight magnesium Marvic wheels. No speedometer, just a tachometer and temperature gauge. The motor was upgraded with race-grind camshafts, a hot-rodded electronic control unit, ram-air duct and free-breathing reverse-cone mufflers. It was good for about 120 horsepower.

One of the other differences is a round ring on the seat, which is explained by an amusing folk tale: the claim is that some Ducati employee placed a hot espresso maker on the mold before production, causing a slight deformation in the seat.

The Tri-Colore 851 kit bike on offer has been made fully street-legal, and is titled and registered. Globe-type turn signals mounted in the handlebar ends satisfy the DMV. The original owner was a local Southern California collector of some very interesting and important bikes, particularly Italian, low production machines. He mounted a bicycle speedometer with magnet on the front hub to further satisfy the DMV and clocked 2600 miles. The second owner kept the bike in his private museum of very exclusive Italian machinery and removed the speedo for display.

Mechanically, the bike is in excellent condition. The engine starts easily, idles smoothly and runs well. The bike shifts easily though all gears with a nice clutch action. Brakes, suspension and all electrical systems work perfectly. The new owner should be mindful of tire-pressure as the scuff-free magnesium wheels are notoriously porous. And it sounds fantastic!

Cosmetically, the bike is exquisite, showing light patina conducive with age and mileage. This is truly a Superbike for the street, with impeccable ownership history and is accompanied by a substantial document file, keys, and a clean, clear California title. A great opportunity to own a truly rare and exotic Italian icon.
So what does this piece of Ducati history cost? Well the asking price is $31,900 which is obviously very steep for an 851, but a bit of a bargain compared to the last one of these that was up for sale. This appears to be a different bike, considering that one had never had gas in it or been started, whereas this one has had a bit of use and a couple of concessions to road use added. The small bar-end mirrors are a modern addition, but aren't obtrusive and suit the bike's minimal-road-equipment style compared to the big, chunky, fairing-mounted original road-equipment parts or a more 80s set of "Napoleon" bar-end mirrors. The seller claims that just 207 of these homologation 851s were built in 1988 to meet World Superbike requirements and it looks to be in excellent shape, with just enough wear to suggest that it's in original, well-preserved condition. This is, as the seller says, literally a superbike for the street, with just enough road equipment to keep things legal-ish but not distract from your World Superbike fantasies. Hopefully, anyone that buys this will continue to put a few weekend miles on it from time-to-time!
-tad