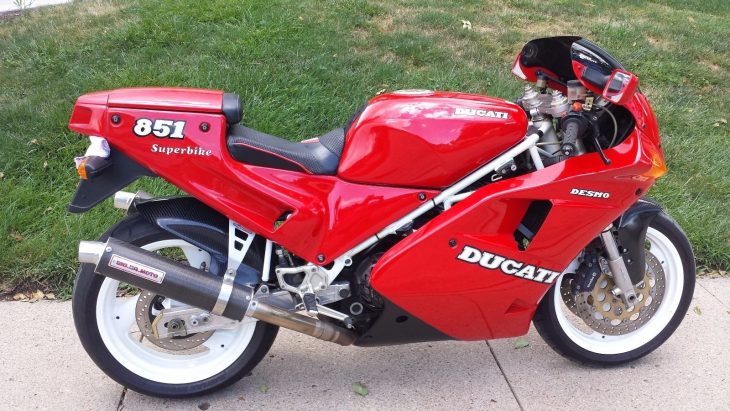 It's nice to see a rare, pedigreed bike come up for sale that has clearly been ridden and loved, and not just shoved in the back of some banker's garage and polished to within an inch of its life. In the case of this 1991 Ducati 851, we don't see any reason to be scared of its 30,000 miles, as the seller lists an extensive regimen of recent and not cheap maintenance.
The 851 is the bike that made Ducati the brand it is today in the public eye, sporting innovative heads with four desmodromic valves and fuel injection. It racked up race wins and built itself a mystique in short order, and today babied, low-mileage examples regularly claim new Honda Civic money.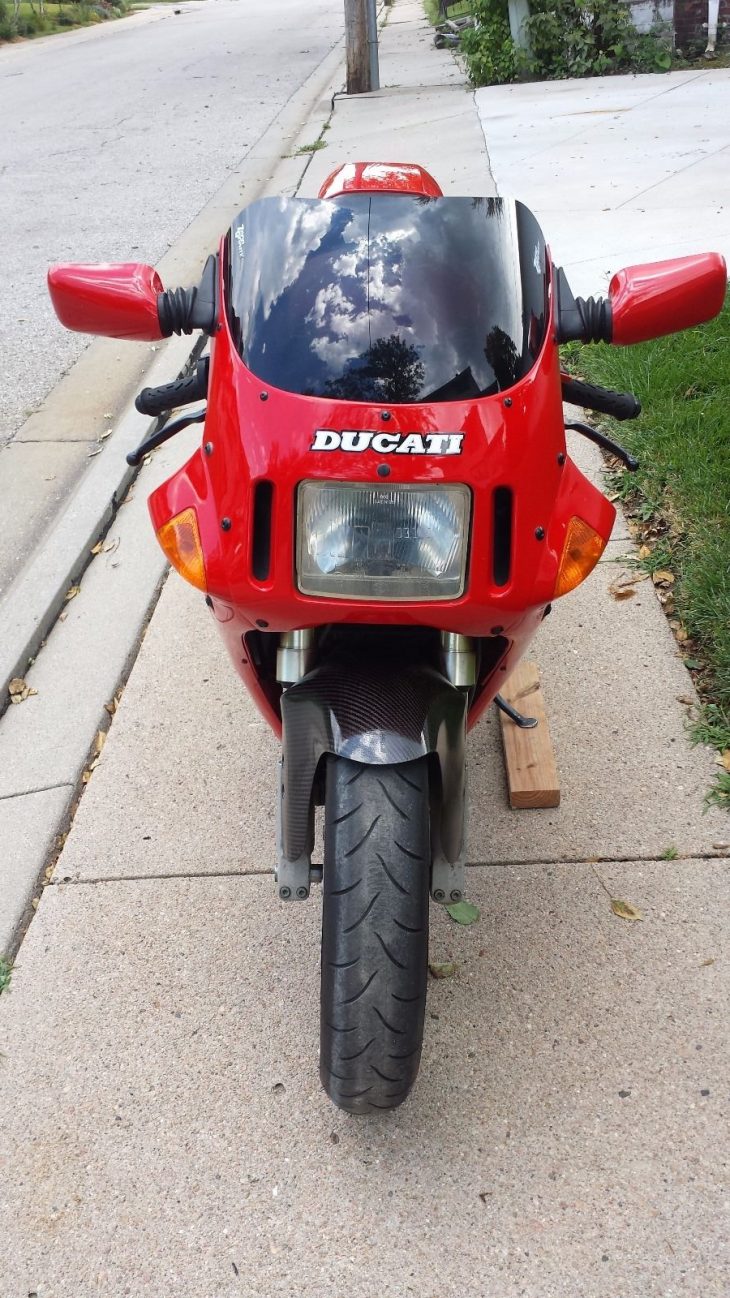 Despite its mileage, this 851 appears super clean and well-kept, and includes a long roster of mods on top of the recent work. Among other things, it carries a Fast by Ferracci chip, Gia-Ca-Moto carbon mufflers, an opened air box and and Ohlins rear shock. It also sports a Corbin seat and carbon fiber fenders.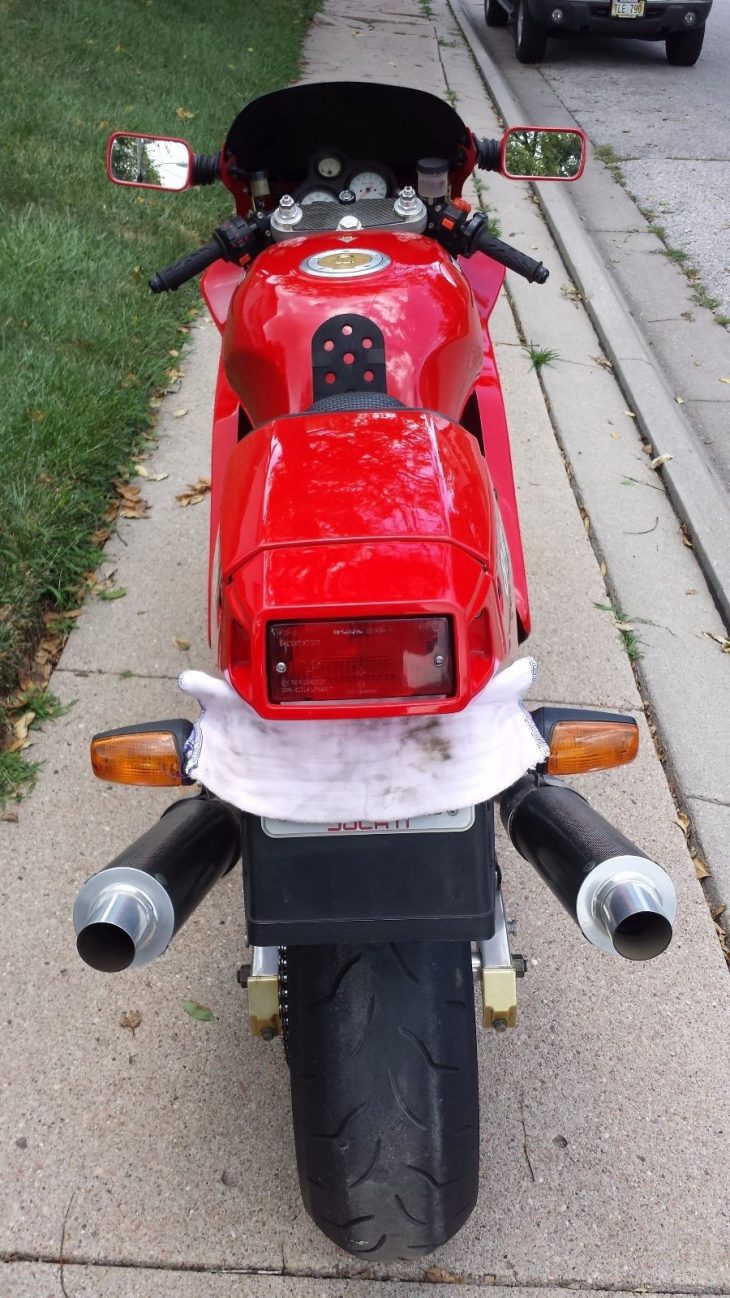 The bodywork looks pristine, and even the white steel trellis frame appears to have stayed very clean despite the bike's extensive use.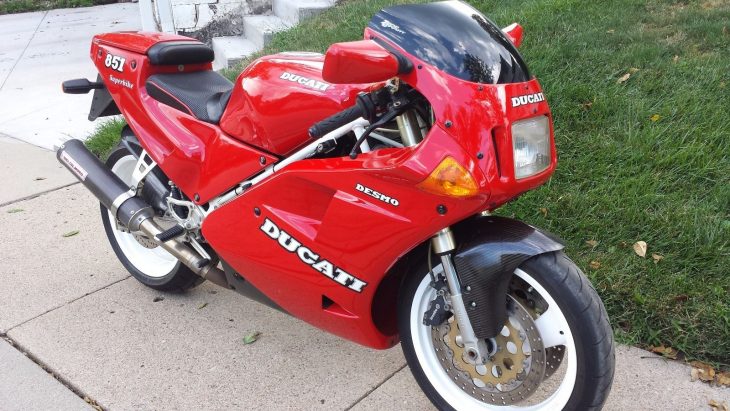 From the eBay listing:
I am relisting my 851, and having to do so through no ones fault but my own. I was in an accident while the listing was still active and was hospitalized for over a week, and didnt know if I would be able to complete the transaction in a timely manner, so I had it pulled. The accident did not involve the 851, it is still exactly as listed.
Up for sale is my 1991 851. It is a great example of what I believe is the most exotic, iconic factory bike of the late 80's- early 90's. A true work of art, that is Ducati. The 851 is the bike that started Ducati's resurgence on the world racing scene. The looks, and the sound, oh my, the sound!!! Twist it up to 7000 and above and listen to the music with the open airbox and the Gia-Ca-Moto exhaust!
This was my dream bike, waiting 25 years to be able to purchase one, but things/times change, and maybe someone else has been waiting for one too.
The bike has 30,000 well cared for miles on it, and it runs and shows like a bike with less than half of that. All required maintenance has been performed within the last 2000 miles, including valve check and timing belts, brake and clutch fluid. Chain and sprockets have about 2300 miles on them.
Tires have about 2500 miles and are in great condition.
Bike is equipped with:
Fast by Ferracci Performance Chip
Ohlins Rear Shock
Gia-Ca-Moto Carbon Fiber Silencers
K&N Air Filter Kit
Carbon Fiber Fenders
EVR Vented Clutch Cover
ProJection Muffler Hangers
Corbin Seat
Zero Gravity Windscreen
Halogen Headlight

Also included are original parts;
Clutch Cover
Air Box Cover
Passenger Pegs and Hangers
Seat
Factory Service Manual
Also have 14 Tooth AFAM Sprocket

I reserve the right to end auction early, as it is listed locally.

Thanks for looking and good luck bidding.
Shipping will be the responsibility of the buyer, although I will do what I can to accommodate and help shipper.
Bidding is remarkably low, even for a bike with this many miles on it, but with a few days to go it may yet make reserve. Let us know what you think in the comments below.