Today's featured 1991 Ducati 851 Strada is an excellent specimen of the machine that pushed Ducati from the pages of history and far into the modern era. It was the first bike to rumble out of Bologna wearing Desmoquattro heads and fuel injection and it settled once and for all that Ducatis should be red.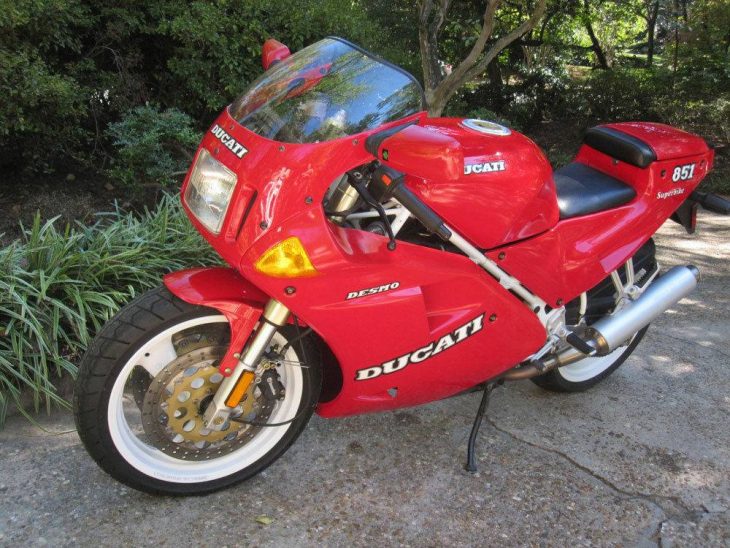 Added to its newfound technical prowess, the 851 was as adept at capturing imaginations as it was at collecting speeding tickets. A spate of race wins didn't hurt, but the bike's purposeful stance, impeccable color scheme, Guns of Navarone sound and dare-to-be-different attitude built an aura that wins alone cannot.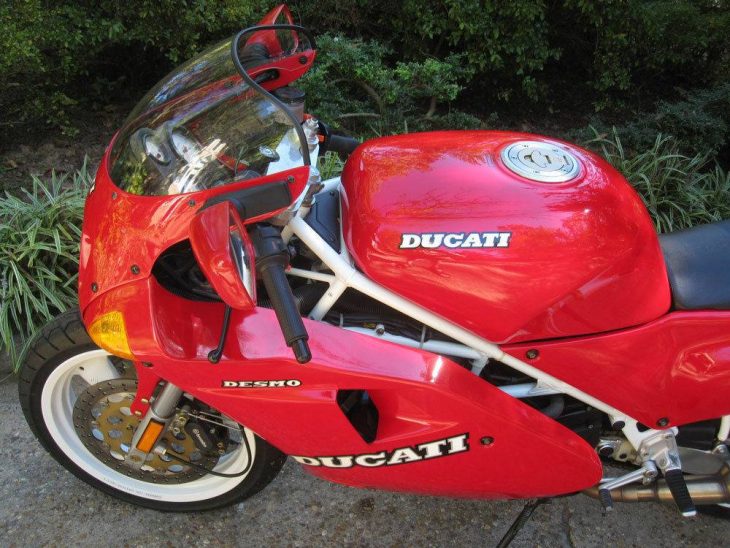 Mechanically, the 851 was at once innovative and regressive. The desmodromic heads on the Pantah-based 851cc v-twin, were from a time before cantilevers had given way to valve springs. But there were four valves per bank, and though it revved low, the engine made great use of electronic fuel injection and high compression to push out about 100 horses. Long after everyone else had moved on, Ducati was making good with rattly old-world technology.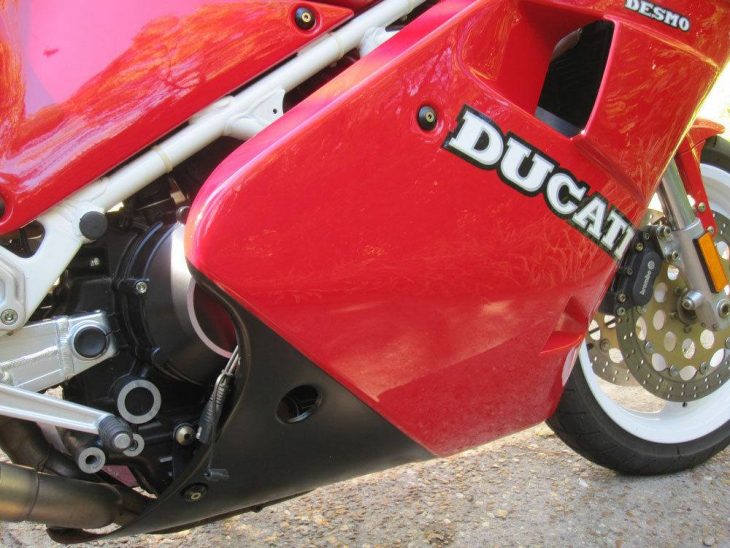 That big, laconic mill was stuffed into the brand's signature steel trellis frame rails and hung with Ohlins suspension on each end, which meant that the 851 was light, flickable and fast, and offered totally different power characteristics to its Japanese competitors. Where the beasts from the East needed to be wrung out past 10,000 rpm to really scare you, the 851 did the job just shy of 10,000, with a rumble rather than a shriek.
This 851 has spent the majority of its 26 years with one owner, covering well under 2,000 miles before coming into our seller's hands. Blemishes on this bike are limited to a few pox on some of the aluminum pieces and some age marks in front of the rear tire. The seller claims it was stored inside its whole life and has never seen rain, and its condition backs that up.
If you plan to ride the bike, you would do well to replace its aged Pirellis. The seller doesn't mention them, but we'd be surprised if they are not the original set.
From the Craigslist post:
For Sale: Museum Quality 1991 Ducati 851 Strada Biposta Superbike but made for the road. It is a one-owner bike with approximately 1,605 miles on it (yes less than 2k miles) always stored inside and properly and meticulously maintained throughout its 26 year life. Bike has never seen or been ridden in the rain. You could search long and hard but you will not find one in this condition and with this few miles. I have all documentation from the original dealer invoice, ownership card, original owners manual, two original keys, full shop manual, original race stand, original brochure, and many other documents, articles, magazines featuring the bike as well as all of the maintenance records. Over $2k recently spent on full maintenance by Ducati Dealer. This is a bike that will only go up in value over the years. Current valuations on Hagerty's puts the value of the bike between $25k-$30k (see below)

Specifications:
Manufacturer Ducati
Production 1987-1992
Successor Ducati 888
Class Sport bike
Engine – 851 cc (52 cu in), 90° V-twin, fuel injected
Power – 93.00 hp (67.9 kW)) @ 9,600 rpm
Transmission – 6 speed, chain drive
Frame type -Tubular steel trellis frame
Brakes -Front: Dual disc – Rear: Single disc
Tires -Front: 120/70-17
Rear: 180/55-17
Weight ~430 lb (200 kg) (dry)
Fuel capacity 20 litres (5.3 US gal)

This bike is a dream to ride and will stand out from all of the other bikes. You rarely ever see these bikes. I purchased the bike to add to my collection and will keep it if it does not sell. Only willing to sell if the price is right. Again, this bike will only go up in value. No rides without cash in hand. Clean and clear title in hand. Bike is as-is with no written or implied warranties. The pictures do not do this bike justice. It is a rare find.

Feel free to call, email or text with questions. Due to the scammers out there, I will not respond to suspicious emails or text messages. If the ad is up then the bike is still for sale. I will delete upon selling the bike.
The seller's ask is between Hagerty's assessment for one of these in between #2 and #3 condition, according to the supplied value chart. If the pictures are anything to go on, we'd say that is right in line.