Update 8.21.2020: This bike has SOLD! Congratulations to buyer and seller! -dc
It's still amazing to me that bikes like this MV Agusta F4 1000R can be had for so little money. Sure, modern bikes blow them into the weeds, especially in terms of their usability: a 200hp motorcycle would have been considered terrifying and nearly unridable not too long ago. Today, it's pretty much par for the course. But the F4 still offers something special and the bike has no rider aids whatsoever, so the experience is pretty visceral and raw.
After the release of the extremely limited-production F4 750 Serie Oro that was dripping in exotic materials, MV Agusta beat the odds and managed to get their stunning superbike into series production. Unfortunately the production 750 was, unfortunately, outclassed by much more affordable 750s that cost half as much. Then the whole 750 class was made basically redundant by the burgeoning 1000cc superbike class. Enter the MV Agusta F4 1000S designed to compete on level playing field with bikes like the GSX-R1000. The F4 1000S was followed by the 1000R in 2007 and it included a few tasty upgrades. Today's example is one of the best you're likely to find.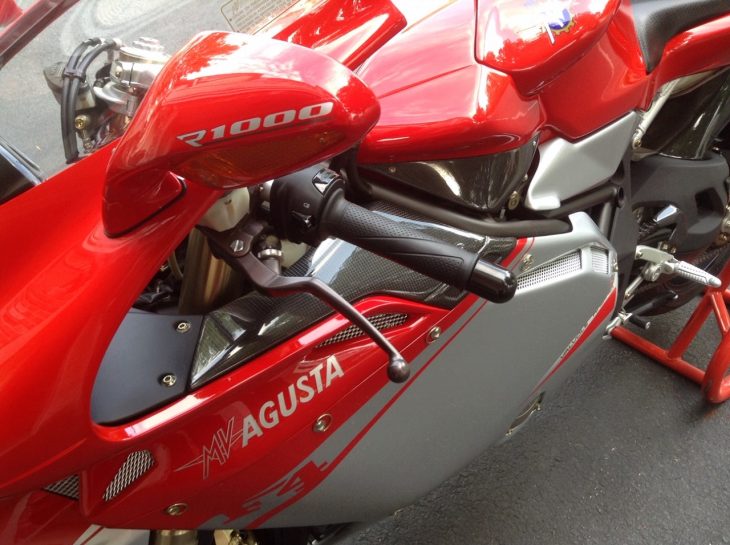 The R included a revised frame, new Brembo wheels that updated the style a bit, and Brembo Monobloc calipers, although the Nissin brake and cluth master cylinders were retained. A fully-adjustable Marzocchi fork and a Sachs shock out back gave the bike incredibly stable handling. Most notably, it included an improved version of the radial-valved, 998cc inline four that produced a claimed 174hp. The F4 wasn't as agile, lightweight, or as user-friendly as inline-four competitors from Japan, but that boost in power was enough to push the bike to 180mph.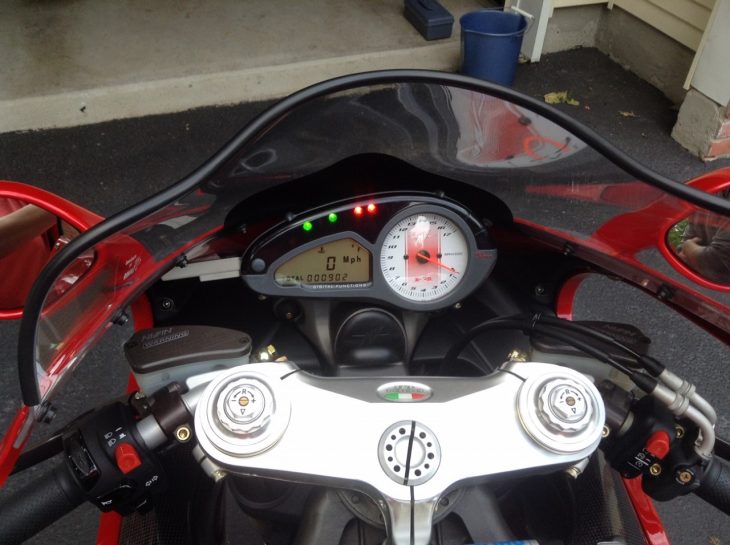 From the Seller: 2007 MV Agusta F4 1000R for Sale
I am selling my rather immaculate 2007 F4R. It has less than 1000 miles on the clock, completely original and has been with me for the last five years. "As new" is an understatement – the previous owner had a Ferrari dealership in Scottsdale and put the bike from new sitting on a plinth in the dealership entrance. He also threw the OEM carbon fiber options book at it. The only thing I have changed is the battery. Unfortunately it is time to sell as I have spent more time polishing than riding it!
Overall, the F4 1000R offered evolutionary improvements to MV's flagship superbike. It wasn't as exclusive as the extremely limited-production CC or Tamburini, but no version of the F4 is actually very common, and they never fail to draw a crowd when parked up. The seller is offering this basically perfect bike at NO RESERVE. You can find an F4 for less money, but if you're a collector looking for a pristine example, this one deserves your consideration.
-tad