Look, just to be clear: if you're in California, you're not getting this bike. The seller is most emphatic on that point. See below. It's not that it's completely impossible to find or to title a grey-market import Suzuki RGV250Γ in California, it's just that you're not getting this particular bike: apparently the seller tried but didn't grease the right palms, or use the right combination of ancient incantations, so Title Compliance Overlords in Sacramento sent him a letter, clearly informing him he could not sell the bike to a CA resident. Bummer, but all you Golden State residents need to look elsewhere for your two-stroke fix. "But, but… I just wanted it as a for off-road-use-only track bike!" Sorry, buddy: you're boned.
But what's the big deal with the RGV250 anyway? Well, if this is your first time visiting Rare Sport Bikes for Sale, the RGV250 Gamma was Suzuki's entry into the hotly-contested and not-available-in-the-USA quarter-liter sportbike class that saw 249cc two-stroke twins battling for supremacy on track and in showrooms throughout the 80s and 90s. The bikes all featured cutting edge performance and technology, but with additional smoke and a lawnmower soundtrack. Lightweight aluminum frames, six-speed, sometimes cassette-style gearboxes, high-strung powerplants, and electronic trickery were the order of the day, and Honda, Yamaha, Suzuki, and even Kawasaki all had bikes in play. Although Honda was the gold-standard in terms of quality and innovation, Suzuki was the wild man of the bunch and it says something that Aprilia cribbed the RGV's powerplant for their RS250. Probably just that Suzuki was willing to provide them for a good price, but still: it's a simple, powerful engine with endless tuning options, although by reputation it's more fragile than the Honda NSR's unit.
This VJ22 model seen here is distinguished by that classic "banana" swingarm that curved upward on the right side of the bike to allow the exhaust's expansion chambers to tuck up close to the bike. It added weight but looks super-trick and should increase cornering clearance. Suzuki's "Advanced Power Controller" power-valve controller and was introduced to the Gamma in 1991 and helped boost midrange power. The 60hp the seller claims the tiny v-twin produces is completely believable and, although that may not sound like much at first, keep in mind that the RGV250 weighs in at under 300lbs dry.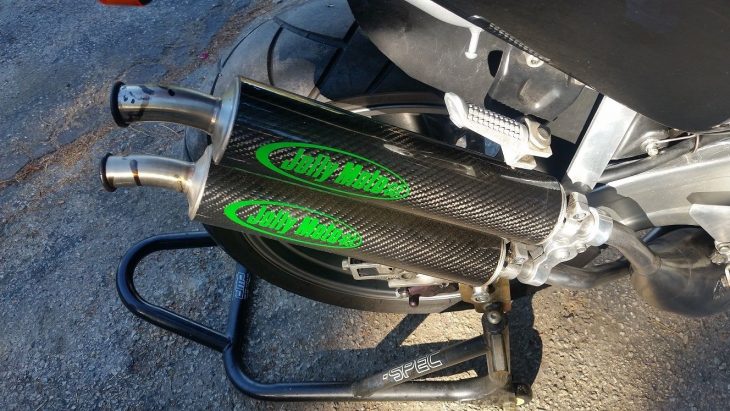 Feel free to check out the original listing: there's plenty of information about the bike, as well as some very strongly worded political opinions…
From the original eBay listing: 1991 Suzuki RGV250 VJ22 for Sale
This is a clean RGV250 VJ22 without the usual corrosion that so many of these import bikes have. I bought this about 18 months ago and did my best to try and title in here in CA. After 6 months of trying I realized that it's not possible to title this here. It's registered in Vermont and I just renewed it in August. Since it's not legal here to ride it just sits in the garage. A few months ago I bought another RGV250 that was titled for a very long time in CA. so I finally have one to ride. I swapped the bodywork that I painted, white wheels and exhaust and put them on my new RGV.

So as to the details on the bike itself. Just did the top end with new pistons and made sure the power valves didn't have any loose pins. Bike has 32,000 km, motor has just under 17,000, km (about 10,000 miles) Starts first kick just about every time and oil injection is set correctly and working. Bike has been de-restricted and has very clean 34mm carbs, full power 22D30 Power controller box and Jolly Moto chambers. OEM body panels that fit nice but have scratches here and there and a few minor cracks. I planned on painting this white with Pepsi decals but I need to spend what little free time I have putting a new roof on my garage before snow flies here. I live in the mountains at 6,250ft elevation and have not jetted this bike for this altitude.  One my other RGV I had to modify the airbox lid for more air and jet down 2 sizes on the needle jets, mains, and go up on the air jets to get it to run right here. I didn't want to modify the airbox on this bike since it should work fine at lower altitude. The first thing you will need to do is jet this bike for your altitude, I left the jetting on stock sizes. If you don't like tuning and working on your bike often, a RGV is not for you. When the weather changes your jetting that worked great before won't even be in the ballpark. These are bikes for guys that like to work on their bikes often, that's half the fun. The power valves are the weak point and it's best to run Cougar Red power valves that don't have the pin problem of stock valves. I run them on my other RGV and they even add a few HP too, Pricey at $500 but cheaper than destroying cylinders and pistons when a loose pin falls into the bore.

If you have never ridden one of these they are a hoot. Super light (under 300lbs with aftermarket exhaust) razor sharp handling, great brakes and 60hp on tap with a light switch power band. This one also has 6 pistons calipers from a GSXR, they will stop you. As for what the bike needs. It could use a paint job, don't make the mistake of buying the Chinese painted body sets on eBay if you want a good panel fit. Front forks should be rebuilt and maybe re valve the GSX-R shock I added to replace the worn out stock one. Front rotors were replaced before I bought it but the rear should be changed. Frame is super clean and undamaged. Rear subframe is straight and I just had it powder coated. Most of the black small brackets were powder coated at the same time. Wire harness is nice with no splices…

If you're a CA buyer I can't legally sell you this bike. It's in the system and there is no way you can title it in CA I tried believe me. These bikes are starting to get imported here now that the 91 and older GP 250 replicas like this are 25 years old. There quite collectible and going up in value. With a little work this bike can be super nice, no reserve so bid to win.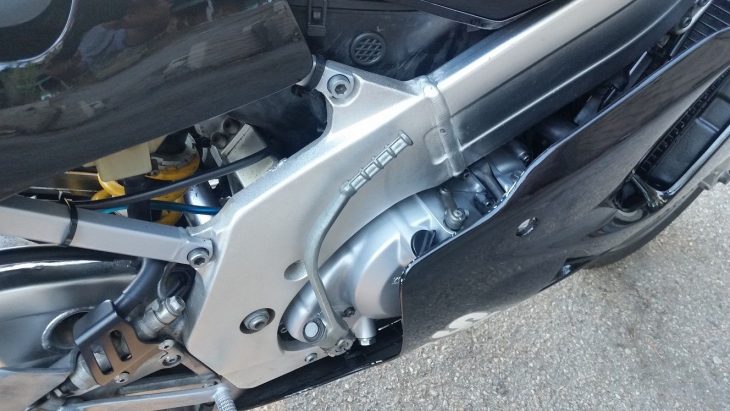 It looks like this bike may have been featured on RSBFS awhile back, but with some parts swapped over to a different bike in the same owner's collection. Regardless, there have been no takers yet at the $6,000 opening bid, and there's just one day left on the auction. Certainly, that seems like a reasonable price for a solid, running RGV250, but the bike's questionable legal status and lack of originality may be putting off buyers.
-tad