In the middle of its ten model-year life, the RGV250 was nicely updated and a critical and popular success.  The lightweight 250 was equipped like a superbike, and with the right rider could keep up with one.  Though the two-stroke era had already ended here, grey market machines pop up occasionally and have almost a cult following.
With Suzuki's electronic power valve and 34mm Mikuni carburetors, the V-twin two-stroke claimed 62 hp at 11,000 rpm.  The newly designed controlled exhaust valves were problematic unless maintained, but worked well when clean.  Much attention was paid to the chassis for the 1990-96 models, with upside-down forks, banana swingarm ( making room for the expansion chambers ), aided by a weight of just over 300 lbs.  Brakes are  300mm front disks with 4-piston calipers, and a 210mm disk at the rear.  The full fairing is quite sculptural and the seat fairing is crowned by a pillion seat, but not sure two-up operations aren't a little mission creep.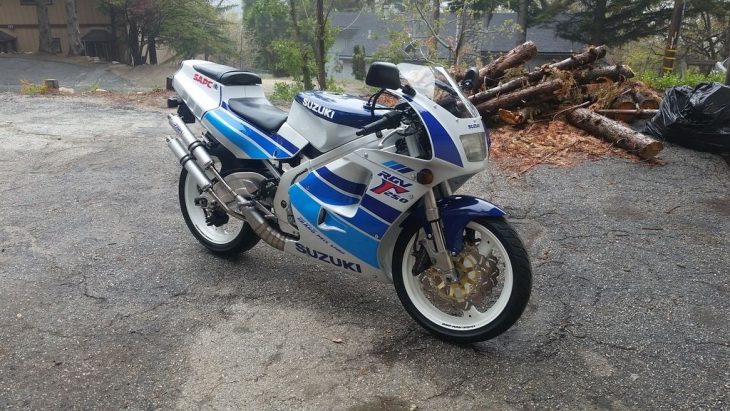 Evidently a serial restorer, the owner of this RGV250 has the skills.  With 20,000 miles, it has been refinished and rebuilt in every way.  The paint and graphics are particularly well done, with some photos from the body shop.  More restored than upgraded, though the exhaust has been replaced by a beautiful Tygra expansion chamber system.  The owner goes over some details in the eBay auction:
New paint on OEM Suzuki panels, not the cheap replacements that don't fit. This is the 3HS color scheme and some consider the most desirable. Correct Pearl White paint with reproduction decals that have been cleared over. Rear shock is from a late GSXR 600 and direct bolt in.  Rebuilt brake calipers with new sintered pads and rotors. New windscreen and mirrors too. Most bolt on steel parts have been powder coated. There is a dent on the back of the tank, right next to the seat. Tank was lined so I didn't want to damage the coating to remove the dent. I didn't notice until paint time when we removed the tank pad that covered it. I have a carbon fiber tank pad that will cover it.
He also relates a tale of title and registration woe, and while it has a legal green mountain title, a California pink slip will take more work.  Shame that there's not a uniform standard for registering historic vehicles, but maybe the new owner can put a shoulder to the problem.  Looks worth the effort, though it was never offered here, it will always turn heads, on the road or maybe in the dining room…
-donn